Picking the right golf ball for your game is a pretty important thing to do and most people are actually using the wrong ones. In this post, I'll be talking about the 7 best golf balls for average players so you can improve your game.
Here are the 7 best golf balls for the average golfer 2023:
That's just my personal opinion from experience. Picks 1-3 are in that specific order for me but picks 4-7 are in no specific order.
What all of these balls have in common is the 2 or 3 piece design, fairly low spin, and low compression. All of those are super important for your ball to have. If you want to see which balls have a low spin and low compression you can see the full info list here. Continue reading or watch the video for a more detailed review of each of the balls.
#7: TaylorMade Project (a)
https://www.youtube.com/watch?v=xLO2GfobOcQ
This is going to be my second favorite golf ball from Taylormade for the average golfer who is around an 8-18 handicap.
These balls are designed to produce less spin with the driver (for that dreaded slice) and give more spin with your wedges.
I haven't really used these too much but know people who do and they've noticed an increase in fairways hit, more control with their wedges, and a similar distance to the other higher-end balls.
Pros
They seem to be well made and last a while.
They fly a lot straighter than some of the other balls.
They're not the cheapest ball out there but quite a bit cheaper than the Prov's.
Cons
They aren't the highest launching balls I've tried.
They don't have the nicest sounding pop off the club.
They're still almost 3 bucks per ball.
#6: Titleist DT TruSoft
https://www.youtube.com/watch?v=PIC7nxd_ZpE
This is my favorite Titleist golf ball for the average golfer and it is fairly similar to the Project (a) in that it's low spinning off the tee but it wasn't quite as good around the green (in my experience).
I didn't find them to be the longest or straightest off the tee but I did like them more than the Taylormade on the green.
They are under 2 bucks per ball and that's another reason I'd give them a thumbs up.
Pros
They are reasonably priced.
It seemed to be a durable ball and lasted a while.
They had a nice and soft feel to them.
I had great distance control with them on the green.
Cons
They aren't going to be a good fit if you're looking for it to check when your chipping.
I didn't feel like I had a whole lot of control from just off the green on in the bunker.
#5: Bridgestone Golf E12
https://www.youtube.com/watch?v=hxfCSfyy1W8
This is my favorite Bridgestone golf ball for the average golfer out there who prefers control and spin over pure distance.
It's designed for swing speeds below 105 miles per hour (which will be most average golfers).
These will be great balls if you want to bomb it long and straight down the fairway but the downside is that they don't give a whole lot of feedback and they're bad for shot shaping.
Pros
They have a nice and high launch.
They're much more durable than other softer balls.
They offer more spin around the green than the Titleist.
Cons
They aren't as long as some of the other balls.
They didn't have the most responsive feel on the green.
They're middle of the range in terms of price.
#4: Wilson Staff Fifty Elite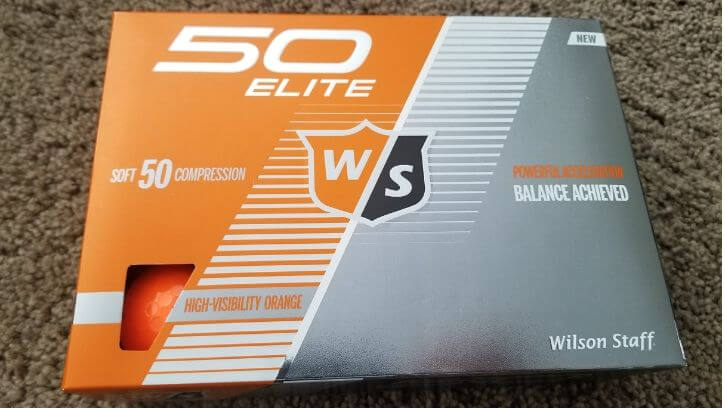 This is one of my top picks for the average golfer because they're great for people who don't have the fastest swing speeds and they don't spin a whole lot off the tee.
Most people laugh at the thought of a Wilson ball but it's one of the better balls I've played for keeping my shots in play.
Another big plus is that these balls are around a buck each which is perfect for the average golfer who loses a lot of them.
Pros
They were one of the better balls around the green.
The price can't be beaten.
I liked the ball trajectory I got with these balls (high).
They always seemed to stay on the course.
Cons
They don't last as long as other balls but they're only a buck a ball.
They're not the longest ball but I'd take the fairway all day long.
They didn't have the best feel.
#3: TaylorMade Noodle
https://www.youtube.com/watch?v=Kd2n_1ExKtY
Believe it or not but these are actually one of my favorite golf balls because of their price and overall performance.
I've seen countless people pick up these balls, see that they're a Noodle, and throw them back.
Most average golfers can't compress the ball very much and these are designed for that.
Every time I've found a Noodle on the course it seemed to last me the entire rest of the round.
Pros
They are less than a buck per ball.
You don't have to compress the ball much to get some good distance.
It always seems to stay in play.
Cons
They don't feel as good around the greens.
They didn't offer a whole lot of control over the ball (but most average golfers don't need that anyway).
#2: Callaway Supersoft
These are my second favorite balls overall and like them because they're the longest on the list.
They're able to hold really well on the green and they feel great when they're hit.
They're pretty reasonably priced as well and offer some more workability than others on the list.
The main reason I have them #2 is that they aren't quite as consistent as my 1st pick off the tee.
Pros
They're the longest on the list (for me anyway).
My irons and wedges felt really solid with these balls (had good control).
My distance control on the green was great.
Cons
They aren't as straight off the tee as my #1 pick.
That's pretty much the only negative thing I have to say about these balls.
#1: Srixon Soft Feel
These are my absolute favorite golf balls and are still the main ones I'm using to this day.
When I was first getting started I always used random Callaway or Nike balls and always struggled to keep the ball in play.
I found a Srixon one time and started playing with it and it actually lasted me a full 2 rounds.
I didn't find it as long as the Callaway but my fairways in regulation have been great since.
Pros
They aren't as cheap as the Noodle but they're under 2 bucks a ball.
They always seem to be sold out in the stores.
They're the most consistently solid ball in every category.
Cons
They aren't as durable as some of the high-end balls but you'll probably lose less.
They don't stop as quickly as some of the others on the green (but it's respectable).
Last update on 2023-03-10 / Affiliate links / Images from Amazon Product Advertising API