I've used a number of balls over the years and about a year ago these became my new spring/summer ball. In this post, I'm going to be reviewing the Srixon Soft Feel golf balls and talking about the cheapest place to pick them up.
Why do I use these golf balls? Srixon Soft feel is my current favorite ball because of the way it feels at impact and the forgiveness it offers. It isn't the cheapest ball on the market and it's not the longest but I've been able to lower my scores because I've hit more fairways and greens in regulation while using it. Overall, if you like a softer golf ball then you need to try these.
I'm a mid handicap player with a medium swing speed. I'm not saying these will be the right ball for you but they are as close to perfect for my game as I've been able to find. If you're a lower handicap player you'll probably get better results using something else but for the majority of golfers, I think it could work.
If you want a more detailed review or you want to find out where the cheapest place to get them is, then continue reading. You can also check out my favorite golf balls for average players and see that these are my #1 pick. There are also some other balls that are suited for different players and preferences. Let's jump into the breakdown.
Check The Price On Amazon. If you want to enter into our golf giveaway you can click here to subscribe to our YouTube channel, like the video, and comment giveaway. Do all 3 and you'll be automatically entered.
Control & Forgiveness
The main reason I like these balls so much is because of the control and accuracy I have with them. I'm not able to put the ball where I want it all the time but more time than not it ends up there. If I want to put a slight draw or fade on the ball I'm able to do that the best with this ball.
I also find this ball has a great amount of forgiveness. I was using a box of Taylormade balls that I got as a gift and could not for the life of me keep them in the fairway. I was in the bush looking for my ball and found one of these and decided to use it the rest of the round. I fell in love right away and it actually lasted me the entire rest of the round.
Here's a demo video:
It's not going to fix a bad swing but using the right ball is an easy start. These are somewhat similar to the Bridgestone e6 if you've ever used those. Probably not the most forgiving ball on the market but it's top 3 in pretty much all categories for me.
Overall, for the price, they're really hard to beat and if you do like a softer ball then you should definitely give these a try.
Distance & Performance
The distance on these wasn't the longest for me but I'm completely fine with that. It was only a few yards on average shorter but the accuracy and forgiveness make up for that all day long. The ball flight was also really good with these.
They definitely don't have the same amount of spin as a ProV1 but it's respectable. I can't always spin the ball anyway so it's not really that big of a deal. Also, they don't have the same durability as some of the higher-end balls but it was still much better than some of the other balls.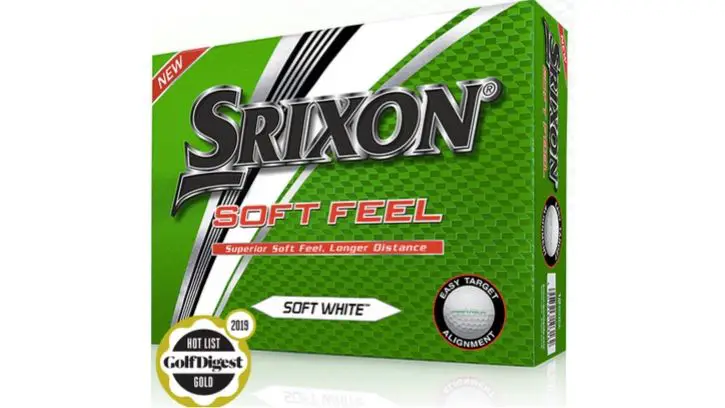 On the green, I felt like I had really good distance control and the ball felt perfect at impact. Most balls are either too soft or too hard for me but this has been the best so far. It rolls smoothly as well and that's all you can really ask for.
It's not perfect by any means and there's always ways to improve but the Srixon Soft Feels have been one of the most complete golf balls I've used.
Pros
The price is super reasonable.
It's the most consistent ball for my swing.
In every category, it's in the top 3 (in my opinion).
Cons
It doesn't have the same stopping power as a ProV1 (but it is decent).
It's not going to last as long as some of the higher-end balls.
The Breakdown
Performance Score: 9
Quality Score: 8
Value: 10
Personal Score: 9
Frequently Asked Questions
Q. What compression golf balls are they?
A. They are 60.
Q. Are these a good ball for seniors?
A. Yes, I'd say so.
Q. Is this the right Srixon ball for me?
A. I'd say it probably is for most average players. They do have other balls that are really good as well but these are my favorite. You can see the breakdown on their website.
The Verdict
Overall, if you're a mid to high handicap player who likes using a softer golf ball, you don't need a whole lot of spin, and you want something forgiving then the Srixon Soft Feel balls could be perfect for you. Check The Price On Amazon.
I've been playing them for over a year now and they're one of the most complete balls I've used. They aren't perfect but I've been able to improve the consistency of my game by using these (among other things) instead of Titleist or Taylormade.
Go ahead and give them a try to see what you think. They're inexpensive so there's really no reason not to. You'll probably be glad you did.
Let me know your thoughts and any questions you have. Like this article? Feel free to give it a share!
Looking to get some new golf gear? Click here to check out our recommended gear page to see the stuff we're recommending and the cheapest place to get them.
Last update on 2023-07-26 / Affiliate links / Images from Amazon Product Advertising API