If you're anything like most golfers you've probably been walking through the bush as you wait for the group in front of you to finally sink that put and found a Noodle ball and tossed it back. In this post, I'm going to be reviewing the Noodle Long and Soft golf ball and talking about why you might want to keep it next time.
This Noodle golf ball is one of my favorites for high handicaps and also average weekend players. It's much more inexpensive compared to other balls on the market and it'll actually give you better results if you don't always hit the ball flush. Most people can't compress the ball they're using and that's why they get no distance and that's exactly what the Noodle is designed for.
If you're someone who's just getting started with golf or you only get out a few times per year then I'd highly recommend the Noodle. It's probably not going to be best if you're a low digit handicap but for everyone else, I'd give it a big thumbs up. If you want a more detailed review or you want to find out where the cheapest place to them one is, then continue reading.
Check the price on Amazon. If you'd like to enter into our golf giveaway all you have to do is subscribe to our YouTube channel, like the video, and comment "giveaway".
Noodle Golf Ball Distance
How does the Long and Soft compare in terms of distance?
I'll start off by saying if you already compress the ball well then there's probably no reason to go with Noodle. You'll most likely get more distance with a higher-end ball. Everyone else could benefit from using it.
If you struggle to compress the ball or you tend to hook/slice the ball then I think you'd get more distance using a Noodle compared to a Titleist or something else (at least I did). I used a Noodle ball when I was first getting started and I will say that when I struck a ProV1 pure it was probably further but that only happened 20% of the time.
On average, I hit the Noodle golf ball further because I didn't have to compress it as much and it went much straighter. You'd be surprised at how far you can hit the ball if you just kept it straight.
If I use a Noodle ball now then it definitely won't go quite as far but I'd still be fine with that because I'll find more fairways compared to a ProV1. There are other balls I like slightly more but you can't go wrong with a Noodle.
Noodle Golf Ball Forgiveness
The biggest reason I'd recommend a Noodle ball is because of forgiveness. I remember I had a box of Taylormade balls (don't remember the name) but I always seemed to lose a ball every few holes. I found a Noodle in the bush one time (hole 4 or something) and it actually lasted the entire rest of the round.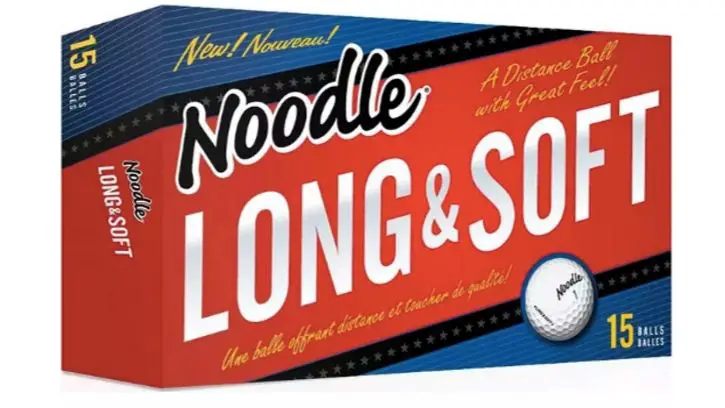 It's not going to fix your hook or slice but I think you'd see better results using a soft ball like the Noodle. I still think it's the most forgiving golf ball in this price range (except those illegal balls) and that's why I occasionally will still use one.
Wintertime gets pretty wet here and since these balls are much cheaper I'll just use them. I need to keep the ball in the fairway because I'll never find it in the rough (it'll get buried). Remember, 200 yards but in the fairway is all you need.
Noodle Long And Soft Specs
| Product | Noodle Long And Soft |
| --- | --- |
| Layers | 2 Piece |
| Compression | 35 |
| Cover Material | Surlyn |
| Spin Rate | Medium |
| Market | Beginner/Intermediate |
Pros
The price can't be beaten.
Distance is great for higher handicaps.
They do spin pretty well on the greens.
They're easy to compress.
Cons
They aren't as easy to control as the higher-end balls.
There isn't a whole lot of feel to them.
Distance isn't as long as some.
The Breakdown
Performance Score: 8
Quality Score: 9
Price Score: 9
Personal Score: 8.5
Frequently Asked Questions
Q. What compression are Noodle golf balls?
A. Low.
Q. What company makes Noodle golf balls?
A. Taylormade.
Q. Who are Noodle balls made for?
A. Higher handicaps as well as average players who don't want to spend a fortune on balls.
Q. Is there a better ball out there?
A. You can see our full list of the best golf balls.
Q. Are Noodle balls good for seniors?
A. Yes, they're one of the best in my opinion.
The Verdict
Overall, if you're in the market for a new golf ball and don't want to spend a fortune, you have a slower swing speed, you tend to hook/slice the ball, or you want forgiveness over distance then the Long and Soft could be perfect for you.
It's not the best if you're a lower handicap player because it doesn't offer as much feel, control around the greens, or the ability to draw/fade the ball. They still can work though, and I still use them every now and again (not quite a low handicap player).
I can almost guarantee that if you keep the ball in the fairway and only hit 200 yards you'll be able to lower your scores. That's been the case with me and switching to a ball like this has definitely helped.
Don't be the clown who goes out and buys 12 ProV1's for 50 bucks and shoots 95. That's one of the most ridiculous things in my opinion. Save your money and lower your scores because the Noodle Long and Soft will give you the best bang for your buck.
Let me know your thoughts and any questions you have. Like this article? Feel free to give it a share!
Looking to get some new golf gear? Click here to check out our recommended gear page to see the stuff we're recommending and the cheapest place to get them.
Last update on 2023-07-26 / Affiliate links / Images from Amazon Product Advertising API