Tired of getting your golfing friend the latest and greatest golf club that's probably not even right for them? Or maybe you're sick and tired of buying them that new golfing gimmick that'll just end up in the closet. This post will show you a bunch of different gift ideas the golfer in your life will love.
I've tried and reviewed a pretty large amount of golf products over the years and most of them aren't that great. I know it's pretty hard to know what to buy if you're not a golfer yourself, so that's what I'm here for.
I'll try to include different types of products at different price ranges. But I can guarantee you that they'll actually be used and are going to be something any golfer would want. Let's get started.
CaddyDaddy Claw Glove
90% of golfers wear a glove and this is the most comfortable one I've ever used. They help with gripping the club and preventing blisters on your hands. Most gloves only last a month or two and get all hard and crusty after a while. The Claw won't stretch, will grip the club in all conditions, and you can toss it in the washing machine.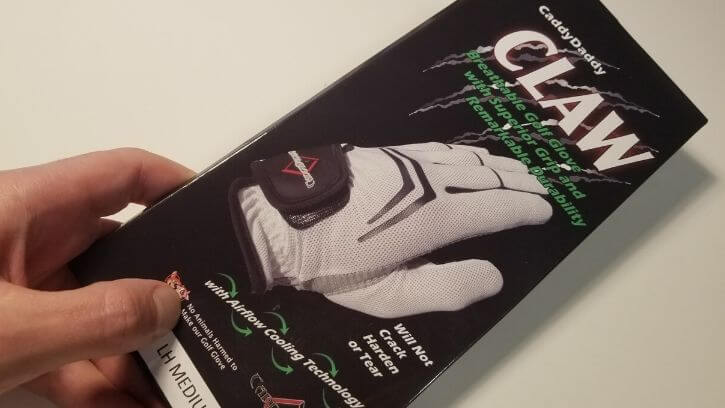 This one is silicone so it lasts much longer (3-4x longer than leather) and is incredibly comfortable. It has a breathable mesh top so your hand will stay cool in hot weather and is something every single golfer would love to have. I could never go back to using a leather glove after using this.
Arccos Caddie Smart Sensors
This is one of my favorite golf products as of late and is something that would make an awesome gift. They're little sensors that screw into each of your golf clubs and will act as a GPS on the course and keep track of your stats.
It'll be able to tell you the exact distance to different parts of the course (super helpful), it'll keep track of how far you hit each of your clubs, and will recommend what club to use based on where you are.
Here's a demo video:
https://www.youtube.com/watch?v=GaB9Of5sqF8
It'll also keep track of your rounds so you can go to the app after and see each of your shots to get a better idea of what part of your game need to be improved.
Game Golf Live
This is very similar to the Arccos system but it's quite a bit cheaper. I don't think it's quite as good but if you don't want to spend that much money then it could be a great alternative. The price can't be beaten in my opinion.
Here's a demo video:
https://www.youtube.com/watch?v=gGaQ8GLA_GA
It'll track your entire game and let you know how far you hit the ball and how far away objects are. I love having something like this because I don't like wearing GPS watches or carrying a handheld device around. This is much easier.
Garmin Approach S20
If you're looking for a golf gift for someone who likes wearing watches then this could be a great option. It's a GPS watch that will tell you how far you hit each shot and how far away different objects are (bunkers, water, green, etc).
Every golfer should have some sort of yardage finder like this because it'll really help improve your game. I struggled with hitting too long or too short before I got something like this and it's been a big help for me.
There are a bunch of different options when it comes to GPS watches and the S20 is probably my favorite entry-level unit. Some have more features but they're going to be quite a bit more expensive.
The Tee Claw
This is one of my favorite things to bring to the driving range and is great because it's extremely affordable. It lets you use real tees at the range (when there are artificial mats) so you don't have to use the crappy rubber ones. If you've ever used them you'll know what I mean but if not, just trust me.
It also comes with an elastic lanyard that you can use to practice your alignment, ball position, and putting. It's so much easier to practice when you have something like this and I love the Tee Claw because you don't have to bring long alignment sticks around with you.
Here's a demo video:
https://www.youtube.com/watch?v=vDUImLeEApQ
If the golfer you're buying for goes to the range a lot and uses artificial mats then this will be an awesome gift but if they don't practice much or hit off real grass then this might not be the best option.
Optishot Golf In A Box
This is an indoor golf simulator where you can play popular courses from around the world. It's pretty reasonably priced and it's a ton of fun. You'll need a decent amount of space to use it and you'll need a net to hit into (they have a version that comes with a net).
You'll need a Mac or PC computer to use it and that's pretty much it. You can hit real or foam golf balls and it's something that's extremely fun to do as a group. Here's a demo video:
It's not perfectly accurate when it comes to stats and tracking but it's reasonably close for the price. It's more of a fun thing to do and it did actually help my game because I ended up practicing a lot more.
TecTecTec VPRO500
This is one of my favorite rangefinders that's not overly expensive. It's almost like a binocular and all you have to do is point it at a target, press the button, and it'll tell you how far away it is. Super useful on the golf course.
It's one of the more accurate models in this price range and will work well for shooting, hunting, or archery (if they're into that kind of stuff). It's also really quick to give you the reading (other models take a bit longer).
Here's a demo video:
https://www.youtube.com/watch?v=oEvZ5IEquHo
Srixon Soft Feel Balls
These are my favorite golf balls for the average golfer. If they're a good golfer then they might prefer something else but I think these are a great option for anyone who just plays golf casually. I hit the ball much better when I switched to these.
There's no need for most golfers to spend $5 on a single ball because they'll get the same (if not better) results using a ball like this. They also last a long time (in my experience) and would make a great gift for the casual golfer.
NFL Head Covers
Is the person you're buying for a football fan (not soccer)? If so, these NFL head covers could be a great gift for them. A headcover is a thing you put over your golf clubs to protect them and whatnot.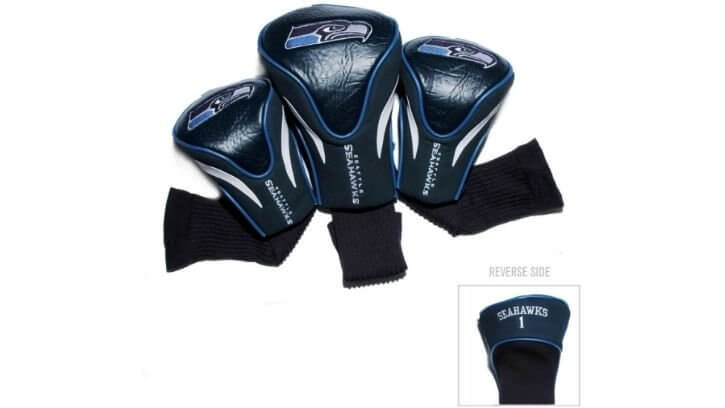 If they're into other sports (NHL, MLB, etc) I'm sure you can find those as well. Just do a search on Amazon or Google and you should find something. Another solid golf gift though.
Nike Golf Shirt
These are my favorite golf shirts. They come in a range of different colors and are extremely comfortable. They also don't get too hot when you're out there which is a big plus in my books.
A little bit on the expensive side but having one or two isn't that bad. I'm sure you could find similar shirts made by someone else for cheaper but I do really like these.
Personalized Ball Marker
This is the little marker you use on the green to mark where your ball is so someone else doesn't hit it. You can get any old generic one or use a coin but I think having your own personalized one is pretty cool.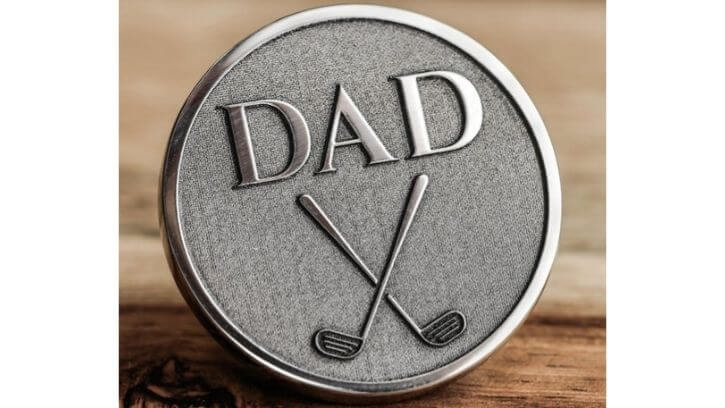 You can put pretty much whatever you want on it and it's something every single golfer would need. You can click here to check it out on Etsy.
Microfiber Golf Towel
Every golfer needs to have a towel on their bag to wipe their clubs or hands and a microfibre towel is the best option. With these towels, you can use one side to clean your clubs and the other side to dry your hands.
An ordinary towel isn't going to clean the grooves in the clubs as well, it's going to get stained, and it's not going to last as long. Plus, it's not that expensive either.
Golf Organizer
This is a cool thing to put in your house or garage to keep all your golf stuff together. It has room for two golf bags, your shoes, gadgets, and it even comes with a compartment to store your golf balls.
If you live with someone and are sick and tired of having their golf stuff scattered around then this could be the perfect gift for them. You can use it for other stuff as well so it's a win-win.
Exploding Golf Balls
If you're looking to prank someone then this is one of the funnier things you can do. It's pretty self-explanatory but they'll explode when you hit them. It's absolutely hilarious to see their faces when it happens.
It doesn't feel exactly like a real ball but if you play it right then you should have no problem getting someone to hit it. There are a number of different ones out there, some are just white while others are colored.
Let me know your thoughts and any questions you have. Like this article? Feel free to give it a share!
 If you want to enter into our gear giveaway you can click here to subscribe to our YouTube channel, like one of our videos, and comment giveaway. Do all 3 and you'll be automatically entered.
Last update on 2023-07-26 / Affiliate links / Images from Amazon Product Advertising API