Having some sort of yardage finder on the course and being able to clearly see how far you hit each club is super important if you want to improve your game. In this post, I'm going to be reviewing the Arccos Caddie Smart Sensors and giving my honest opinion after testing it out. I'll also show you the cheapest place I could find it for sale, so continue reading.
I've used the Arccos Caddie Smart Sensors about 5 or 6 times now and the first thing I noticed was that the instructions were actually helpful and it was really easy to set up. They were actually more accurate than I expected (which was awesome) and I really liked the feature where it helped you pick the right club. Overall, one of the better golf products I've used in a while.
It's not going to be 100% accurate when it comes to accuracy but it's close enough and I'd buy it again in a heartbeat. The information it provides is awesome and helps a lot. If that's all the info you were looking for then great. If you want a more detailed review and the best place to pick one up, continue reading.
https://www.youtube.com/watch?v=GGNTu0rpWCI
Check the current price on Amazon (best place we could find it). If you'd like to enter into our golf giveaway all you have to do is subscribe to our YouTube channel, like the video and comment "giveaway".
My First Impressions Of Arccos Caddie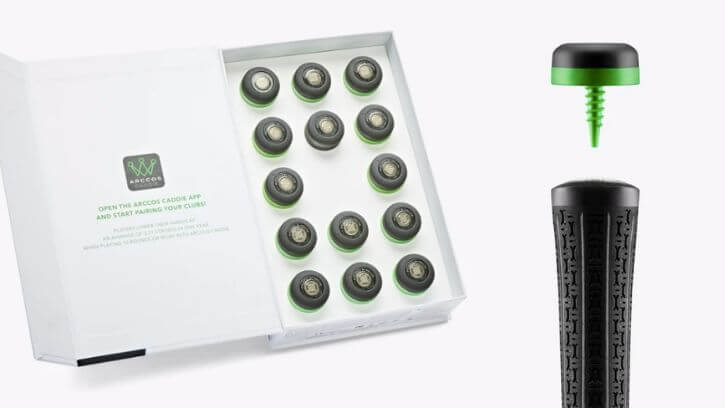 I've used the previous Arccos 360 device in the past (and loved it) so I have high expectations with their newer version. I wasn't that tempted to buy it again because the 360 was still working completely fine, but I ended up giving in.
If you don't know, it's basically a shot tracker that attaches to your clubs and will record all your data and send it to the app. It's somewhat similar to the Garmin CT10 if you're familiar with that (but a lot better, in my opinion).
All you have to do is screw the little sensors into the top of your clubs, connect to the app, and you're ready to go. You'll get one for each club and also your putter.
You can also buy the Arccos Grips, which have the sensors built-in already.
There are 2 different products in the series:
The Arccos Caddie Smart Sensors.
The Arccos Caddie Smart Grips.
You can either get the Smart Sensors and screw them into your current grips or you can get the Smart Grips to replace your old ones (the sensor and grip are a single piece).
What Do The Arccos Smart Sensors & Grips Do?
https://www.youtube.com/watch?v=NdWwBqxi2_M
These things are pretty cool and do 2 main things.
The first is that they track every single shot and will tell you how far you hit the golf ball and will keep track of how far you hit each club (it'll recommend what club to hit based on how far away you are). This is incredibly useful if you're looking to take your game to the next level.
It'll show you fairways/greens in regulation, where your common misses were, your average driver length, and the number of 1, 2, and 3 putts. You'll easily be able to see what part of your game needs the most work.
The second is that it'll act as a golf GPS and will tell you the distance to the green and different hazards. All the courses in my area were on it, so that was awesome. I didn't think a GPS would make that much of a difference but my shot distance was almost instantly better.
Were The Smart Sensors Easy To Use?
They were actually extremely straightforward to set up and use.
All you had to do was screw the sensors into your grips (or replace your grips), pair it to the app, and you're good to go.
It takes about 10 minutes to pair and all you have to do is tell the app what clubs you have and then point each club towards your phone.
It would glitch every now and then but that's pretty much the case with all electronics. I've used a number of other units like this and the Arccos system seems to be the cleanest and most well built.
How Accurate Were The Sensors?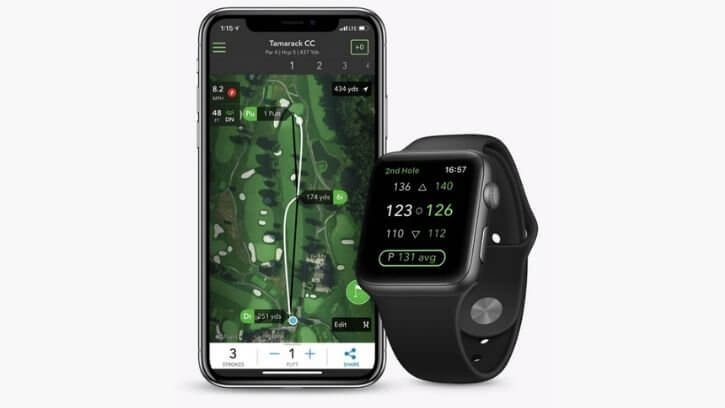 I've tried a lot of these devices over the years and a lot of them have been big gimmicks.
I've used Arccos in the past and they've always been pretty accurate. After testing them out I was glad to see that they were just as accurate as before (always very close to my laser rangefinder).
It wasn't 100% but my shot distance always seems to be within 5 yards of the course markers.
You could also select a point on the hole and see the distance (which I found to be super helpful). Again, this was almost always within a few yards of the course markers.
Overall, I was really impressed.
Arccos Smart Sensors Specs
| Product | Arccos Smart Sensors |
| --- | --- |
| Sensors | 14 |
| Phone App | Yes |
| Shot Tracking | Yes |
| Club Tracking | Yes |
| GPS | Yes |
| Slope/Altitude | Yes |
| Stat Tracking | Yes |
| Caddie | Yes |
| Battery Life | 3-5 Years |
| Subscription | $99/yr |
| Courses | 40,000+ (See Here) |
What I Liked About The Arccos Caddie
Everything is well built and seems like they put in a lot of effort.
It was just as accurate as any other GPS (and even laser rangefinder).
It's helped me a lot seeing where my game needs to improve the most.
Having the club recommendations was a big help too.
What I Didn't Like About The Arccos Caddie
The sensors will add about 3/4 of an inch to your clubs (takes a little time to get used to them).
Your phone has to be in your front pocket (they're working on a new product called Link where you can have your phone in your bag).
The sensors can sometimes fall out of your club.
They come with a $99 annual fee.
The Breakdown
Performance Score: 9
Price Score: 9
Ease Of Use Score: 10
My Personal Score: 9.5
Frequently Asked Questions
Q. How long do the sensors last?
A. They should last for 4-5 years. My previous Arccos 360 sensors have been working great for the last 3 years.
Q. Do the grips come in different sizes?
A. They just come in one size (at the time of writing this). If you want bigger grips, use your own with the sensors.
Q. Is it worth upgrading from the previous 360?
A. I did and I have no regrets. The app is a little better and it's more consistent in terms of accuracy.
Are The Smart Sensors Worth It?
If you haven't been able to tell, I'm a big fan of the Arccos Smart Sensors & Grips and would highly recommend them (if you play a lot of golf and have the spare change).
I don't know if I'd recommend them to the average weekend golfer who gets out once or twice a month (unless you have the spendable cash) but for those who want to take their game to the next level, this is one of the best products on the market.
The grips are a little bit cheaper but you have to go through the hassle of taking your old ones off and putting the new ones on. Either way, both are great options.
Let me know your thoughts and any questions you have. Like this article? Feel free to give it a share!
Looking to get some new golf gear? Click here to check out our recommended gear page to see the stuff we're recommending and the cheapest place to get them.
Last update on 2023-07-26 / Affiliate links / Images from Amazon Product Advertising API