Being able to record your club data to see what needs to improve the most is one of the best things you can do to lower your scores. In this post, I'm going to be reviewing the Garmin Approach CT10 golf club tracker and giving my honest opinion after giving it a try myself. I'll also show you the cheapest place I could find it for sale, so continue reading.
The Garmin Approach CT10 is a fairly decent golf tracking system but in my opinion, there are better options currently on the market. I've tested quite a few and some have been more accurate and have had a better app (with a similar price tag). My favorite tracking system right now is the Arccos Smart Sensors.
If you can find the CT10 for an awesome price then you might want to consider using it. All I'm saying is that you'll probably enjoy other units a bit better. If that's all the info you were looking for then great. If you want a more detailed review or the device I'd recommend instead, continue reading.
Check the current price on Amazon (cheapest place). If you'd like to enter into our golf giveaway all you have to do is subscribe to our YouTube channel, like the video and comment "giveaway".
My First Impression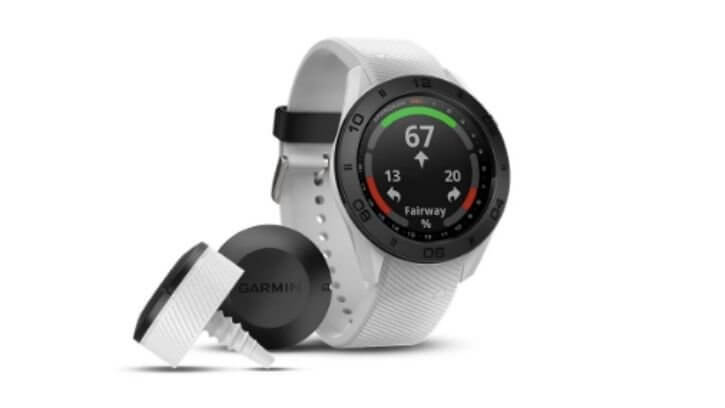 This is a club tracking system from Garmin that screws into your grips and collects all your data.
There are similar devices currently on the market such as the Arccos Caddie Smart Sensors.
It comes with 1 sensor for each club and will record how far you hit each club so you can know for sure and not have to second guess what club to pick.
This should really help when it comes to distance control and hitting more greens.
What Does The Garmin CT10 Do?
https://www.youtube.com/watch?v=Q4EsgiRt0Us
Knowing the info these devices give you is just as important as picking the right golf ball if you want to improve your game (especially if you struggle with distance control).
Most people just guess the club they should be hitting and end up leaving it way short or crushing it over the green.
You'll be able to see how far you normally hit each club and how accurate each club is off the tee, in the fairway, or on the green. You can then come up with a strategy to play better golf or see what needs to be improved.
You can go into the app after your round and look at your round to see what needs the most work.
Also, if you do have one of the Garmin watches you'll be able to connect them to get some more stats.
How Accurate Was It?
I've tried and tested multiple products like this over the years and most of them weren't 100% accurate. As long as they're within about 5 yards is good enough for me.
Garmin is normally one of the best when it comes to GPS data and that was still the case with the CT10.
Most of the distance data seemed to be very close to being accurate (within about 5 yards of my laser).
The one issue I found with it was that it often counted a shot that didn't happen, it sometimes selected the wrong club, and it sometimes missed a score (you can edit these).
This did happen less with the Arccos system.
How Useful Was The Data?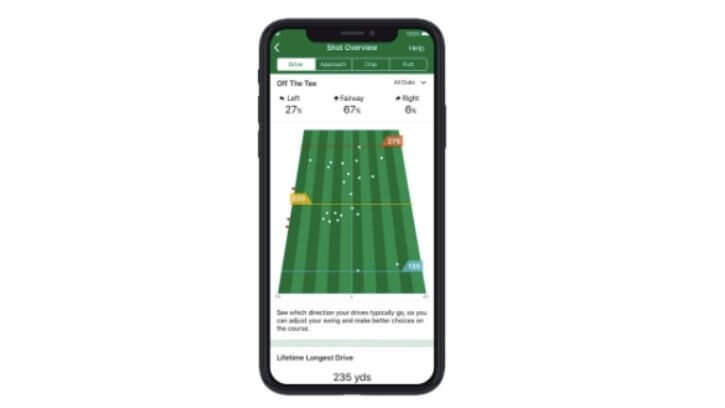 Knowing the data these things provide is super useful for taking your game to the next level. It probably won't be that useful if you only play a few times per year, but for everyone else, it definitely could be.
I struggled with distance control for a while (always hitting long or short) and it wasn't until I knew for sure how far I hit each club that my game improved.
I used to write all my distances on a piece of paper but the good news is that this will do that for me.
After a few rounds, you'll be able to see your stats such as what percent you hit the fairway/green and what percent you hit left/right (see how you can improve).
Garmin CT10 Specs
| Product | Garmin CT10 |
| --- | --- |
| Sensors | 14 |
| Size | 27 x 13 mm |
| Phone App | Yes |
| Shot Tracking | Yes |
| Club Tracking | Yes |
| GPS | With Garmin Watch |
| Stat Tracking | Yes |
| Battery Life | 4 Years |
| Subscription | No |
Pros
You don't have to record the club you shot with.
It's simple to use.
The distance data seemed to be fairly accurate.
Seeing your common mistakes is very helpful.
Cons
The putting didn't seem to be as accurate as other units.
It often got confused or imputed the wrong data.
It only pairs with the S20 or S60 GPS.
Not all of my sensors actually worked.
The Breakdown
Performance Score: 7
Price Score: 8
Ease Of Use Score: 9
My Personal Score: 8
Frequently Asked Questions
Q. What watches are compatible with the CT10?
A. The main golf watches that are compatible are the Garmin S20, Garmin S40, and Garmin S60. If you want to see the full list of compatible watches you can click here.
Q. Is the CT10 better than the Arccos?
A. I liked the Arccos system better because it was more accurate and the app was better.
Q. Is it worth getting the 3 pack?
A. I'd say it's better to save up and get the full set so you can get the full picture.
Is It Worth It?
Overall, I'd say it's a fairly decent golf tracking system that could be worth picking up if you can find it for a really good price.
In my opinion, there are better options currently on the market.
I've tested quite a few and some have been more accurate and have had a better app (with a similar price tag). My favorite tracking system right now is the Arccos Smart Sensors.
They seem to be a bit more accurate and the app doesn't seem to glitch as much. I've been using them for a while now and absolutely love them.
Let me know your thoughts and any questions you have. Like this article? Feel free to give it a share!
Looking to get some new golf gear? Click here to check out our recommended gear page to see the stuff we're recommending and the cheapest place to get them.
Last update on 2023-07-26 / Affiliate links / Images from Amazon Product Advertising API