If you're looking for a high-quality multisport watch that's rugged and built for the outdoors, the Fenix 6 might be for you. In this post, I'm going to be reviewing the Garmin Fenix 6 from a golfer's point of view and talking about whether or not it's worth picking up.
In short, I wasn't the biggest fan of the previous Fenix 5 but I do like the changes they've made with the Fenix 6. It was a bit more compact (which is a big deal for me), it has a few more features, and the battery is quite a bit better to justify the price. If you're going to be doing a lot of outdoor activities and need something that will stand up to the elements, the Fenix 6 should be a good choice for you.
If you're just looking for a golf watch you might want to consider the Garmin S60. It's cheaper and has more advanced golf features. It doesn't have multisport features though so that's the major downside.
If you do want a multisport watch that's not as expensive, my favorite would have to be the Garmin Vivoactive 4.
https://www.youtube.com/watch?v=EUfpbFdIv5w
Garmin Fenix 6 First Impressions
Since I wasn't the biggest fan of the previous Fenix 5, I didn't have a whole lot of expectations with the newer Fenix 6.
They did make some changes though and those changes were a big improvement in my opinion. You can get an upgraded version of the watch but I just tried the basic version. Here's a quick video showing how the watch works and what it looks like:
https://www.youtube.com/watch?v=xRGTsjWaYZs
The first (and my favorite) change they made to the Fenix 6 was making it more compact.
My biggest complaint with the 5 was that it was too big and bulky. I'm not a fan of wearing watches anyway so that's what made me not like it that much. The 6 is a few millimeters thinner which also makes it lighter. It might not seem like a huge difference but I really noticed it.
The second change they made was adding more features.
Different sports were added and so were the things they tracked. The 6 comes with a pulse ox sensor which will help you acclimate to different altitudes. It has an incident detection feature that will contact emergency services if you fall. It also has an energy monitor that will tell you when you have the most energy or need to rest.
The final improvement was battery life.
Both the 5 and 6 have impressive batteries when you compare them to other sports watches on the market. That's part of the reason for the higher price tag. The Fenix 6 is quite a bit better than the 5 as well.
Garmin Fenix 6 Golf Features
If you've ever used a sports watch from Garmin, the golf features are pretty much the same.
They aren't going to be as advanced as a high-end golf-specific watch but they'll definitely give you all the essentials you'd need on the course.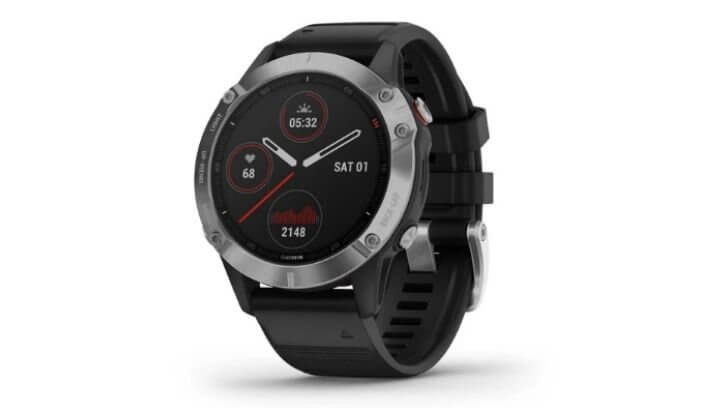 The first thing you'll have to do is download the course onto your watch.
It's a bit of a hassle, having to do that every time but it'll save after that and you'll be good to go. All you have to do is go to the Garmin Connect app and find your course.
After that, you'll be able to see what hole you're on, what par is on that hole, what the green looks like, and the distance to the front, middle, and back of the green. You can also move the pin around to get exact distances.
You can also see what hazards are on each hole.
You'll be able to see how far away you are from the front and back of each hazard, what type of hazard it is, and where it is compared to the green. It'll also show you how far away doglegs are and where the different layup spots are.
Another cool feature is that it'll automatically track your shots and tell you how far each shot was. All you have to do is hit your ball, walk up to it, and it'll tell you the distance. It'll also store that info so you can review it after your round.
You can also keep score on the watch and keep track of your handicap and a few other things. If you want more advanced tracking, you can get Garmin Truswing and it'll connect to your watch.
Garmin Fenix 6 Non-Golf Features
I don't really use many of the other features myself but the watch does have pretty much everything you'd want to track or do.
You can track all the basics such as steps, calories burned, and quality of sleep, and you can also track more advanced things like energy levels and altitude acclimation.
If you're someone who likes to swim, trail run, cycle, hike, climb, or anything else similar, this watch will be able to track all of those. I don't use these that much so the numbers don't mean much to me.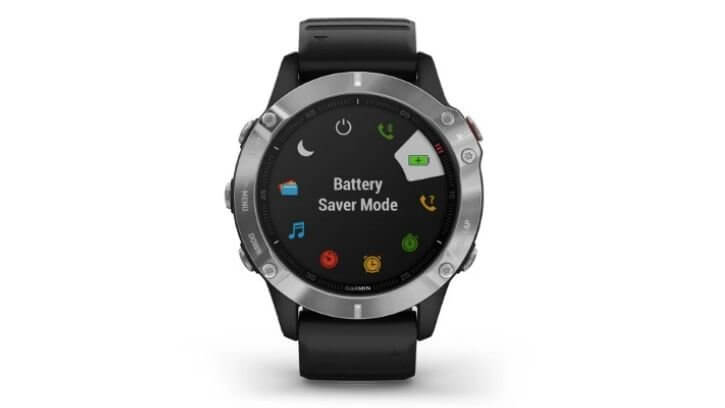 The one thing I use a lot is the built-in GPS.
The main reason to get a watch like this would be for outdoor use such as hiking, running, or something else where you need a GPS. It'll keep track of where you are, where you've been, and where you're going. It's so much better than those bulky handheld units.
Garmin Fenix 6 Design
The design of the Fenix 6 was a big improvement in my opinion.
I thought the 5 was a bit too thick and it wasn't the most comfortable watch I've tried. The 6 is a bit thinner and lighter which makes it a lot more comfortable.
The other difference was the quality of the screen.
The Fenix 5 was more scratch-resistant than a lot of other watches and that's why it was good for outdoor use. The Fenix 6 is even better though and it comes with Gorilla Glass (whatever that is) which was really durable.
Other than that, the design was pretty much the same. Both those changes were a lot better though, in my opinion.
Garmin Fenix 6 Performance
When it comes to performance, the main thing I'm looking at is the battery life and the accuracy of the golf features. You should be here because you're interested in the golf features and that's what I'm going to focus on.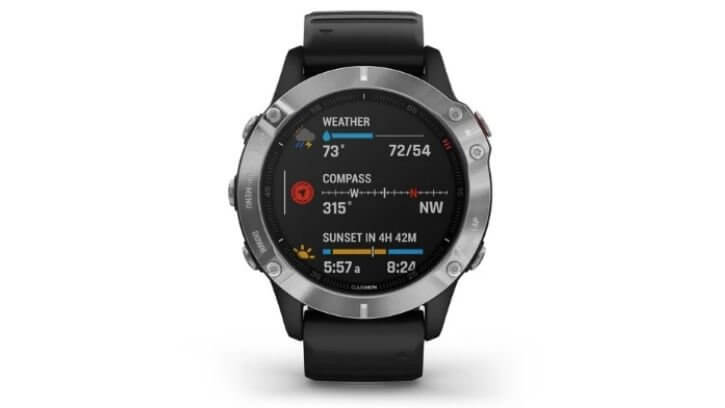 Let's start with the accuracy of the GPS.
If you've ever used one of the other Fenix watches or even the Vivoactive or Forerunner, the golf tools are essentially the same. I wouldn't say they're as accurate as of the Garmin S60 but they were always within 5 yards of the course markers. That's good enough for me and it should do the job for you.
Now for the battery life.
This is one of the big selling points with the Fenix series. If you're going to be using it in the outdoors, you'll probably need a battery that'll last multiple days (for hiking, climbing, etc). The battery will last much longer than the Vivoactive or Forerunner series and the 6 was noticeably better than the 5. If you're just using it as a smartwatch (no other features), it should last around 2 weeks. If you're using the GPS features, it should last well over a day.
Garmin Fenix 6 Specs
| Product | Garmin Fenix 6 |
| --- | --- |
| Size | 47 x 47 x 15 mm |
| Watch Material | Polymer/Stainless Steel |
| Glass | Gorilla Glass |
| Quick Fit Bands | Yes |
| Touchscreen | No |
| Strap Material | Silicone |
| Screen Size | 1.3 Inch |
| Weight | 80 Grams |
| Battery Life | 36 Hours GPS Mode |
| Water Rating | 10 ATM |
| Golf Courses | 41,000+ |
| Preloaded | No. Downloadable From Phone |
| Distance To Front, Middle, Back | Yes |
| Distance To Hazards/Doglegs/Layup | Yes |
| Shot Distance | Yes |
| Scorecard | Yes |
| Stat Tracking | Yes |
| AutoShot | Yes |
| Manual Pin Placement | Yes |
| Pinpointer | Yes |
| Club Tracking | Requires CT10 |
What I Like
You can track pretty much everything on it.
It'll give you all the essential golf features.
It's tough and well built.
The battery is way better than an Apple Watch.
What I Didn't Like
It's still a bit too big for me personally.
The sleep tracking isn't as good as some of the others.
The price is a bit high.
The Breakdown
Performance Score: 8
Quality Score: 9
Ease Of Use: 8
Personal Score: 8.5
Frequently Asked Questions
Q. What nav maps does the Fenix 6 come with?
A. It comes loaded with maps from North America and a base map for the rest of the world. You can also purchase additional maps for certain areas.
Q. Does the Fenix 6 have interchangeable bands?
A. Yes, you can pick from a bunch of different straps.
Q. Can you play music through the Fenix 6?
A. Yes, you can connect to Spotify or Amazon Music.
Is The Garmin Fenix 6 Worth It?
Overall, if you're someone who spends a lot of time outdoors and needs a watch that has a long battery life and is built super tough, the Fenix 6 could be perfect for you.
I like it a lot more than the Fenix 5 because of the smaller size (bigger screen) and the better battery life.
If I had to pick, I'd go with something like the Vivoactive 4. It's not as heavy-duty but it is more compact and is more comfortable in my opinion. It's also cheaper which is a big selling point. Both are great options though.
Let me know your thoughts and any questions you have. Like this article? Feel free to give it a share!
Looking to get some new golf gear? Click here to check out our recommended gear page to see the stuff we're recommending and the cheapest place to get them.
Last update on 2023-07-26 / Affiliate links / Images from Amazon Product Advertising API