One of my favorite multisport watches was always the Vivoactive 3, so I did have some high expectations when the newer model came out. In this post, I'm going to be reviewing the Garmin Vivoactive 4 from a golfer's point of view and talking about whether or not it's worth picking up.
In short, I do like the new Vivoactive 4 and I do prefer it slightly over the previous version. The golf features are pretty much the same but there are a few additions that I liked. The golf features aren't going to be as advanced as the Garmin S60 but it does offer a lot more when it comes to other activities. It comes in a few different sizes, the battery life is a bit better, and you can store music directly on the watch.
If you are on a budget then I'd still recommend you go with the Vivoactive 3. It's still one of my favorite multi-sport watches and it's quite a bit cheaper. If you want the extra features or something that looks a bit better (in my opinion) then you should go with the Vivoactive 4.
https://www.youtube.com/watch?v=1A7FpDLd4HM
Garmin Vivoactive 4 First Impressions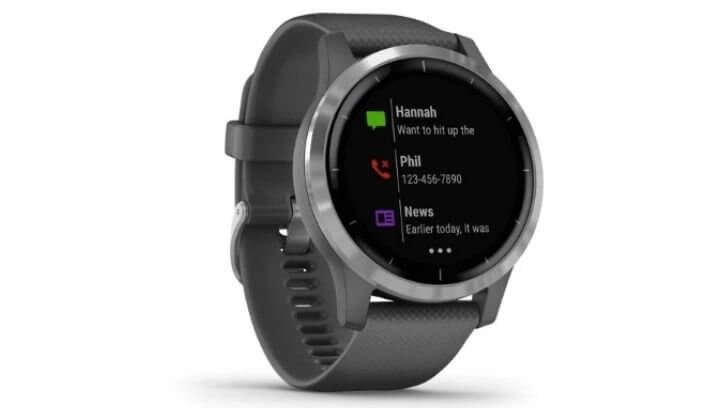 Like I was saying before, the Vivoactive 3 was my favorite multisport watch because it was comfortable, did everything I needed it to do, and it wasn't overly expensive.
The newer Vivoactive 4 continued that but there are a few more features that should make it a bit better.
The first change is that you can pick two different sizes with the 4.
It comes in a 40 or 45 mm version and I liked the 40 because it was a bit more compact. Some people like the bigger watch though.
The second change is that music storage comes standard on the 4.
With the 3, you had to pay extra for that feature (around $70 extra) but it comes standard on the 4. You can play music through Spotify, Amazon Music, or whatever else.
The final difference is battery life.
It's not that big of a difference but the 4 comes with a slightly better battery. It's going to last somewhere around 8 days in smartwatch mode where the 3 would last somewhere around 7 days.
Garmin Vivoactive 4 Golf Features
I'll start off by saying, these multisport watches aren't going to be quite as good as some of the higher-end golf-specific watches.
Some of those offer some pretty cool features but the Vivoactive 4 is going to give you all the essentials.
The first thing you'll have to do is download the course you want to play.
It's pretty straightforward but all you have to do is go to the Garmin Connect app and look for your course. It'll be saved to your phone after that.
The watch is going to give you the basic info you'd need such as what hole you're on, what par is, how far away the front/middle/back of the green is, and the shape of the green. You can also move the pin around for specific distances.
You can also see hazards, doglegs, and layup spots on each hole.
It'll show you the distance to the front and back of each hazard, what type of hazard it is, and where it is in relation to the green.
One of the more useful features is that it'll tell you how far you hit each shot and will record that info for you to look at.
All you have to do is hit your shot, walk up to your ball, and it'll tell you how far. You can view your shot history after your round to figure out how far you hit each club.
And yes, it'll keep score for you.
Garmin Vivoactive 4 Non-Golf Features
https://www.youtube.com/watch?v=7oReA_g5X2Q
The reason you'd get a watch like this would be for the non-golf features.
If you'll just use it for golf then go with the S60 but if you want to track your fitness levels/sleep or use it for swimming, cycling, running, or something else, it'll work great.
The first set of features it has is fitness, health, and sleep tracking.
It'll track steps, calories burned, hydration levels, how well you slept, and it'll even show you on-screen workouts.
You can also play music directly from the watch which is pretty cool.
With a lot of the other watches out there (Vivoactive 3 included), you could only control the music on your phone with the standard version of the watch. With the 4, you can play music through Spotify or Amazon Music.
It also has a built-in GPS which is awesome as well.
You can use it for driving, hiking, boating, or whatever else. It sure beats having one of those handheld GPS units that are pretty big and bulky.
The watch does come with 20+ sports apps already loaded in.
Some of them are running, cycling, swimming, climbing, and a number of other sports. I don't use too many of them so I don't really know how useful they are.
Garmin Vivoactive 4 Design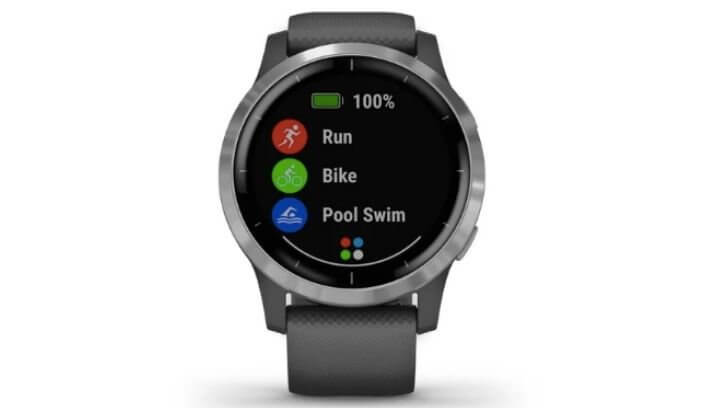 One of the main reasons I like the Vivo 4 is because of the design.
I didn't have any issues with the 3 but I do like the look of the 4 quite a bit more. It's not something that would make me spend the extra money by itself but it could be for you if you have the money to spend.
The second reason I like the 4 is that it comes in two different sizes. The previous watch was 43mm while the 4 comes in 45 or 40mm. I'm not the biggest fan of wearing watches all the time so the 40mm version was more comfortable for me.
It might not seem like a big difference but I really could tell a difference.
Garmin Vivoactive 4 Performance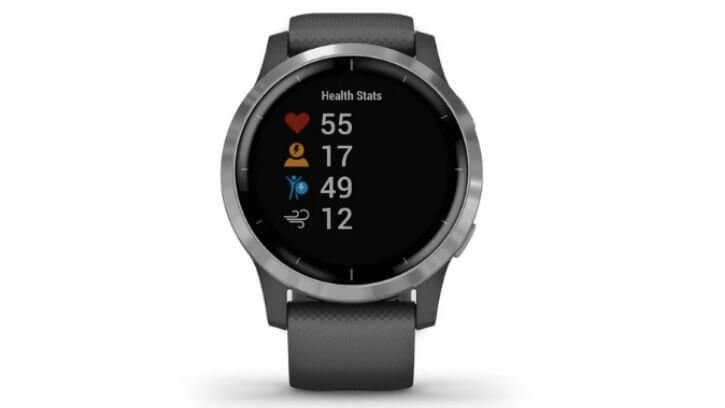 When it comes to performance, the main thing I'm going to be talking about is how long the battery lasted and how accurate the golf features were. You're here because you're looking for a golf watch, so most of the other things might not matter.
Let's start with the battery.
The latest Vivoactive is supposed to last an hour longer in normal smartwatch mode. I really didn't notice a difference compared to the 3 but it was still good enough. If you just use it as a normal watch with no GPS, it should last about a week. If you use the features sometimes you should get a couple of days. If you're using the golf GPS and/or listening to music, you will get a full round no problem.
Now for the accuracy of the golf GPS.
Even though it wasn't as good as the S60, I was still pretty impressed. It was very similar to the Garmin S10/S20 and it was pretty much the same as the other sports watches from Garmin. The yardage to the green and the distance of my shots were always within 5 yards of the course markers. That's good enough for me.
Garmin Vivoactive 4 Specs
| Product | Garmin Vivoactive 4 |
| --- | --- |
| Size | 45 x 45 x 13 mm |
| Watch Material | Polymer/Stainless Steel |
| Glass | Gorilla Glass 3 |
| Quick Release Bands | Yes |
| Touchscreen | Yes |
| Strap Material | Silicone |
| Screen Size | 1.3 Inch |
| Weight | 50 Grams |
| Battery Life | 18 Hours GPS Mode |
| Water Rating | 5 ATM |
| Golf Courses | 41,000+ |
| Preloaded | No. Downloadable From Phone |
| Distance To Front, Middle, Back | Yes |
| Distance To Hazards/Doglegs/Layup | Yes |
| Shot Distance | Yes |
| Scorecard | Yes |
| Stat Tracking | Yes |
| AutoShot | Yes |
| Manual Pin Placement | Yes |
| Pinpointer | Yes |
| Club Tracking | Requires CT10 |
What I Like
It's easy to use and pair to other devices.
The battery life is great if you're using it as a normal watch.
The touchscreen is super responsive.
There are a bunch of cool features (no way I'd use them all).
What I Didn't Like
The battery life could be better when listening to music or using GPS.
The price point is a little high.
I'd like to see some more advanced golf features (like the S60).
The Breakdown
Performance: 8
Quality: 9
Ease Of Use: 8
Personal Score: 8.5
Frequently Asked Questions
Q. Can you play music through the Vivoactive 4?
A. Yes, you can.
Q. Can you answer calls and reply to messages on the Vivoactive 4?
A. You can only accept or reject calls on the watch (you need your phone to talk). You can only respond to messages if you have an Android phone (currently).
Q. Does the Vivoactive 4 have interchangeable bands?
A. Yes, it does.
Is The Garmin Vivoactive 4 Worth It?
Overall, if you're looking for a quality multisport watch that looks awesome and will give you the essential golf features, the Vivo 4 could be perfect for you.
It's not as advanced as the golf-specific watches but it's good enough for most people. It's comfortable, built well, and the features are all pretty accurate.
If you just want a watch that offers the most golf features you should check out the Garmin S60. If you don't want to spend this much money on a multisport watch you should just go with the Vivoactive 3.
Let me know your thoughts and any questions you have. Like this article? Feel free to give it a share!
Looking to get some new golf gear? Click here to check out our recommended gear page to see the stuff we're recommending and the cheapest place to get them.
Last update on 2023-07-26 / Affiliate links / Images from Amazon Product Advertising API