If you spend a lot of time outside, having a watch like this could be perfect for you. I've been in the market for a new multisport watch that I could use on the golf course as well as the trail. Fenix 5 is one of the most popular and that's why I decided to pick it up and give it a try.
Fenix 5 is an awesome all-around sports watch that has a lot of cool features for a variety of sports. The steep price tag makes it only worthwhile if you're going to be using it a lot off the golf course for activities such as running, hiking, or swimming.
The Fenix 5 will give you about 80% of what you'd need out on the course. All the basics will be covered but there are a few advanced features that won't be included. There are better golf-specific watches out there but they don't have all the additional features that the Fenix 5 does. Continue reading for the full details of the Fenix 5 watch.
Check the current price on Amazon (best place we could find it). If you'd like to enter into our golf giveaway all you have to do is subscribe to our YouTube channel, like the video and comment "giveaway".
Garmin Fenix 5 First Impressions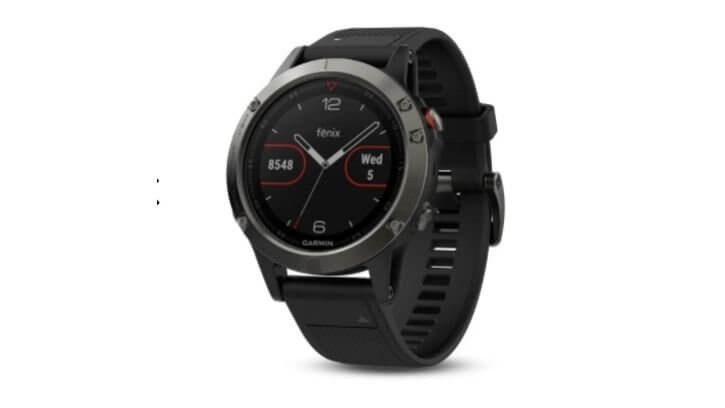 This is a multi–sport watch from Garmin that offers a lot more than a normal golf watch. Most golf watches will just focus on golf and some of them will have some basic fitness tracking features such as steps walked, calories burned, or even a heart rate monitor.
Fenix 5 is built for someone who doesn't just want to use it on the golf course but they also do a bunch of different sports. The watch is built for someone who likes running, swimming, and hiking. I'd only really recommend it if you'll be using for other sports as well.
Since it's built for a range of outdoor activities, it's built a little bit more solidly compared to the golf or other multisport watches. That being said, it still has all the essential golf features you'd be looking for.
Garmin Fenix 5 Golf Features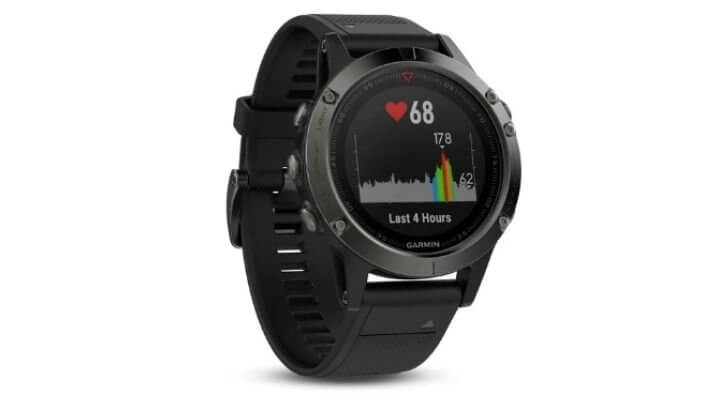 The features of this watch are similar to most of the top golf watches in that it shows the distance to the entire green and also hazards on the course. You'll be able to see the distance to the front, middle, and back of the green and it'll show you the distance to bunkers, doglegs, and layup spots.
Some watches will only show you the numbers while others will only show the green. What's nice about the Fenix 5 is that it gives you a bit more information out on the course.
It also has the pin placement feature so you can drag the pin around to get a precise distance (this really helps with distance control). Knowing the exact yardage helped me a lot with picking the right club.
A lot of them will only tell you the distance to the front, middle, and back. That's good and all but if you have a big green it could be 10 yards or so off. It's still better than nothing but I think modern GPS should give you more info.
It comes loaded with over 40,000 courses worldwide, it has the Autoshot feature, and it's compatible with Garmin TruSwing (discontinued now). These features are pretty standard across all Garmin golf watches.
All the main courses in my area were on it and I'm sure that should be the case for you as long as you live in North America or the UK. Autoshot will record all your shots and store how far you hit each club. Here's a demo video:
Garmin Fenix 5 Non-Golf Features
It's a pretty cool watch that does pretty much everything you'd want it to do outside. I don't really care about this stuff too much but I do know people who want to track everything possible.
It has a heart rate monitor, Bluetooth compatibility, and will keep track of all your fitness activity and give you a bunch of data (if you're into all that). Everything seemed to be fairly accurate but it is a watch and it won't be 100% right all the time.
It also has full mapping and navigation built into the watch, as well as a compass, and an altimeter. I did end up using the navigation maps quite often and I think that's a feature most people would really like.
The Garmin Fenix 5 Design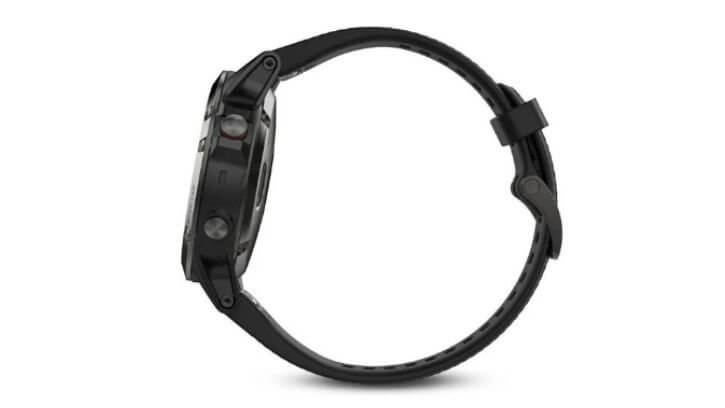 What I like about this watch is that it comes in 42MM, 47MM, or 52MM (screen size is the same regardless). I prefer the smallest size myself but everyone will be different.
The screen size is 1.1 inches and comes in either glass or sapphire crystal (I went with glass). It seemed pretty durable to me but if you're someone who drops their stuff a lot, you might want to go with the crystal.
You can also interchange the bands to find the one that's most comfortable for you. There are a bunch of different colors to pick from and you can attach a leather band if you want.
One of the downsides is that there are so many features so it takes quite a while to fully understand how to use the watch.
Garmin Fenix 5 Performance
This is the main thing that really matters and with the steep price tag, you'd hope it's incredibly accurate. I've found that most of the Garmin watches are all fairly accurate and good enough for me.
Long story short, it was just as accurate as my favorite golf watch (Garmin S60) and was always within 4-5 yards of the course markers. Not quite perfect but it's good enough for the average Joe golfer like myself.
Since it's made for outdoor activities the reception was always super quick and reliable as well.
In terms of battery life, this is one of the best and it lasted us about 4 full rounds in GPS mode. That's actually the longest out of all the watches I've tested (currently).
Garmin Fenix 5 Specs
| Product | Garmin Fenix 5 |
| --- | --- |
| Size | 47 x 47 x 16 mm |
| Watch Material | Polymer/Stainless Steel |
| Glass | Strengthened Glass |
| Quick Fit Bands | Yes |
| Touchscreen | No |
| Strap Material | Silicone |
| Screen Size | 1.2 Inch |
| Weight | 85 Grams |
| Battery Life | 24 Hours GPS Mode |
| Water Rating | 10 ATM |
| Golf Courses | 41,000+ |
| Preloaded | No. Downloadable From Phone |
| Distance To Front, Middle, Back | Yes |
| Distance To Hazards/Doglegs/Layup | Yes |
| Shot Distance | Yes |
| Scorecard | Yes |
| Stat Tracking | Yes |
| AutoShot | Yes |
| Manual Pin Placement | Yes |
| Pinpointer | Yes |
| Club Tracking | Requires CT10 |
What I Like
It's a watch that does pretty much everything.
It's a lot faster and more accurate than others.
I found it to be one of the more comfortable watches on the market.
What I Don't Like
It's an expensive watch.
It doesn't have as many golf features as the S60.
It's pretty complicated to learn how to use all the features.
The screen resolution isn't as good as some.
The Breakdown
Performance Score: 9
Price Score: 7
Ease Of Use Score: 7
My Personal Score: 8
Frequently Asked Questions
Q. Does the Fenix 5 have a touchscreen?
A. No, the watch is controlled by the buttons on the side.
Q. What golf courses are on the Fenix 5?
A. About 80% of the course I normally go to was on it (ones that weren't were smaller courses).
Q. Is there a better golf watch on the market?
A. The best strictly golf watch I've tested was the S60. Fenix 5 has 80% of what the S60 does but there are a few things that it doesn't come with.
Is The Fenix 5 Worth It?
Overall, I'd say the Fenix 5 is worth picking up ONLY if you're really into the outdoors and will use it for golf and other sports (hiking, running, swimming, etc). Or maybe you have money to burn and want a big rugged unit.
It has most of the features you'd want on the course but it comes with a pretty steep price tag. That's pretty much the main downside to it in my opinion. It is quite solid though.
If you just need a golf-specific watch I'd recommend checking out the Garmin Approach S60. As I said, I don't really use the additional features and the S60 offered a bit more on the course.
Let me know your thoughts and any questions you have. Like this article? Feel free to give it a share!
Looking to get some new golf gear? Click here to check out our recommended gear page to see the stuff we're recommending and the cheapest place to get them.
Last update on 2023-07-26 / Affiliate links / Images from Amazon Product Advertising API