Having a GPS on the course and a launch monitor at the range is a great way to lower your scores and improve your game. In this post, I'm going to be reviewing the Garmin Approach G80 golf GPS and giving my honest thoughts after testing it against other devices on the market.
The Garmin Approach G80 is one of the better GPS launch monitors on the market. Compared to others, the G80 was near the top of the list in terms of accuracy, course selection, battery life, and quality.
It is one of the more expensive GPS units on the market and that's going to throw a lot of people off. If you don't really care about knowing your stats at the range, I would recommend the Arccos Caddie Smart Sensors. It comes with a GPS as well as some club tracking features that are super cool.
https://www.youtube.com/watch?v=8iUr-iJuS2M
Check the current price on Amazon (best place we could find it). If you'd like to enter into our golf giveaway all you have to do is subscribe to our YouTube channel, like the video and comment "giveaway".
Garmin Approach G80 Specs
| Product | Garmin Approach G80 |
| --- | --- |
| Size | 59 x 114 x 16 mm |
| Touchscreen | Yes |
| Screen Size | 3.5 Inch |
| Weight | 119 Grams |
| Battery Life | 15 Hours GPS Mode |
| Water Resistant | Yes |
| Golf Courses | 41,000+ |
| Preloaded | Yes |
| Distance To Front, Middle, Back | Yes |
| Distance To Hazards/Doglegs/Layup | Yes |
| Shot Distance | Yes |
| Scorecard | Yes |
| Stat Tracking | Yes |
| AutoShot | No |
| Manual Pin Placement | Yes |
| Pinpointer | Yes |
| PlaysLike | Yes |
| Touch Targeting | Yes |
| Launch Monitor | Yes |
What Does The Garmin G80 Actually Do?
This is Garmin's high-end golf GPS and it's pretty cool because it also comes with a launch monitor. This would be the ideal tool for someone who wants to know their swing stats at the range and the course info out on the links.
There are a lot of GPS units on the market and there are lots of launch monitors, but there aren't many hybrids. Up until now, you'd have to have your GPS for the course and your launch monitor for the range (something like the Voice Caddie SC300. I do like the G80 more).
A GPS is basically going to tell you how far you hit each shot and how far you are from different parts of the course. It's incredibly important for dialing in your distances and lowering your scores.
A launch monitor is a device that tracks your swing stats such as swing speed, ball speed, smash factor, and a few other things. We'll get into the full details next.
Garmin G80 Launch Monitor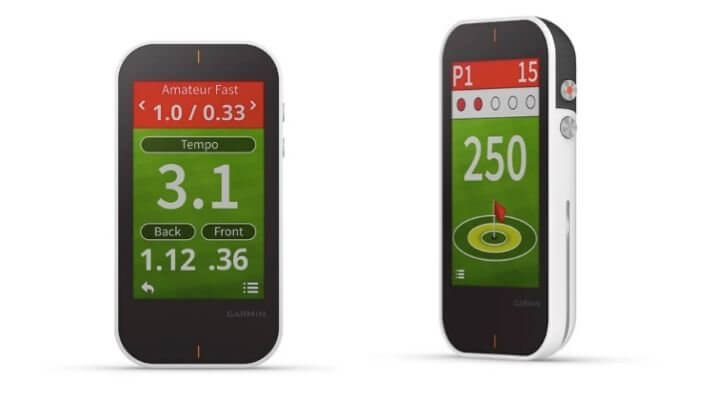 A golf launch monitor is a device you can use to show you a bunch of your swing stats. It'll let you know how far you hit each club and will also make practice at the range a lot more fun. Here is everything the launch monitor will track:
Clubhead speed.
Ball speed.
Smash factor.
Swing tempo.
Distance.
It's not going to be 100% accurate but it'll give you an idea of where your game is at. We'll get into how it performed after we talk about the features.
Clubhead speed is basically how fast you're swinging your club. More speed will generate more distance (generally). Knowing your clubhead speed will tell you what shafts you should be using and also what golf ball you should play. All super important for taking your game to the next level.
Ball speed is how fast the golf ball comes off your club. Again, more speed will give you more distance. A lot of it will have to do with your club and ball but it's still a good number to know.
Smash factor is how much energy your club transfers to the ball. The higher your smash factor, the more energy is going to the ball. The more energy, the more distance. If your smash factor is 1.5 then a 100 mph swing will give you 150 mph ball speed. Your driver will have the highest smash factor.
Swing tempo is how long your entire swing takes. It'll basically tell you how smooth your swing is and this is super helpful to know. Improving your tempo is one of the best ways to become more consistent. A good rule of thumb is that your backswing should take 3x longer than your downswing.
Distance is…well I'm sure you already know that. How far you crush the ball down the fairway. Obviously, the more the better.
Garmin G80 GPS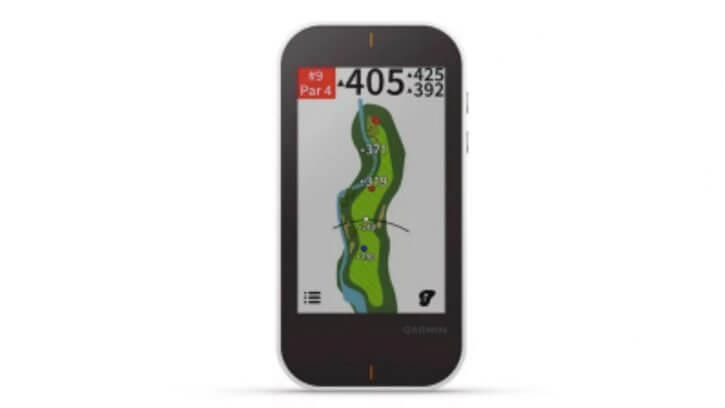 A golf GPS is going to show you the distance to different parts of the course. I always struggled with distance control and that never really improved until I got the proper yardage to different targets (knowing how far you hit each club is also a big help). Here are the features of the golf GPS:
Comes with over 41,000 courses.
Course preview.
Yardage to front, middle, and back of the green.
Yardage to doglegs & layups.
Shot distance.
Scorecard.
Stat tracking.
View of the green.
Pinpointer.
Playslike distance.
Touch targeting.
The Garmin G80 comes preloaded with over 41,000 courses from around the world. Pretty much all of the main courses in my area were on it but I'm not exactly sure about your area. I'd imagine the majority of them are but you can always go to the Garmin website to check.
It'll also tell you how far you are from the 100 & 150-yard point. One of the best ways to improve your scores is by getting really good at these two shots. All you have to do now is pick the right club that'll get you to the 100 or 150-yard marker.
Stat tracking is a pretty cool feature because it'll give you a birdseye view of your game. It'll show you data like putts per round, greens/fairways in regulation, and a few other things.
Pinpointer will help you figure out where the green is when you're shooting blind. You might have a group of trees in front of you or you might be shooting over a hill and can't see the flag. This really helps.
Playslike will take into account elevation and give you adjusted yardage. If you're 150 yards out but are hitting downhill, it might tell you it plays like 140 yards. This is probably one of my favorite features.
Touch targeting lets you find the distance to any part of the course. All you have to do is touch a certain spot and it'll tell you how far away you are.
Garmin G80 Practice Mode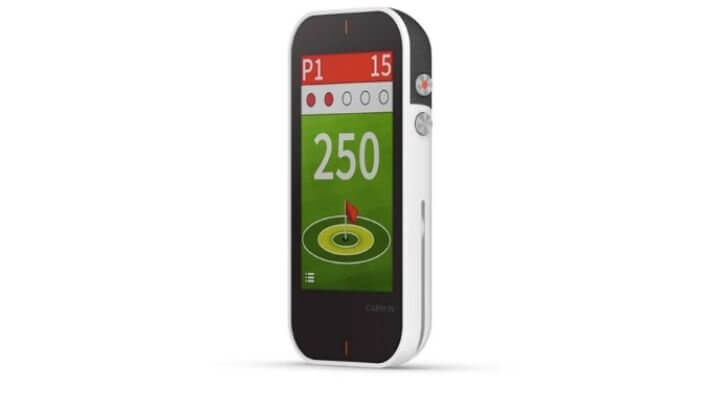 The practice mode on the G80 is a pretty cool feature and I like it because it makes practice more fun. Going to the range is fun and all but it does get repetitive after a while. This will make things more challenging and more fun.
What it's going to do is give you yardage to hit and will tell you how close you came. It's also going to tell you how left or right you were compared to the target. You can do this at the range or before your round to really dial in your numbers.
Another thing you can do is play virtual rounds against someone at the range. This will mix things up and put a little pressure on your swing. It's a lot more fun than just smashing ball after ball.
How Accurate Was The Garmin G80?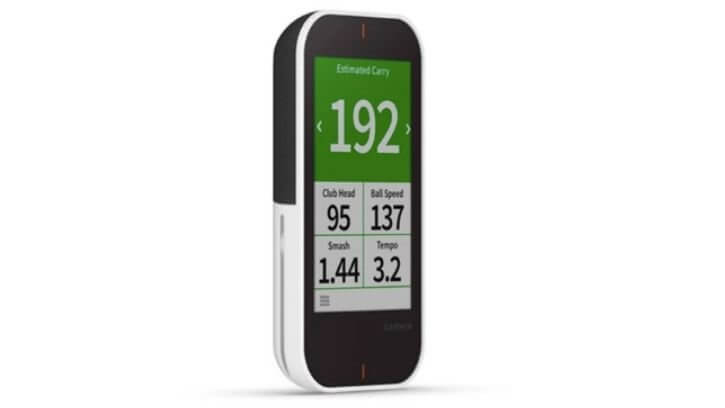 Compared to other GPS units on the market, the accuracy of the G80 was just as good as any other Garmin GPS. Garmin has been the most accurate, in my experience, and that was still the case here.
The yardages weren't always 100% accurate (compared to a laser rangefinder) but they were almost always close enough. The most it's been off was like 5-7 yards but often times it's much closer.
Now for the launch monitor.
I've tried a lot of these launch monitors over the years ($300-$3000) and some have been a lot better than others. You can read my article on the Garmin G80 vs Mevo vs Swing Caddie.
I found the accuracy with my wedges and driver to be great and my irons were about 5-7 yards off. It wasn't off all the time but it was still close enough.
What I Like
Both the GPS and launch monitor was fairly accurate.
The graphics and materials were of high quality.
I found it easier to use than a lot of other devices.
What I Don't Like
It's quite expensive.
If you just want a GPS this is probably not for you.
There are cheaper options that do pretty much the same thing.
The Breakdown
Performance Score: 9
Price Score: 6
Ease Of Use Score: 9
My Score: 8
Is The Garmin G80 Worth It?
Overall, if you're in the market for a GPS and a launch monitor, this could be a great option for you. I'd way rather have two devices built into one compared to two separate ones. I don't think there are any other hybrids that are as well built, accurate, and simple to use.
It is a pretty expensive device and if you don't really care about the launch monitor features then you might want to check out the Arccos Caddie Smart Sensors. They're sensors you attach to your clubs and it'll act as a GPS and club tracker.
Frequently Asked Questions
Q. Is the Garmin G80 waterproof?
A. It's water-resistant but I wouldn't want to submerge it in water.
Q. How long does the Garmin G80 battery last?
A. It's going to last 3 full rounds of golf.
Q. Does it come with a clip?
A. Yes, it comes with a cart clip and carabiner.
Q. Are the courses in my area on it?
A. 80% of the courses in my area were on it. The ones that weren't were smaller courses.
Q. Were there similar devices I liked less?
A. The Voice Caddie SC300, Zepp Golf 2, and Garmin Approach CT10.
Let me know your thoughts and any questions you have. Like this article? Feel free to give it a share!
Looking to get some new golf gear? Click here to check out our recommended gear page to see the stuff we're recommending and the cheapest place to get them.
Last update on 2023-07-26 / Affiliate links / Images from Amazon Product Advertising API