Going out to the range and hitting ball after ball isn't always the most fun thing to do because you don't really know the real numbers. Having something that'll tell you how far each of your shots went makes things a lot more interesting. In this post, I'm going to be reviewing the Swing Caddie SC300 from Voice Caddie and sharing my honest thoughts after testing it out for myself.
Over the years, I've purchased the SC200 and SC300 and would recommend it to someone who golfs a lot, wants to take their game to the next level, and has the extra cash. I'm glad I purchased mine because it makes practice a lot more fun. If you're a bit tight on a budget you can always go with the SC200. If you're a weekend golfer who doesn't practice much, it's probably not worth picking up.
It's not going to be 100% accurate all the time but it was fairly good and better than some of the other units on the market. I found myself practicing a lot more because of it and that's improved my game. If that's all the info you were looking for then great. If you want a more detailed review and the best place to pick one up, continue reading.
Check the current price on Amazon (best place we could find it). If you'd like to enter into our golf giveaway all you have to do is subscribe to our YouTube channel, like the video and comment "giveaway".
My First Impressions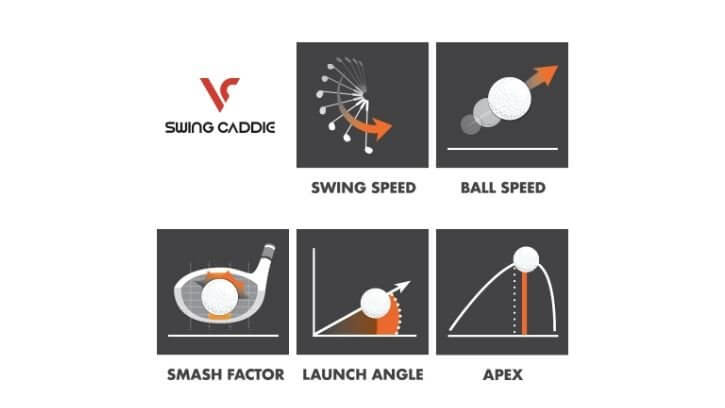 This is Voice Caddy's newest and most advanced launch monitor. They've previously released the SC100 and SC200 and the difference between them is that the newer models have more features.
It's pretty cool because it'll give you instant readings for your carry distance, swing speed, ball speed, apex height, smash factor, and also launch angle.
It has a voice output that will read you your stats after you hit the ball and it also comes with an easy to navigate app that will compile all the info for you to go through.
The price on it is fairly expensive and isn't going to be for everyone but I did end up practicing a lot more and I do think it's helped my game.
What Does The SC300 Do?
The SC300 basically does 2 things (the other two units don't have quite as many features).
The first is that it tracks your swing speed, club speed, ball speed, smash factor, launch angle (new), and apex (new), and will let you know your stats in real-time. Like I was saying before, knowing these numbers will give you the challenge to beat and it's going to make practice a lot more fun.
The difference between the SC200 and SC300 is the voice output, the launch angle, and the apex stat.
The second is the 2 different modes it has (target and practice).
Target lets you select a distance then you take 10 shots and it'll tell you how close you were. This will help you really dial in how far you hit each of your clubs.
Practice mode is just like it sounds. Hit your shot and get your info.
What Doesn't The SC300 Do?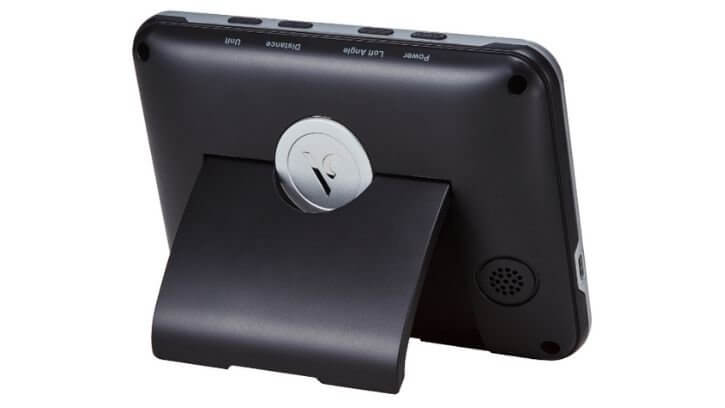 Some people have bought things like this and expected them to magically fix their swing, but that's the furthest thing from the truth.
Sure, they can help a bit but the only thing that will fix a bad swing is lessons or training aids.
If you keep swinging wrong it's not really going to matter what your stats are because your shot will be all over the place. Get the swing fixed first and then get something like this (unless you have the money to do both).
The one benefit to getting something like this is that it'll make practice more fun, you'll get out more, and that could possibly help you improve.
Nothing will improve your game faster than getting lessons though.
How Accurate Was The SC300?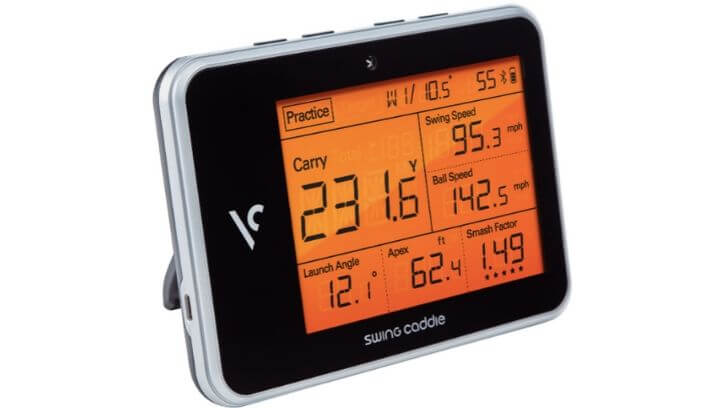 These things aren't 100% accurate but in my opinion, they're close enough to make me get one (I've purchased the SC200 and SC300).
In my experience, it was always within about 5-10 yards of my laser rangefinder or course markings (which is completely fine by me).
There are a number of different things the SC300 will record but the main thing I look at is the distance. There's really no way for me to verify apex height but as long as my distance is improving, that's all I care about.
Like I was saying before, the main reason I got it was because it made practice more fun and it was a challenge (which I think really helped my game).
SC300 Specs
| Product | Swing Caddie SC300 |
| --- | --- |
| Size | 166 x 120 x 28 mm |
| Weight | 436 grams |
| Screen | 5.3 inch |
| Sensor | Doppler |
| Battery | 12 Hours |
| Yardage | Up To 370 Yards |
| Distance | Yes |
| Apex | Yes |
| Swing Speed | Yes |
| Spin | Yes |
| Voice Readings | Yes |
| App | Yes |
| Swing Stats | Yes |
| Club Stats | Yes |
Pros
It's easily portable.
The data it gives was fairly accurate.
The game modes it comes with make practice more challenging and has helped my game (since I go more).
Cons
It's an expensive device (still a fraction of a simulator).
It's not 100% accurate but was good enough for me.
You'll want to be at the range to get the full benefits (seeing your ball flight).
The Breakdown
Performance Score: 9
Price Score: 7
Ease Of Use Score: 10
My Personal Score: 9
Frequently Asked Questions
Q. SC100 vs SC 200 vs SC 300?
A. The SC100 doesn't have voice output and isn't quite as accurate. The 200 doesn't have an apex height or launch angle and doesn't have the app.
Q. Can you use it with a practice net?
A. You can but it's always better to see the ball flight and direction.
Is It Worth It?
Overall, I'm super glad I purchased mine and would highly recommend it if you can afford it. I definitely think the SC200 and 300 are better than the 100, and the one you should get will depend on your budget.
If you're a bit tighter on a budget you can always go with the SC200. It's not quite as good as the SC200 but the main features are essentially the same and it'll give you a lot of good info.
If you golf a lot, want to take your game to the next level, and have the extra cash, I'd pick up the SC300 for sure.
If you're a weekend golfer who doesn't practice much, it's probably not worth it. Go spend your money on some lessons and I think you'll be better off.
Let me know your thoughts and any questions you have. Like this article? Feel free to give it a share!
Looking to get some new golf gear? Click here to check out our recommended gear page to see the stuff we're recommending and the cheapest place to get them.
Last update on 2023-07-26 / Affiliate links / Images from Amazon Product Advertising API