If you're looking to take your game to the next level you might be considering a club tracking/GPS system for the course. There are a lot of different models to pick from and in this post, I'm going to be comparing the Game Golf Pro system to the Arccos Caddie Smart Sensors.
Long story short, I would pick the Arccos Caddie Sensors over the ones from Game Golf any day of the week. They essentially do the same thing but Arccos Caddie has built a much better and more streamlined device. The problem with Game Golf is that the software just isn't up to par like the Arccos system. There are a lot more glitches and the sensors don't seem to last as long. The customer service from Arccos Caddie is also much better if you do have problems.
These are pretty expensive devices and I had higher hopes for the sensors from Game Golf. At the time of writing this, they were actually more expensive than the Arccos sensors and that's another big reason I wouldn't recommend them. Continue reading for the full walkthrough of each device and the cheapest place to pick them up.
Game Golf Pro
The Game Golf Pro system is a sensor that screws into each of your clubs and will track how far you hit each of your clubs. It'll also act as a GPS and tell you how far you hit each shot and how far away the green and other hazards are.
The main difference between the Game Golf Live and Pro is that you don't have to tag your club before each shot. When you use the Live you'll need to touch the sensor to your belt clip before you hit each shot. It's a bit of a hassle but it becomes a habit after a couple of rounds.
The main reason someone would use a system like this is to track how far they hit each club. It'll automatically record that data so you can easily see and not have to think about it every time. Knowing this is super helpful on the course because I'm sure you've had that shot you thought was great but it actually ended up 20 yards short/long.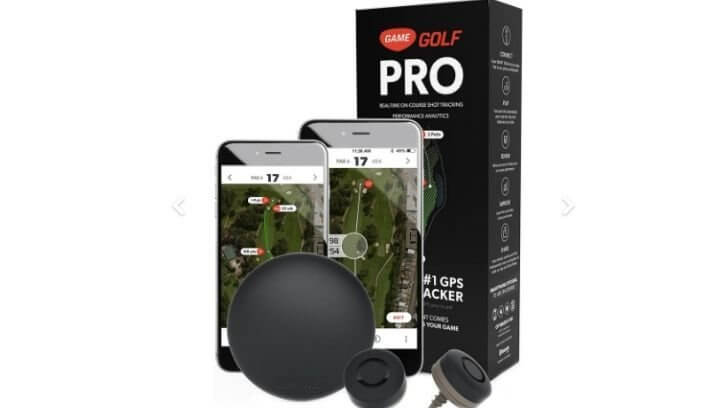 The next thing this device will do is tell you how far away things on the course are. Before you tee-off you'll be able to see how far away bunkers or water are so you can pick the right club. It'll tell you how far the green is and you'll be able to quickly figure out what club to hit.
Overall, I wasn't the biggest fan of the Pro sensors. I thought they were too expensive for how they performed. The software was pretty glitchy and the sensors didn't have the best battery life. If I'm going to spend that money I'd go with the sensors from Arccos Caddie. If you're set on getting something from Game Golf then I'd stick with the Game Golf Live system which is much cheaper.
Arccos Caddie Smart Sensors
These sensors do pretty much the same thing but I think they're much higher quality and are also cheaper. I originally got their older system (Arccos 360) but recently upgraded and have no regrets at all. Both systems are awesome, have a clean interface, and great battery life.
At the time of writing this, the Game Golf system is around $200 more than the Arccos sensors. That's quite a bit in my opinion and I don't see any improvement at all. They both track how far you hit each club and will tell you how far away things are on the course (hazards, greens, etc).
There really isn't any difference with the club tracking feature. They both track each club and are very similar in terms of accuracy. Other than that, the difference was pretty noticeable.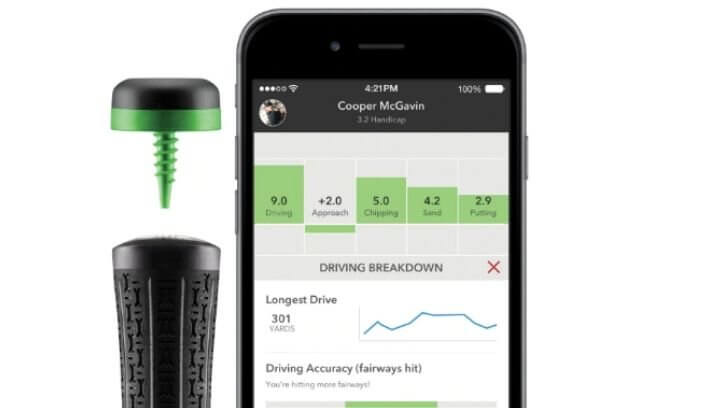 The first thing I liked about Arccos was the user interface. The software was designed in partnership with Microsoft and I'm pretty sure they know a thing or two about software. It's much cleaner to use and it doesn't glitch nearly as much. This is something that can be improved so there's still that for Game Golf.
The next thing was the battery life. I don't know if it was a faulty device but some of my Game Golf sensors stopped working after about 4 months (the battery). I've had both systems from Arccos Caddie that lasted well over 3 years. That's a pretty big difference.
The final thing was the accuracy of the GPS. There wasn't a huge difference between them but I found the Arccos sensors to be a bit more accurate. It was only a few yards on average but that could be a big deal for some people.
You can see our full review here.
The Verdict
Overall, the sensors from Arccos Caddie are of higher quality, perform better, and are cheaper. Those three things are enough for me to recommend the Arccos system over Game Golf any day of the week. I've used a few products from Arccos Caddie and really haven't had any issues.
I'm not saying Game Golf has bad products but I do think they have some work to do. The software can always be improved but I think their product should be a lot better considering the price. If you want something from them then I'd go with the Game Golf Live sensors which are cheaper.
If you want to get the Arccos Caddie Smart Sensors, you can see our full review here (it'll show where to pick them up). They also have Smart Grips which are the same product only cheaper. The sensors are built into the grips so you'll have to take your old ones off and put the new ones on. I don't like them as much but it's always an option.
Let me know your thoughts and any questions you have. Like this article? Feel free to give it a share!
Looking to get some new golf gear? Click here to check out our recommended gear page to see the stuff we're recommending and the cheapest place to get them.