Hybrids are probably my favorite clubs in the bag and I think a lot of average golfers should be using them more often. In this post, I'm going to be reviewing the Cobra King F8 one length hybrid and talking about whether or not it's worth getting.
Long story short, the Cobra F8 is one of my all-time favorite hybrids. I liked the F7 a lot and this one is definitely the new and improved version. The F8 One is also versatile and can be used for so many different things. For all the mid to high handicaps out there that struggle hitting their long irons, this will be the perfect club. It's easy to align properly and the 2 rails on the bottom make rough shots way easier. It's also great for bump and runs near the green.
The one downside is that it's a fixed hosel, but other than that, it's almost perfect in my opinion. Since the length is shorter than your standard hybrid, your distance won't be as good but it'll help you with your accuracy and consistency. If that's all the info you were looking for then great. If you want a full review of the hybrid, be sure to watch the full video or blog post below.
Cobra King F8 One Hybrid Review
Check the current price on Amazon. If you'd like to enter into our golf giveaway all you have to do is subscribe to our YouTube channel, like the video and comment "giveaway".
Cobra King F8 First Impressions
My hybrid has been my GO-TO CLUB for a while now and one of my favorites was the Cobra King F7. It's an older model now but still could be a great option for golfers on a budget. That being said, the F8 is supposed to be slightly better.
I was super excited to get out and test the F8 when it came out and I was glad to see them not change a whole lot. There were a lot of things I liked about the F7 and it seemed like they kept all of those features.
From a first glance, everything seemed to be pretty solid, it was a bit longer, and felt super comfortable to swing. There are 2 different versions of the F8 (the regular hybrid and the One Length hybrid) and I preferred the One Length model myself.
What Is One Length
If you're familiar with the Callaway One Length irons, it's pretty much another club to add to that set. Most clubs all have a different length. Your 3 iron is normally longer than your 9 iron, but with the One Length, they're all the same.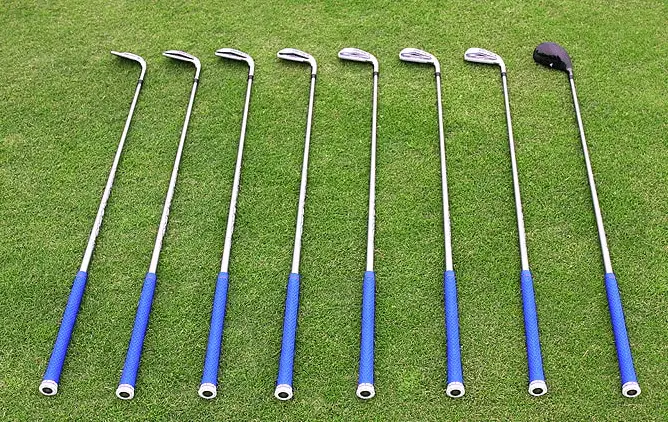 This is the hybrid version and it's the same length as a 7 iron and I actually did prefer it over the regular F8. I had never swung a shorter hybrid either so that was a big plus.
If you're an average player I think you'd benefit from using shorter hybrids, woods, and drivers. I could always hit my hybrid pretty well but when I switched to a shorter version, my consistency improved. I can't hit the ball as far but I've been able to hit a lot more greens. The same thing happened when I tried a shorter driver.
What's New
The first thing I noticed was that the rails on the bottom (which was one of my favorite features) were closer together than before. The reason those were there was to make it EASIER to get through thicker grass (and it really did work). Here's a demo video:
The shape is also a bit different and it's now LONGER and less round, which isn't a huge deal. The color of the regular F8 is now a steel grey (which I didn't like as much) but the One Length is still the same black that I prefer.
Just like any other F8 club, it comes with Cobra Connect so you can track your performance. It's nice being able to see your distances averaged out and where your common misses were. It just gives you something to actually work on at the range.
How About The Sound & Feel
For some reason, I'm super picky when it comes to the way my clubs sound and feel at impact. A lot of clubs sound and feel hollow through impact and I can't stand that, so it's important for it to be solid. I want to know right away if I mishit the ball because it'll show me what needs to be fixed.
The F8 has a fixed hosel (which is probably best for mid to high handicaps) and it makes it feel FIRMER in my opinion. Some people want to adjust their clubs to get more draw or fade bias, but I think you should just focus on your swing.
You can pick from 4 different lofts and I think that's better for your "average" golfer. Messing around with the loft and lie isn't going to lower your scores that much. Spend your time focusing on what really matters.
How Did The Hybrid Perform
The reason I like this club so much is that it's designed to help someone with a mid to low swing speed (like myself). With certain clubs, you really need to crush the ball to get the most out of it. That wasn't the case with the F8.
It went pretty much the same distance as my 5 iron but the ball flight was A LOT HIGHER. That not only boosted the confidence, but it also helped the ball land softer.
One of the things I also like about the hybrid was that it made chipping a lot easier. Instead of bumping the ball with my 7 iron, I used this and it actually worked a lot better. It's almost like putting the ball, but with more loft which makes distance control a lot easier.
It's a lot tougher to do with a standard-sized hybrid, so that's another benefit of the shorter shaft. Overall, I was really impressed with the performance and would give it a thumbs up for sure
Who's It Best For
This is the ultimate utility club and I think it'd really benefit all levels of golfers, especially high handicaps.
If you need a club that's going to work better than your woods for getting out of bad spots, this could be it.
If you struggle with distance control when you're chipping around the green, this could be for you.
It's an all-around useful club in my opinion and there's no reason you shouldn't have one.
F8 One Hybrid Specs
| F8 One Hybrid Head | Loft | Swing Weight | Flex | Length |
| --- | --- | --- | --- | --- |
| 3 | 19 (degree) | D0 | S, R, L | 37.50 (inches) |
| 4 | 22 | D0 | S, R, L | 37.50 |
| 5 | 25 | D0 | S, R, L | 37.50 |
| F8 One Shafts | Weight | Torque | Launch | Spin |
| Stiff | 78 (g) | 3.9 | Mid | Mid |
| Regular | 76 | 4.3 | Mid | Mid |
| Senior | 74 | 4.3 | Mid | Mid |
Pros
The 2 bottom rails helped a lot with the contact in thicker grass.
The white lines on the face help align the ball properly.
It's a lot easier to hit than your 5 iron.
It's great for bump and runs near the green.
Cons
The hosel is fixed so you can't adjust it.
That's pretty much it.
Frequently Asked Questions
Q. What's the best loft for the F8 One Length?
A. If you're replacing your hybrid I'd recommend the 3 hybrid. If you're replacing your 5 iron go with the 4 hybrid.
Q. Cobra King F7 vs F8 hybrid?
A. The performance for me was pretty much the same (compared to the regular F8) but I did prefer the F8 One Length over the F7.
Q. What are the Cobra King F8 hybrid lofts?
A. The 3 hybrid is 19 degrees. The 4 hybrid is 22 degrees. The 5 hybrid is 25 degrees.
The Breakdown
Performance score: 10
Price score: 9
Comfort & feel score: 10
Personal score: 9.5
My Final Thoughts
If you're in the market for a new hybrid I'd highly recommend this because I found it to be super useful out on the course. It's great as a regular hybrid and it also works really well for getting out of bad spots and around the green. That's why it's one of my favorite hybrids and that's why I'm recommending it.
There are newer versions of the F8 out now and they are going to be slightly better as well. They are going to be a lot more money though and I don't think the benefits would be worth it if you're an average weekend player. If you play a lot then the extra cost might be worth it to you.
Let me know your thoughts and any questions you have. Like this article? Feel free to give it a share!
Looking to get some new golf gear? Click here to check out our recommended gear page to see the stuff we're recommending and the cheapest place to get them.
Last update on 2023-07-26 / Affiliate links / Images from Amazon Product Advertising API