I don't know about you but I've always struggled with 200-220 yards shots because long irons are just hard to hit. That was until I got myself a hybrid, and in this post, we're going to be talking about some of my favorites for mid handicaps.
Here are the best hybrids for mid handicappers 2023:
Taylormade M6 (best overall hybrid)
Cobra F9 Speedback (best budget-friendly hybrid)
Callaway Mavrik Max (most forgiving hybrid)
I'm a mid handicap hacker myself and if I were in the market for a new hybrid then these are the ones I'd consider. I ended up buying the M6 not that long ago and absolutely love it. I've compared it to some of the newer hybrids on the market and can't see any reason to spend the extra money.
What Is A Mid Handicap Golfer?
A mid-handicap golfer is someone that has a handicap between 11-20 and normally shoots in the 80s on a par 72 golf course. These golfers are considered to be slightly better than average.
You might find this hard to believe but if you can consistently shoot in the 80s, you're actually quite a bit better than most. The average golf score for people actually tracking their handicap is right around 91 (for all age groups).
That doesn't give you the full picture though.
What about all those golfers who don't track their handicap? If you were to include those scores then the average score would jump up closer to 100.
Being able to shoot in the 80s means you play better than bogey golf. You do get a lot of those but you also get your fair share of pars. Even better, you might make one or two birdies per round.
If you're a mid handicapper then you'll want to look for specific features in a fairway wood. You'll still need the forgiveness that a high handicap would need but you'll also want some versatility for when you get better.
Not quite in the 80s yet? If that's the case, you might want to read our article on fairway woods for average players. These woods could work fine for you but there could be better options on the market.
Best Hybrids For Beginners & High Handicaps.
What Are Hybrid Clubs Used For?
Hybrids are the ultimate club in a golfers bag because they're more forgiving than longer irons and they're more versatile than fairway woods. Hybrids can be used off the tee, in the fairway, from the rough, and around the greens.
I think all mid to high handicaps should carry at least one hybrid in their bag. They're one of my favorite clubs to hit and are way easier to hit than your 3-5 irons.
Here are the main things hybrids are used for:
When you absolutely need to hit the fairway off the tee.
If you aren't consistent with your 3, 4, and 5 irons.
When you're hitting from the rough with a tight lie.
If you're on the fringe of the green but don't feel confident with your wedge.
If you're teeing off and the fairway is super narrow or there's water right and your miss with driver is right, you might want to hit hybrid instead. I'm much more accurate with my hybrid and as I said before, hitting your second shot from the fairway is an easy way to lower scores.
Most mid to high handicappers have a tough time hitting their longer irons (3-5). I stopped carrying them all together and just hit hybrids now. They hit the ball higher, longer, and are way more forgiving.
If you're 190 yards out in the rough, there's no way you'll get there with your irons, and hitting fairway wood is 50/50. That's where hybrid comes into play. You'll get the extra distance but it'll also be way easier to make solid contact compared to your wood.
What's cool about hybrids is that you can use them around the green (almost like a putter). Sometimes when you're on the fringe you'll debate between putting and chipping. Some people don't have confidence in their wedge but it might be tough to gauge the speed with your putter. Putting with your hybrid can work really well for this.
Why Are Hybrid Golf Clubs Easier To Hit?
Hybrids are easier to hit than irons because the face is thinner and there's more weight behind and under the ball. This makes it a lot easier to launch the ball in the air.
Obviously, irons are more compact and the weight is more forward. That means you'll need to hit the sweet spot dead on and you'll need to have a pretty good amount of club speed to get that ball in the air.
If you don't hit the sweet spot then the ball will curve left or right or you'll just get zero distance. If you don't swing fast enough then the ball won't pop up in the air.
Another thing that makes hybrids easier to hit is that they have graphite shafts. These shafts are lighter than steel and should help you swing the club faster.
Hybrids are essentially smaller fairway woods. The shorter shafts and higher loft are what makes them easier to hit. Think about what's easier to hit, your 5 iron or your 9 iron. The same goes for woods and hybrids.
What Hybrid Clubs Replace Irons?
| | | |
| --- | --- | --- |
| Hybrid Loft | Hybrid Number | Iron Number |
| 14-16 | 1 | 1 |
| 17-19 | 2 | 2 |
| 20-21 | 3 | 3 |
| 22-23 | 4 | 4 |
| 24-27 | 5 | 5 |
| 28-32 | 6 | 6 |
What Hybrid Clubs Should You Carry?
The ideal hybrid is one that fits between your fairway wood and your longest iron. For most, that's going to be a 4 hybrid (22 degrees) since it's halfway between your 5-wood (18 degrees) and your 6 iron (26 degrees).
If you're a mid handicap then you probably only need one hybrid. You can get more as you get better but I don't see any benefit to having 3 different hybrids and 2 fairways.
What you'll want to do is get a hybrid that's between your wood and your longest iron. If you have a 3-wood (15 degrees) and a 5 iron (23 degrees), you'd probably want a hybrid that's 19 degrees (2-hybrid). Anything less than 19 degrees and I'd probably get a fairway wood.
I think all mid to high handicaps should play 5-wood instead of 3-wood. The extra loft is going to be way easier to hit from the fairway and they should go the same distance. That's why I prefer having a 4 hybrid that's 22-23 degrees.
Just in case you were wondering what my ideal bag looks like, I'd start with only 5 clubs as a higher handicap golfer and add as I get better. Here's what clubs I would start with:
175+ yard club
150-yard club
100-yard club
Sand wedge
Putter
You can put up some pretty good scores if you got really consistent with these 5 clubs. My 175+ yard club would be 5-wood and then I'd add a couple of irons that get me those distances.
As I got better (mid handicap range), I'd look to add a few more irons and a hybrid. Here's what my bag currently looks like:
5-wood
4-hybrid
6 iron
8 iron
Pitching wedge
50-degree wedge
56-degree wedge
Putter.
You'll notice that it's pretty much every second club. I saved some dough doing it this way and it's never really caused any issues. Going into low handicap range, I'll add driver and the remaining irons.
What Hybrid Flex Should You Get?
Once you know what hybrid you want to get (we'll talk about this next), one of the most important things you need to do is pick the right shaft flex. It might actually be more important than the actual club itself.
You could get away with using the wrong flex but it'll be tough hitting consistent shots. What'll end up happening is you'll be spraying your shots all over the golf course.
Having a shaft that's too whippy will give you a lot of pulls and hooks. Having a shaft that's too stiff will give you a lot of low slices. Both, not that ideal.
So, the first thing you need to do is figure out your swing speed. This will tell you what shaft you need to get. If you can't figure out those numbers, figure out how far you normally drive the ball.
Here's a general chart that will tell you what shaft to get based on your swing speed and drive distance:
| | | |
| --- | --- | --- |
| Swing Speed | Driver Distance | Shaft Flex |
| Under 80 MPH | Under 200 Yards | Senior/Ladies |
| 80-90 MPH | 200-240 Yards | Regular |
| 90-100 MPH | 240-275 Yards | Stiff |
| Over 100 MPH | 275+ Yards | Extra Stiff |
Best Hybrids For Mid Handicap Golfers
Now, it's time to finally get into the best hybrids on the market for mid handicappers. If I was in the market for a new hybrid, these are the ones I'd consider.
I don't think it's necessary to go out and buy the most expensive club or the newest model. What I look at is what performs the best for the price.
I've compared these hybrids to some of the most popular options and they perform very similarly. The distances are pretty much the exact same too. Let's jump in.
Taylormade M6 (My #1 Pick)
https://www.youtube.com/watch?v=ixziEJ8wnmI
If you want a solid all-around hybrid that's not going to break the bank, the M6 could be perfect for you. It's the hybrid I currently have in my bag and absolutely love how it plays.
I haven't been the biggest fan of Taylormade clubs over the past few years but they made some improvements with this guy. The great thing about it is that you can use it as a complete beginner but you'll still be able to use it as you work your way into the low 80s.
If you've ever hit one of the drivers or woods with Twist Face technology, you'll know that it's pretty useful for straightening out your mishits. Well, they've added that feature in these hybrids so it's quite a bit more forgiving than the previous M4.
If you don't know, Twist Face means that the face of the club is slightly "twisted". It's made that way to hit the ball longer and straighter when you hit the toe or heel.
I really like (and dislike) how they've designed the top of the hybrid as well. When you're looking down at address, I really like the contrast between the dark and light colors. What I don't like is that there are no alignment marks to show you where the center is.
I don't know if the M6 is the longest or most forgiving hybrid on the market but what I do know is that it's incredibly easy to hit fairways and greens with. That's all I really care about.
Pros
The weight and balance are perfect.
It can be used by all skill levels.
The distance and forgiveness are top-notch.
Cons
The head and face tend to wear quickly.
Its alignment aid could be better.
Cobra F9 Speedback (My #2 Pick)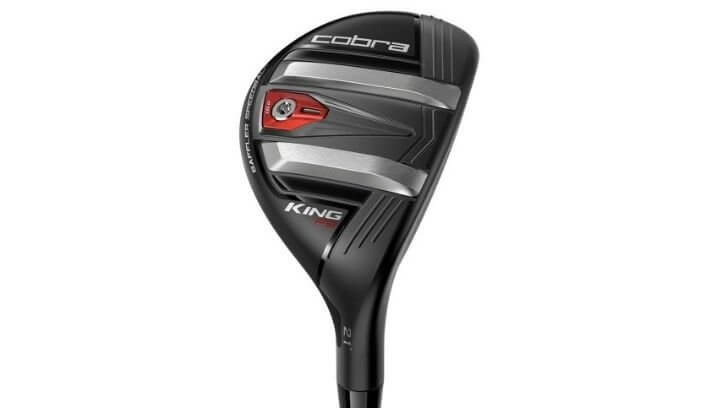 If you're looking for a hybrid that's pretty good all-around but want to spend the least amount possible, the Speedback could be for you. It's the cheapest on this list but it still performs really well.
From what I could tell, it's around $50 cheaper than the Taylormade and $100 cheaper than the Callaway. It came out in 2019 and that's part of the reason it's a bit less money.
I don't think it's as forgiving as the Callaway and it doesn't feel quite as good as the Taylormade. That being said, it's pretty hard to beat for the price and it's definitely the best option at this price range.
What I will say though is that this is the best hybrid if you hit behind the ball a lot. It's probably also the best hybrid for hitting out of the rough. That could be ideal for the higher 80s shooters.
On the bottom of the club, you'll see two rails. These are what makes it good for gliding through the rough or not digging as deeply into the dirt. I'm sure you know that guy.
Cobra has always made some of the longer clubs on the market (for me anyway). The F9 driver and fairway wood send the ball an absolute mile and that was still the case with the F9 hybrid. It was pretty fun to hit.
Pros
It's easy to hit from the rough.
The best option for those chunkers.
One of the longest hybrids.
Cons
None, for the price it's at.
Callaway Mavrik Max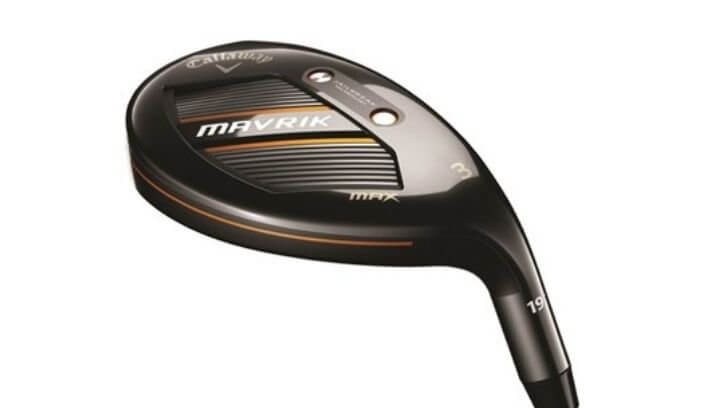 If you're a mid handicapper that just wants to hit the ball long and straight, the Mavrik Max would be ideal for you. It's the most forgiving hybrid on this list and is super easy to hit.
The Mavrik comes in three different models (Standard, Max, Pro). The Pro model is for better players and I don't think it'll be right for you. The standard Mavrik is a pretty solid club as well but the M6 did perform better for me.
The Mavrik Max is slightly bigger than the standard Mavrik and that's one of the reasons I prefer the M6. The Max is more forgiving but it's essentially a small fairway wood. I like a more compact head.
Some people will be like me but others will like the bigger head. It's completely up to you but the good news is that you can't really go wrong with any of them.
This is the most expensive hybrid on this list but I'm sure Callaway loyalist won't mind. The overall weight and feel are just what I'd be looking for, and that's always been the case with Callaway clubs.
I think the Mavrik Max would be perfect for someone with a slower swing speed or someone who hits a lot of slices. It's high launching and goes extremely straight.
I do prefer the way the Mavrik sounds at impact compared to the other two hybrids. It doesn't impact the performance but some people stress about this for whatever reason. It's a very crisp sounding sound when you hit the ball.
One thing to note is that the Mavrik Max has a slight draw bias. If you fade or slice the ball then this could be perfect but if you draw or hook the ball, it won't be the one for you.
I like a slightly smaller head and a club that's better for hitting a slight draw or fade if I need to. That's why I prefer the M6, but each of the hybrids is designed for someone different.
Pros
It's high launching and very forgiving.
The head quality is really good.
It feels and sounds great at impact.
Cons
The price point is a little high.
It's not the best-looking hybrid.
Last update on 2023-07-26 / Affiliate links / Images from Amazon Product Advertising API