Having a club that you feel 100% confident in for hitting the fairway is a must-have for a mid handicapper. For me, that's my fairway wood, and in this post, we'll be talking about some of my favorites.
Here are the best fairway woods for mid handicappers:
Callaway Epic Flash (best all-around wood)

No products found.

(most forgiving wood)
I'm a mid handicap hacker myself and if I was in the market for a new fairway wood these three are the ones I'd consider. I don't think you need to go out and buy the latest and greatest clubs either. These woods hit the ball just as well as some of the newer options on the market. Plus, you'll save some dough.
What Score Does A Mid Handicapper Shoot?
A mid-handicap golfer will normally shoot in the 80s on a par 72 golf course. These golfers have a handicap between 11 and 20.
If you're able to shoot in the 80s, you're actually quite a bit better than the average player. I was pretty surprised when I found out the average golfer shoots somewhere around 100 on a par 72 course.
Here's how I look at golf scores and handicaps:
If you shoot in the 70s = Low handicap.
If you shoot in the 80s = Mid handicap.
If you shoot above 90 = High handicap.
This just keeps things simple and gives you a solid number to work towards. Breaking through 90 and 80 is a big deal and it's also the point you become a newly crowned golfer.
If you're someone who hasn't been able to break into the 80s yet, you might want to pick a different type of wood. The ones we'll talk about here could perform well but there are better options for you out there (and they might be cheaper).
Best Fairway Wood Loft For Mid Handicappers
The loft that will perform the best for a mid handicap golfer is between 17-18 degrees. This loft will be more forgiving and will be easier to hit off the fairway.
The majority of people have 3-wood in their bag and the problem with that is the loft. Most 3-woods are between 13-15 degrees and I think that's too low for the majority of golfers.
I have 5-wood (18 degrees) in my bag and it's so much more effective for me. It's a little bit shorter and the extra 2-3 degrees makes a huge difference.
Loft is your friend.
Think about what's easier to hit, your 5 iron or your 9 iron. Having more loft will decrease the amount of curve in your shot, you'll hit more fairways, and you'll hopefully lower scores.
I used to have 3-wood in my bag and always found it tough to hit off the fairway. I saw an article by Butch Harmon called "Bench Your 3-Wood" and it made a whole lot of sense.
He basically explained how playing 5-wood instead would go the exact same distance for most people and it's way easier to hit off the fairway. It kinda seems like a no-brainer to me.
Plus, a lot of golfers have a 10.5-12 degree driver in their bag and it doesn't make much sense to have another club within a few degrees. For players on tour, sure, but for us average folk, it doesn't make much sense.
Should You Hit Driver Or Wood Off The Tee?
The majority of golfers would benefit a lot by hitting a fairway wood off the tee instead of a driver. Woods will curve the ball less and you'll end up hitting more fairways.
I actually shot my best round ever hitting 7-wood off the tee. I couldn't hit the fairway to save my life with my driver and on the back 9, I switched to my wood.
Hitting wood off the tee didn't go nearly as far but I was playing my second shot from the fairway almost every time. Even if you hit the ball 200 yards, as long as it's in the fairway, you'll have a good chance of making par (or better).
On the front 9, I was maybe 10 strokes over. On the back 9, I was 4 strokes over.
That clearly shows that accuracy is more important than distance. I know it's not sexy, but you'll feel a lot better about your game (and score better than you've ever scored).
Even to this day, I still hit 5-wood off most tees. I'll get a driver one day, but I think it's better to dial in your wood first. Once you're consistent, go ahead and get a driver to add some yards.
Should You Carry 5 Wood Or 3 Hybrid?
The majority of golfers should add 5-wood to their bag before they think about a hybrid. 5-wood will be the most consistent club in your bag and will be an essential tool for lowering scores.
In my opinion, the longest club an average player should have is their wood. You really only need 5 clubs to shot a good round of golf:
175+ yard club.
150-yard club.
100-yard club
Sand wedge.
Putter.
Most people have way too many clubs. More clubs cost more money and more clubs require more practice. Get really consistent with 5 basic clubs and you'll play better golf.
My 175+ club is my 5-wood. It's the club I feel the most comfortable with and it's all I really need. Once you start working your way to mid-handicap range, you can go out and add a few more clubs.
After I could hit fairways in my sleep with my wood I'd go out and get a hybrid. It just adds a bit more versatility and your game will actually be ready for it.
Best Hybrids For Mid Handicappers.
My 5-wood is 18 degrees and my hybrid is 22 degrees (4-hybrid). I think that's a good separation between clubs and then my next club is my 6 iron (26 degrees).
After I had those two clubs, I'd probably go out and get myself a driver. It's not a must-have, but let's be honest, it's a fun club to hit.
What To Look For In A Fairway Wood
There's more to a fairway wood than just how it feels in your hands and the distance it can hit the ball. This is what most people look at but it's key to find the best option that'll help you advance your game.
Each level of golfer is going to want different features in a fairway wood. High handicaps want distance and forgiveness. Low handicaps want versatility and the right launch height.
Mid handicaps are somewhere in the middle and want a mix of both. Here are some things to consider when looking for a new wood:
Forgiveness
Distance
Launch height
Versatility
Adjustability
The first thing to look at is how forgiving you want your club to be. Obviously, beginner golfers need a lot of this to hit more fairways.
Most mid handicaps still struggle with hitting the sweet spot and that's why you still need a good amount of forgiveness. Hit more fairways and you'll be able to lower scores.
The next thing, and what most people want, is a long-hitting club. The good news is that most of the woods out there hit the ball the same distance.
What I don't want you to do is go out and buy something just because it's the longest club. There are other factors you need to be looking for. All clubs are pretty good these days and the distances are similar.
You'll also want to look at the launch height. As you start getting into the single digits, you might prefer a lower ball flight. That's probably not something you want as a mid handicapper.
Something that has a mid to high launch will be perfect. The extra height will keep the ball a bit straighter and you'll probably get more distance.
One important thing you'll also want to look into is how versatile the club is. What I'm talking about is whether or not you'll be able to draw or fade the ball.
As you get better, you'll want to have more control over the ball and be able to hit a draw if you need to. Some ultra-forgiving woods will make this a bit tough. The perfect option is a good mix of both.
The final thing to look at is whether or not the club is adjustable. Being able to adjust the loft, lie, and weight of the club is cool and all, but I'm not the biggest fan.
Sure, I'd probably want this if I was a scratch golfer but I like keeping things simple right now. I don't swing consistently enough to justify spending hours messing around with all these adjustments.
If the club has these then great, but if not, it's not really a big deal.
Best Fairway Wood Shaft Flex
Most mid handicappers have a swing speed between 85-95 MPH and that's why the best shaft flex is either regular or stiff.
Now that you've found the perfect fairway wood, one thing you don't want to overlook is what shaft you buy with it.
It's arguably more important than the actual club itself. Having the wrong shaft flex will make it almost impossible to have consistent shots.
A shaft that's too stiff will give you a lot of low shots that go right (for a right-handed golfer). A shaft that's too whippy will give you a lot of shots that end up left.
Here are some general guidelines:
Swing speed under 80 MPH: Senior/Ladies.
80-90 MPH swing speed: Regular.
90-100 MPH swing speed: Stiff.
Swing speed over 100 MPH: Extra stiff.
If you don't know your swing speed you can go based on your average driving distance:
Under 200 yards: Senior/Ladies.
200-240 yards: Regular.
240-275 yards: Stiff.
275+ yards: Extra stiff.
There are a number of shafts you can get for your club and the prices can range from $50-500. At this stage of your game, I'd just stick with the stock shaft that comes with the club.
As you get better, you can upgrade to fine-tune your game but I don't see enough reason to go out and spend more money on your gear.
Best Fairway Woods For Mid Handicappers
If I was in the market for a new fairway wood, these are the ones I'd consider getting. I really don't see any reason to go out and get the top of the line fairway wood from this year. I've used a number of 1 and 2-year-old options and they're just as good.
Each of these woods is slightly different but I'm confident they'll perform well for you. They all are forgiving, hit the ball far, give the ideal ball flight, and are still versatile enough as you get better.
Callaway Epic Flash (My #1 Pick)
https://www.youtube.com/watch?v=8tpESbNJ0eQ
I got this club about a year after it first came out, and even though that's the case, it's still one of my favorite all-around fairway woods. Plus, it's the 2019 version so you'll save a few bucks too.
It actually won the Golf Digest gold award and the Epic Flash driver was the only driver to score 20/20. What I like about this driver is that it checks pretty much all the boxes we talked about before.
It's not the longest or most forgiving club out there but it's one of the most well-rounded clubs I've used. What it does give is a solid launch (mid trajectory), the ideal amount of spin, and it's versatile enough for when you start getting better.
If you like adjustability, you'll be able to fine-tune the loft and lie of the club. There are 8 different combinations of loft and lie you can pick from.
Here are the loft settings:
S = Stated loft (15 degree 3-wood. 18 degree 5-wood)
-1 = Decrease 1 degree (14 degree 3-wood. 17 degree 5-wood)
+1 = Add 1 degree (16 degree 3-wood. 19 degree 5-wood)
+2 = Add 2 degree (17 degree 3-wood. 20 degree 5-wood)
Here are the lie settings:
N = Neutral lie
D = Draw bias lie
I went with 5-wood because the extra loft adds forgiveness and makes it easier to hit. I normally play with the stated loft (18 degrees) and a neutral lie. If you slice the ball then you can set it on draw bias and it should straighten things out a little bit.
The overall sound and feel of the club is solid as well. It doesn't sound overly loud at impact and the way it feels when you hit the sweet spot is buttery smooth.
One thing to note is that this won't be the best option if you need the most forgiveness or if you have a slower swing speed. It'll still perform pretty well but one of the other two will probably play better for you.
If you hit the ball towards the toe or heel, your shots won't go as straight. Also, because the ball flight is mid-range, a slower swing speed might not get as much distance.
The Epic Flash comes in two different versions, the standard and Sub Zero. The Sub Zero is for low handicaps who want ultra-low spin. Probably not ideal for you.
Pros
A great mix of distance, forgiveness, and versatility.
The price is quite reasonable.
It's very adjustable.
Cons
Not the most forgiving option.
The alignment aid isn't the best.
PING G410 (My #2 Pick)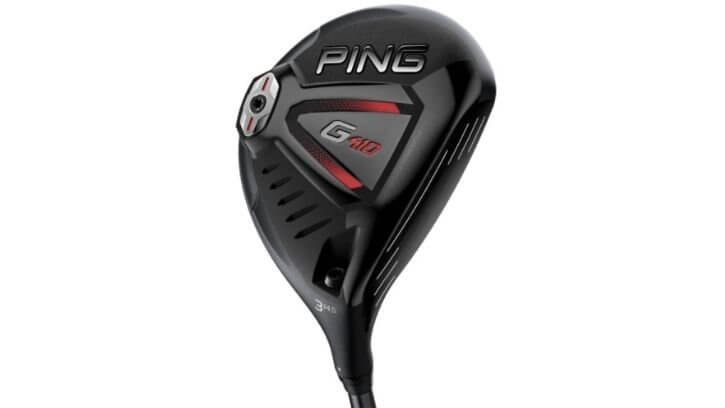 If you're looking for a fairway wood that's a bit more forgiving or you have a slower swing speed, this is the option for you. PING is a little bit underrated but they make some awesome clubs for mid to high handicap golfers.
One of the key differences between the G410 and Epic Flash is that the G410 is a bit more forgiving. You can hit the club on the toe, the heel, low, or high, and it'll send the ball fairly straight.
The good news with this is that you'll end up hitting more fairways. That'll really help take you from a high to mid handicap or from the high to low 80s. The bad news is that it'll be harder to hit a draw or fade.
The second key difference is that the G410 is higher launching and will be easier to hit for golfers with slower swing speeds.
One thing to be aware of is that you can adjust the loft but it's only up or down by 1 degree. That's why I think it'd be important to get the 5-wood instead of 3-wood.
Pros
The ball flight is high.
It's one of the more forgiving woods.
You can hit it from all lies.
Cons
There are minimal adjustments.
It's not the best for shaping the ball.
Cobra F9 Speedback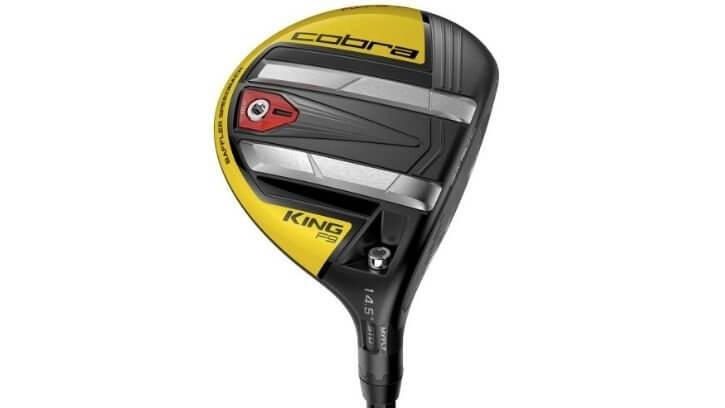 If you're looking for a solid all-around fairway wood but you want the most distance possible, this will be for you. I didn't find it as versatile as the Epic Flash or as forgiving as the G410 but it was pretty close.
The club does have two rails on the bottom of the club and that does help hit out of tough lies. Out of all the woods, the Cobra was probably the best out of the rough.
There aren't as many adjustments as the Epic but there are more than the G410. On the Speedback, you can adjust the loft of the 3-wood between 14-16 and the 5-wood from 17-20 degrees.
I did mention that this club is long. That was definitely the case but it wasn't miles above the other two. Most clubs that have come out over the past 5 years hit the ball very similar distances.
The ball flight was higher than the Epic Flash and that's part of the reason why it was a touch longer. I'm sure that's also part of the reason why it's a bit more forgiving too.
You can pick from either yellow and grey or silver and grey. I probably prefer the look of the silver Cobra, but yellow looks not too bad.
Pros
This club is long.
Forgiveness is really good.
It hits well out of the rough.
Cons
It's not the best for shaping the ball.
I'm not the biggest fan of the way it looks at address.
Last update on 2023-07-26 / Affiliate links / Images from Amazon Product Advertising API