I've tried a few golf balls from Vice, some I liked and some I didn't, but just recently was able to try out the Drive edition. In this post, I'm going to be reviewing the Vice Drive golf balls and talking about whether or not they're worth picking up.
What did I think of the Vice Drive golf balls? These balls are designed for the average golfer who has a low to mid swing speed and doesn't want to spend a fortune on balls. They're just over a buck a ball and even though they aren't the most advanced or longest balls out there they're actually one of my favorite in this price range. I used them in wet and windy conditions and they last a long time, have respectable distance, and a decent amount of feel to them.
Some of the Vice balls are fairly expensive and I'm not the biggest fan but these are much more reasonably priced and use them a lot in the winter (along with Noodle) when balls tend to plug and you can't find them. It's a 2-piece golf ball and that's why it's cheaper than the rest but it's built tough and doesn't scratch up as easily as others.
I don't use them in the spring/summer too much because I get better performance from other balls (see my favorite balls for average golfers) but I think they're a great option for most weekend golfers who want something cheap while still giving the performance they need. If you want a more detailed review or you want to find out where the cheapest place to get them is, then continue reading.
Check the price on Amazon. If you want to enter into our golf giveaway you can click here to subscribe to our YouTube channel, like the video, and comment giveaway.
Control & Forgiveness
The biggest thing I look for in a golf ball is how accurate it is and how much forgiveness it has. I'll sacrifice a bit of distance all day long if I can get more of this because it's one of the easiest ways to lower scores. I'm not saying it'll fix your hook or slice but I am saying that if you use the right ball and focus on fairways over distance then you'll shoot better rounds.
I did really like the feel of these balls because they weren't too soft (like the Pro Soft) and I felt like I could put the ball somewhat close to where I wanted. They weren't as accurate as some and they weren't the best for shaping the ball around but I still did enjoy playing with them.
In terms of forgiveness, I wouldn't say they're as forgiving as the Noodle Long and Soft or the Wilson Fifty Elite but they were reasonably close. I definitely hit more fairways/greens in regulation using this ball than a ProV1 or a higher-end ball from Taylormade. If you're a medium to high handicap player and are using those balls then you should switch right now.
Distance & Performance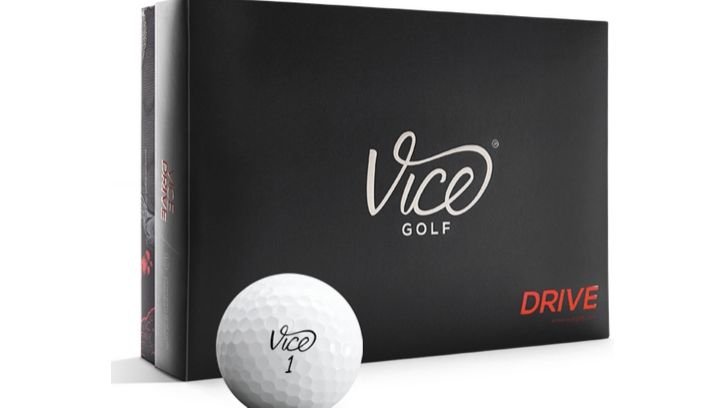 I didn't really expect these balls to perform as well as some of the higher-end balls out there because it is much cheaper but compared to other balls in the price range, the Drive balls from Vice were surprisingly solid.
The first thing I'll talk about is the launch. I don't have the highest ball flight (gets the job done but can be ugly looking) but I do think this ball was the highest launching for me in the price range. It's not always the best thing because it'll hit the ground harder and can plug in wet conditions. It is confidence-boosting though and you'll probably gain a few yards.
The good news though is that the Drive balls were pretty much identical to the Noodle and Wilson when it came to distance. I'm comparing it to these because they have a similar price and they're the 3 balls I use in the winter and feel comfortable comparing them.
Overall, if you're an average weekend golfer and have a low to mid swing speed then I see no reason why you couldn't benefit from using the Drive balls.
Vice Drive Specs
| Product | Vice Drive |
| --- | --- |
| Layers | 2 Piece |
| Material | DuPont Surlyn |
| Compression | Low |
| Spin Rate | Low |
| Market | Beginner |
Pros
The price can't be beaten.
They're extremely durable.
Distance is just as good as most (for me).
Cons
They aren't as forgiving as some.
They're not great for higher swing speeds.
Not as soft as some (if you like that).
The Breakdown
Performance Score: 8
Quality Score: 10
Value Score: 9
Personal Score: 9
Frequently Asked Questions
Q. How are these balls around the green?
A. They aren't as soft and easy to control as some.
Q. What compression are these balls?
A. I believe they're close to a ProV1 (felt similar to me anyway).
Q. What Titleist ball are they similar to?
A. I found them close to the Titleist Velocity balls.
The Verdict
Overall, if you're an average weekend golfer who doesn't want to spend a fortune on golf balls, you have a slower swing speed, and you don't care about spinning or shaping the ball then these could be perfect for you.
Are they the best golf ball out there? No, definitely not, but they're one of the best entry-level balls and still offer a decent amount of forgiveness. The distance I got from them was also just as good as most other balls.
If you need a cheap ball to play with during the winter or want a cheap ball that still offers pretty good performance then I see no reason why you shouldn't give the Vice Drive golf balls a try.
Let me know your thoughts and any questions you have. Like this article? Feel free to give it a share!
Looking to get some new golf gear? Click here to check out our recommended gear page to see the stuff we're recommending and the cheapest place to get them.
Last update on 2023-07-26 / Affiliate links / Images from Amazon Product Advertising API