If you're anything like me, you're probably sick and tired of having swamp hand by the end of your round and then putting on a hard and crusty glove next round. That might not be the case anymore and in this post, I'm going to be talking about the best golf glove for people with sweaty hands.
The best golf glove for sweaty hands is the CaddyDaddy Claw. It's a newer glove that came onto the market at the end of 2019 and it's not only great because of the breathability but it's also one of the most comfortable gloves I've worn. The palm is made from a silicone material so the grip is top-notch and it's designed to last 3-4 times longer than leather. The top is made from a breathable mesh which will help (not prevent) sweaty hands.
I've been using this glove since it came out and I couldn't imagine using anything else. I'll toss on a thicker leather glove in the winter when it gets cold but during the spring, summer, and fall, this is my go-to. Right from the start, everything felt a lot more comfortable and that's why I'd recommend you try it out. Continue reading for the full details of the CaddyDaddy Claw.
How Did It Feel?
As soon as I put this glove on I could feel a difference compared to my old leather glove. It's quite a bit thinner and that gave my hand a bit more flexibility so I could feel the club better. With a leather glove (especially when it's hard and crusty) you don't feel as confident swinging the club, so this was a big improvement.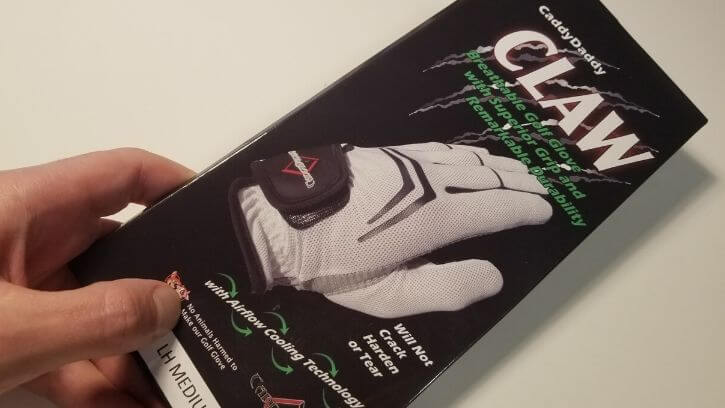 The top of the glove is a breathable mesh which is going to be what you're after. It's not going to get rid of sweaty hands but I did find it helped. It also dries much quicker and isn't going to harden. Plus, you can machine wash it when it gets dirty.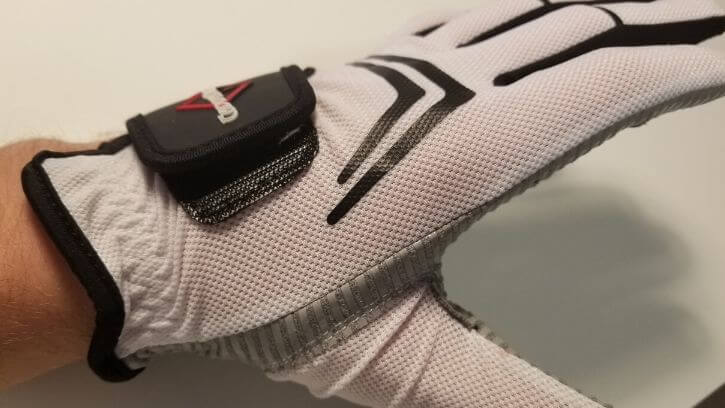 The palm material is like silicone so it has a good amount of grip, even in wet conditions. I liked that it was extremely grippy and even when I tried to twist my club in my hand, it barely budged. Overall, the feel was so much better compared to a leather glove (in my opinion).
How Was The Quality?
Since this glove is at the higher end of the price scale (compared to other gloves) I was really hoping the quality would be there too. Just like anything, it's going to have its pros and cons but I was pretty impressed with the overall quality.
The palm on it was clearly better than my leather glove. It says it's supposed to last 3-5 times longer than a normal glove but I haven't had it long enough to confirm that. I tried to put it through the elements as best I could and everything seems great.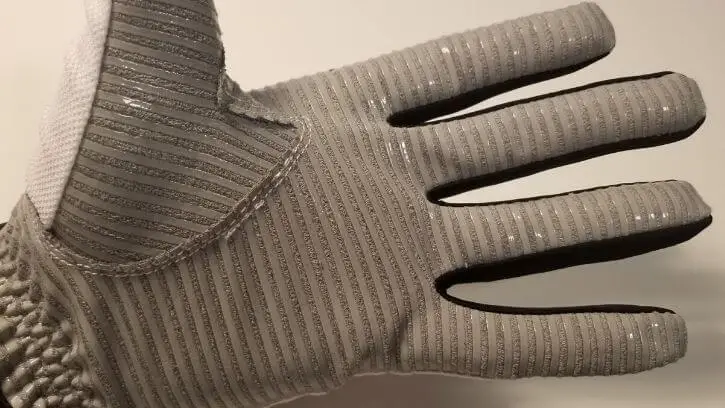 The only thing that I can say about it (which is expected) is that the mesh part won't last as long as leather and will rip. I haven't had any issues but I could see it happening if you're rough on your glove. Take care of it and you should be fine but a little rip in the top of your glove isn't that big of a deal.
How Did It Perform?
The main thing that really matters is how the glove performs. As long as it grips well, feels awesome, and gives my hand a bit of breathability, that's all I'm really looking for. Long story short, it's worked better than anything else I've tried.
The first thing I noticed was the grip. It felt extremely comfortable right away and it gave me a bit of a confidence boost. I don't really know why but it was probably the combination of grip, lightness, and material. I found the grip was better than my leather glove and even when I soaked my glove in water, it still worked perfectly fine. After washing it in the machine, the grip was still there as well.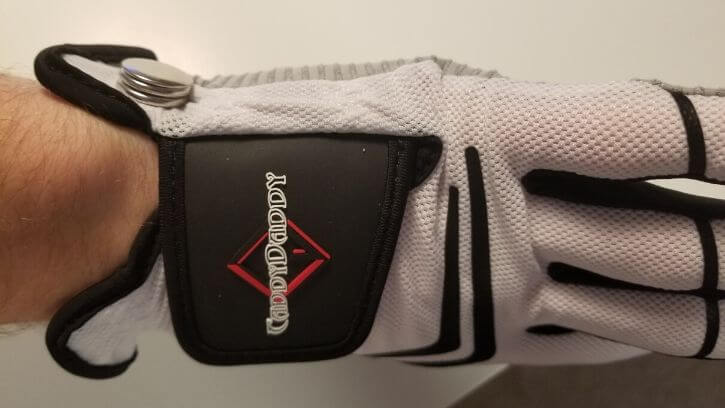 The next thing was the breathability. Especially on hot days, wearing a thick leather glove is zero fun whatsoever. Things get hot, wet, and just plain uncomfortable. I'm not saying the Claw will prevent sweating but it's definitely cooler and will help you out. I got the glove in the middle of winter (no snow but cold) and it was fine as long as the sun was out. I'd prefer to wear a warmer close if it gets colder but it was still manageable.
The Pros
The price point is good for something that lasts 3-4x longer than leather.
The grip is awesome in dry and wet conditions.
It's light and the most comfortable glove I've used.
You can wash it and it won't tear or harden.
The Cons
The mesh isn't going to be as durable as leather (obvious).
It's not the best option in colder weather.
Some people prefer the feel of leather over silicone (they aren't used to it).
Best Place To Get
If you're looking for a new golf glove I'd highly recommend you give the Claw a try. It's the most comfortable glove I've used myself and it does work better than anything else when it comes to sweaty hands. Again, it won't stop it but it does help.
At the time of writing this, the CaddyDaddy glove is around $20 and I think that's completely reasonable for the quality and performance. The only place you can pick one up right now is on the CaddyDaddy website or here on Amazon.
Even if you don't have sweaty hands, I still think you should give it a try. It just feels so much better and more flexible compared to my leather glove. Even if it didn't last as long, that alone is enough for me to switch to the Claw.
Let me know your thoughts and any questions you have. Like this article? Feel free to give it a share!
Looking to get some new golf gear? Click here to check out our recommended gear page to see the stuff we're recommending and the cheapest place to get them.
Last update on 2023-07-26 / Affiliate links / Images from Amazon Product Advertising API