If you're a beginner golfer you're going to want to get yourself a good golf glove to help with grip and prevent blisters. There are a bunch of options to pick from and in this post, I'm going to be talking about the two best golf gloves for beginner golfers.
CaddyDaddy Claw (Warm Weather).
Finger Ten Winter (Cold Weather).
Both of these are high-quality gloves that perform really well. I use the CaddyDaddy Claw in the spring, summer, and early fall and then the Finger Ten when it gets really cold out. Gloves are really going to help you grip the club better and they'll help prevent blisters. I can't play without them and these two are my favorites. Continue reading for the full details of each glove.
CaddyDaddy Claw
This is a newer golf glove that came out towards the end of 2019 and has been my go-to glove ever since. The palm is made from a silicone material so it's a lot more durable compared to leather and the grip is great in wet and dry conditions. The top is made from a breathable mesh which makes it light, comfy, and stops my hand from sweating too much.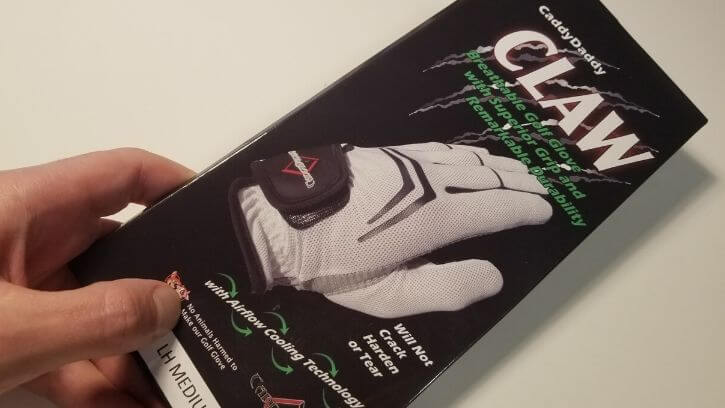 I always used to use a leather glove because there wasn't really any other option. My hand would sweat, it would dry all crusted, and dirt would stick to it. I'd end up going through a decent number of gloves throughout the year and I'm sure the same thing happens for you.
I got an early sample of this glove and it instantly felt better (you can see our review here). It was nice and light and the palm was super grippy (probably the best out of any glove). I held onto my club and it wouldn't budge at all when I twisted it (even when wet). It's around 20 bucks for the glove which is what I was spending already, so that was awesome.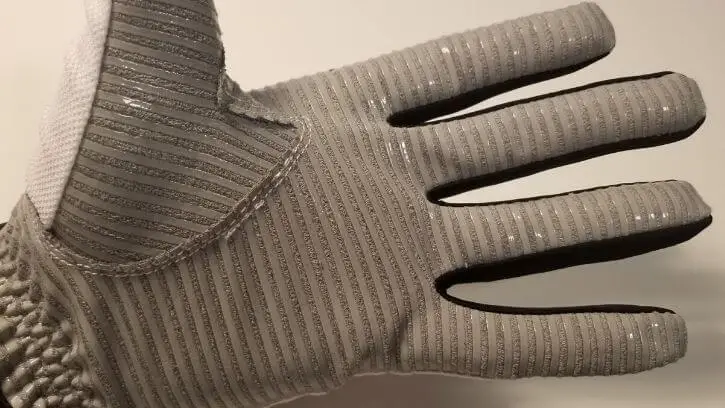 It's also supposed to last 3-5x longer than leather (plus, you can machine wash it). The palm has been very durable and I can easily see it lasting quite a bit longer than leather. The mesh top isn't going to be as durable as leather but as long as you take decent care of it, you should be fine. Even if it didn't last as long as a leather glove, I'd still use it because of the comfort factor.
It's not going to be the best option if you're out in super cold weather but that's why I'd recommend you have the winter glove as well. I'll use the Claw about 90% of the time but the winter glove is always a good thing to have.
Pros
It's the most comfortable glove I've used.
The grip is great in wet and dry conditions.
You can machine wash it.
It'll help (not prevent) sweaty hands.
Cons
It won't be warm enough for winter golf.
The breathable mesh will tear if you're rough on it.
Finger Ten Winter
If you live somewhere where it's cold in December and January but there's no snow (I'm in Vancouver, Canada) then you'll probably want a pair of winter gloves. You probably could get away with wearing the Claw but I always like to be as comfortable as possible and that's why I'll wear a thicker glove on both hands.
I'll use these gloves maybe 4 or 5 times a year and like them because they're comfortable and inexpensive (two gloves are around $16). I've had my current pair for a couple of years now and they're still perfectly fine. They do have fleece on them which will keep your hands warm and they're also waterproof if things get wet.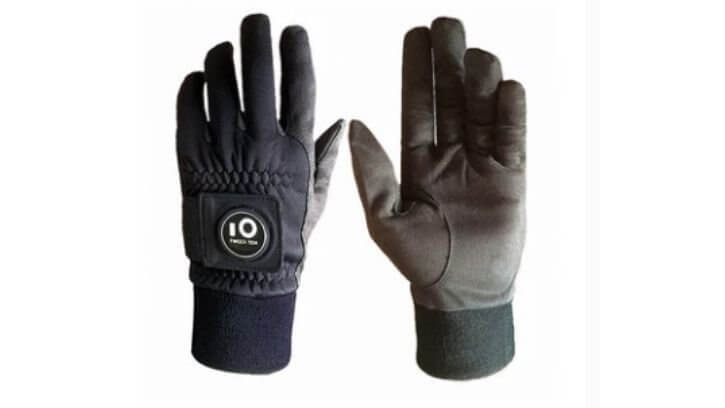 They definitely aren't as comfortable or as grippy as the Claw but that's expected. It's quite similar to a leather glove in terms of grip (bit less) but it is quite a bit warmer and that's why I use it instead. I've used them a number of times in 40-degree weather (about 4 degrees Celsius) with some wind and they held up great. I wouldn't wear them out in a snowstorm but for a round of golf, they'll get the job done.
You will have to break them in a bit (the Claw is good right away) but after that, you'll have decent flexibility and you'll still be able to putt with them on. Some people don't like putting with a glove on (in any conditions) but I don't mind it at all. Overall, this is definitely my favorite winter glove on the market and would recommend having one just in case you need it.
Pros
It'll keep your hands warm and dry.
I've had mine for 2 years.
They aren't overly thick.
Cons
The amount of grip isn't as good.
They'll take some time to break in.
Let me know your thoughts and any questions you have. Like this article? Feel free to give it a share!
Looking to get some new golf gear? Click here to check out our recommended gear page to see the stuff we're recommending and the cheapest place to get them.
Last update on 2023-07-26 / Affiliate links / Images from Amazon Product Advertising API