I've gone through a number of different golf gloves over the years and a lot of them have only worked well in one type of weather. I wanted to find one or two gloves that would work well in all conditions, have a great grip, and would actually last. Here are the 2 best all-weather golf gloves:
CaddyDaddy Claw (All-Season).
Finger Ten Winter (Cold Weather).
These are the only two gloves I use. I'll always wear the Claw on my left hand (right-handed golfer) and then I'll wear the Finger Ten when it gets really cold out and I want a bit of extra warmth. I'll just wear the Claw 90% of the time because it works awesome in the summer (breathable) and it has a great amount of grip for when things are wet. Continue reading for the full details on each glove.
What We Look For In A Glove
As I said, I've tried a number of different golf gloves over the years and some have been a lot better than others. Some were great in the summer but were terrible in the winter. Some were terrible all year round. Only a few were good year-round.
The first thing we look at is how comfortable the glove was. A lot of gloves were big and bulky (which made them warm) but it felt really awkward gripping the club. The glove had to be thin enough to be able to feel the club well and it had to be flexible.
The second thing was the amount of grip. Most gloves worked well in dry weather but as soon as you added water, things got really slippery. The game will get even tougher when you can't grip the club with confidence, so this is a big deal. Both gloves had a great grip in all types of weather.
The next thing is the breathability. I have sweaty hands and if you're in the same boat you probably know all about it. Your hands get drenched, your glove dries all crusty, you have to put on a hard glove next round, and it eventually cracks. This was the main reason I stuck with the Claw (it doesn't harden or crack).
The last thing we looked at was durability. When a standard glove gets wet and dries hard, it's not going to last very long. They're only like 20 bucks but it does add up if you're going through them often. The Finger Ten glove has been in my bag for a couple of seasons and I've used the Claw a number of times and it still looks brand new.
CaddyDaddy Claw
I always used a standard leather glove in the past like most people. They were hot in the summer and they'd always dry hard, get all stiff, and crack after a couple of months. I'm sure you know what I mean and I'm sure you're sick of that too.
There wasn't really another option to go with until recently. CaddyDaddy came out with a new design that has a breathable mesh on the top and a silicone palm for added grip (you can see our review here). The mesh works great in the summer and helps my hand not sweat so much (it still does but definitely better). I also was playing with it recently in near-freezing weather and it was warm enough.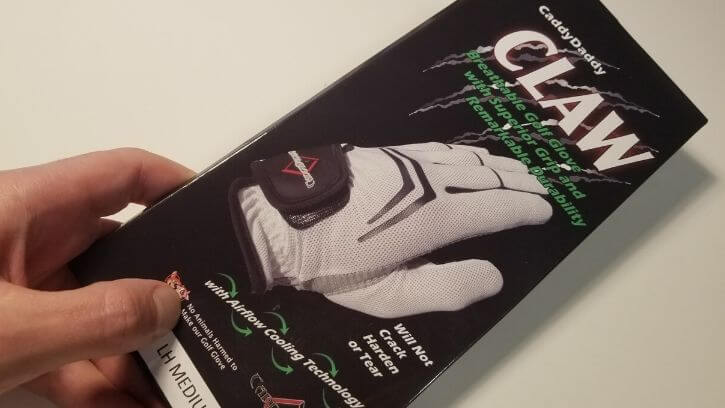 The palm is made from silicone material so it has a lot of grip and it's also much tougher than leather. It's not going to rip or tear, it's not going to get all crusty, and you can machine wash it when it gets dirty. I was out playing some winter golf the other day and my glove got all wet and muddy. I could still grip my club without slippage and I just tossed it in the wash when I got home and it was as good as new.
Since it does have a breathable mesh on the top, it's not going to be as tough as a leather glove. The palm definitely is (probably more) but if you're rough on the mesh then it will tear. Mine hasn't yet but I'm sure if you jam your hand in and rip it off, you might have some problems. Just take care of it and you should be fine (plus, it's only 20 bucks for a new one). See our review for the best place to get one.
Finger Ten Winter
The second glove I always keep in my bag is the Finger Ten winter glove. I don't use it too often but it's what I wear on my right hand when things get cold (or if I have a cut or blister on my hand). It's not going to be super bulky like some so you'll still be able to feel your clubs well.
I've had this glove for a couple of seasons now and it's still in awesome shape. It's only around 15 bucks or so which is a steal considering how long I've had it. Like I said before, I only use it 6-8 times per year when I need some extra warmth but I still think that's really good.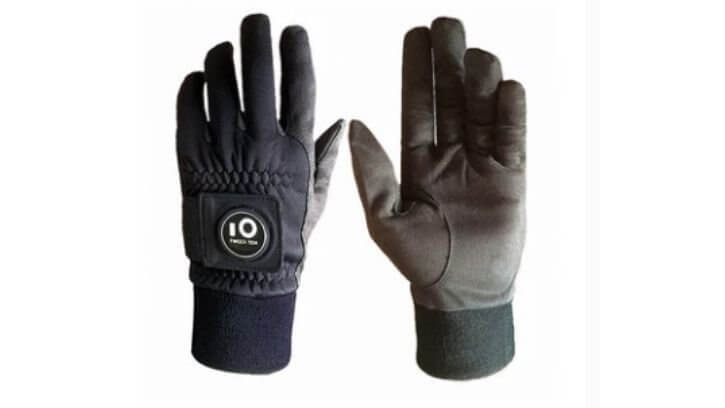 Even though it's a winter glove it's still pretty comfortable and I still have decent flexibility with it on. It's not as good as the Claw but I've definitely used worse. It kept my hands warm enough in almost freezing weather and it still had a good amount of grip when things were muddy and wet. That's all you can really ask for in a winter glove.
They do take some time to break in so that's one thing to keep in mind but I haven't been able to find another glove that's as warm and waterproof (that's priced reasonably). That being said, I've actually used them in the summer as well (had a cut on my hand) and they weren't overly warm and uncomfortable, so that was a big plus in my eyes. Grab yourself one on Amazon.
Let me know your thoughts and any questions you have. Like this article? Feel free to give it a share!
Looking to get some new golf gear? Click here to check out our recommended gear page to see the stuff we're recommending and the cheapest place to get them.
Last update on 2023-07-26 / Affiliate links / Images from Amazon Product Advertising API