If you're sick and tired of burning through gloves every few weeks and spending more than enough money on them, you're in the right place. I've tried almost all of the options on the market and in this post, I'm going to be talking about the best premium golf gloves of 2023.
These are my favorite golf gloves of 2023:
Finger Ten Winter.
Bionic StableGrip (leather).
Titleist Players (leather).
Callaway X Span (leather/mesh).
CaddyDaddy Claw (silicon/mesh).
My favorite overall is the CaddyDaddy Claw. It's what I've been using 90% of the time over the past few months and I like it because it's super comfortable, flexible, and is built well. All of them are great options though and are all better than most gloves on the market. Continue reading for the full details on each of the gloves.
Finger Ten Winter
If you're looking for a golf glove that works well in the rain and colder months, this could be for you. It's not going to be what you want to use for most of the year, but if it gets cold as it does here, you'll want to have it just in case.
Out of all the other cold-weather gloves I've tried, these have been the best. They're warm, wind-resistant, and waterproof. They also aren't overly big and bulky so you can actually feel the club when you're holding it.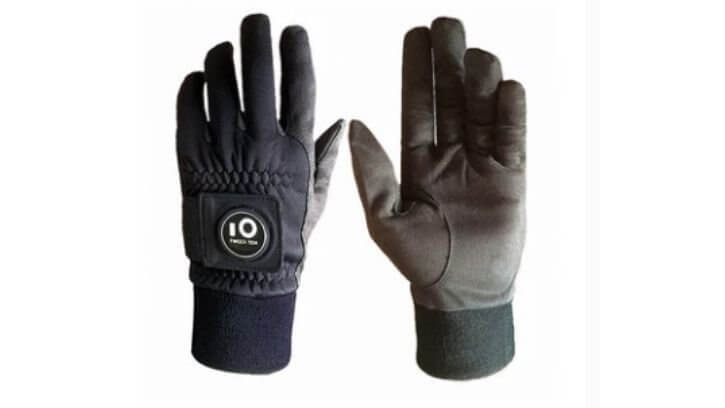 I would recommend you spend an hour or two breaking them in because they can be a bit stiff, but after that, they're fairly comfortable. I've had my set for a couple of years now and they're still perfectly fine.
I'm sure you've been on the course on a wet day and had your glove completely soaked through. It'll dry all hard and crusty and then it'll eventually crack. That's not going to happen with this one and that's why I'd recommend having a pair.
Pros
They're warm and waterproof.
The quality is top-notch.
You can still putt with them on.
My hands didn't sweat too much in them.
Cons
They're a bit stiff at first.
They aren't as comfortable and flexible as a standard glove (expected).
They could use a bit more grip.
Bionic StableGrip
If your hands are sore or tired after playing a game of golf, these gloves could be for you. They have extra padding on them where the pressure points are and that'll help you have a more comfortable grip. They also have a bit of fabric on them which makes them a bit more breathable and flexible compared to a standard leather glove.
This glove is a little bit thicker than your standard leather glove so it might take some time getting used to it. I think it'll really help you out if you tend to grip the club too tightly. The extra padding will make it feel like you're gripping it tighter than you actually are (which should help your game).
The main thing I noticed with this glove was the quality. I've generally used leather or fake leather gloves and they'd always harden and crack after a month or so. This glove has lasted me a lot longer which is all I can really ask for.
Pros
It's extremely comfortable.
It's more breathable than most leather gloves.
It lasted longer than most standard leather gloves.
Cons
It could be a bit too thick for some.
The padding takes a bit of time to get used to.
Titleist Players
If you like the more traditional leather gloves then this will be the one for you. I don't use them anymore myself but this one seems to be the longest lasting and most comfortable one out there. I like it a lot more than leather gloves from Taylormade, Callaway, and FootJoy.
It's going to be thinner than most of the other gloves on this list and that'll help give you the most feel. That being said, I like having a glove that's more breathable and one that lasts a bit longer. My hands sweat and I end up burning through a lot of leather gloves.
It is the most comfortable of this style though and I think it lasts a bit longer as well. If you prefer a standard leather glove, go with the Titleist Players.
Pros
It's extremely comfortable.
Longest lasting pure leather glove.
It grips well in wet conditions.
Cons
It's not as breathable as the glove I use.
The palm doesn't last as long as some (for me).
Callaway X Span
If you're like me and get sweaty hands on the hot summer days, you'll probably want to use a glove with a mesh backing. This has exactly that and is one of my favorite gloves to wear. It's not the best in wet or cold weather but it works well 90% of the time.
The top is a mesh material that lets your hand breath and the bottom is leather. I like this type of glove because it gives me a bit more flexibility compared to a leather glove. There's also no velcro strap (which you might like or might not).
The palm on this glove is super well built and has lasted me a long time. The seam on one of the fingers started to tear after a while but the main reason I use a glove like this is because of how good it feels to wear.
Pros
It's way nicer to play with in the summer.
The extra flexibility is nice to have.
More comfortable than a standard leather glove.
Cons
The finger seam on mine split apart.
It's not always easy to take off.
The leather palm does dry and crack after a while.
CaddyDaddy Claw
If you like the idea of having a breathable mesh on your gloves, this could be the perfect glove for you. It's been the one I've been using as of late and couldn't imagine playing with anything else.
It's pretty similar to the X Span from Callaway but it has some improvements. The first thing I liked more was the velcro strap. It makes taking it off a lot easier. The second thing was the silicone palm. It grips a lot better in my opinion (compared to leather) and it's not going to harden and crack.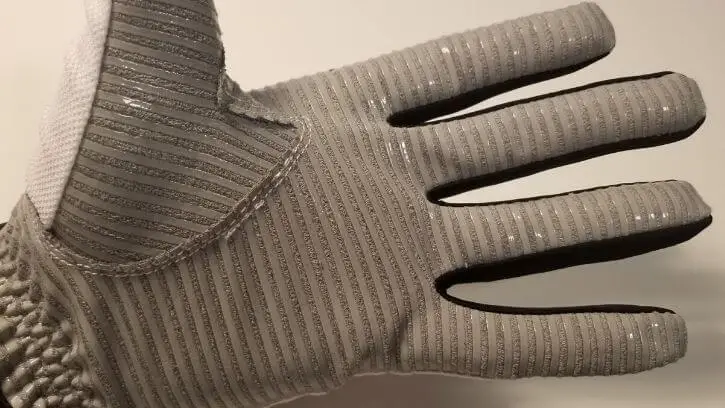 This was a big deal for me because my hands tend to sweat a bit. Leather would start to dry up after a few rounds and I've had to replace them often. Silicone works well in all conditions and it's not going to absorb moisture. Plus, it doesn't wear out nearly as quick (supposed to last 3-5 times longer).
Pros
It's the most comfortable/flexible glove I've used.
I like the way the grip feels a lot more.
You can machine wash it.
Cons
There isn't as much grip on the fingers as leather (if you interlock/overlap).
The mesh will tear if you're rough on it.
Let me know your thoughts and any questions you have. Like this article? Feel free to give it a share!
Looking to get some new golf gear? Click here to check out our recommended gear page to see the stuff we're recommending and the cheapest place to get them.
Last update on 2023-07-26 / Affiliate links / Images from Amazon Product Advertising API