If you want to take your game to the next level you're going to need to know the distance to parts of the course. In this post, I'm going to be reviewing the Garmin Approach G30 handheld golf GPS and sharing my honest opinions after testing it out on the course with other devices. I'll also show you the cheapest place I could find it for sale, so continue reading.
The Garmin Approach G30 could be perfect for you if you're in the market for a new golf GPS, you plan on using it a lot, and you have the spare cash. It's not super advanced or anything like that but it's well made and is just as accurate as any. If you are tighter on a budget you can always go with a watch like the Garmin Approach X40 since they're cheaper and do similar things.
The graphics aren't anything to brag about but it does the job just fine and should give you 80% of what you need. If that's all the info you were looking for then great. If you want a more detailed review and the best place to pick one up, continue reading.
Check the current price on Amazon (best place we could find it). If you'd like to enter into our golf giveaway all you have to do is subscribe to our YouTube channel, like the video and comment "giveaway".
Garmin G30 Specs
| Product | Garmin Approach G30 |
| --- | --- |
| Size | 53 x 75 x 21 mm |
| Touchscreen | Yes |
| Screen Size | 2.3 Inch |
| Weight | 71 Grams |
| Battery Life | 15 Hours GPS Mode |
| Water Resistant | Yes |
| Golf Courses | 41,000+ |
| Preloaded | Yes |
| Distance To Front, Middle, Back | Yes |
| Distance To Hazards/Doglegs/Layup | Yes |
| Shot Distance | Yes |
| Scorecard | Yes |
| Stat Tracking | Yes |
| AutoShot | No |
| Manual Pin Placement | Yes |
| Touch Targeting | Yes |
| Course Preview | Yes |
My First Impressions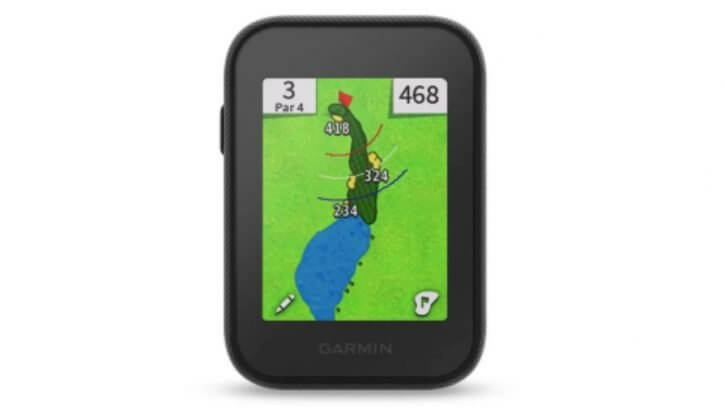 This is a pretty cool little device that can be carried in your pocket or attached to your bag. A lot of people don't like wearing a watch and something like this could be perfect for them.
It's nice and compact and I really like the rubber around the edges to protect it when it gets dropped. I strapped it to my bag so this rarely happens, but I have had units like this that have broke (and it does suck).
Simply power it on and use the touchscreen to press PLAY.
What Features Does It Have?
After you've pressed PLAY it'll take about 20-30 seconds to find the course you're on. If you're in a remote location it could take longer but it was normally pretty quick for me.
You'll see an overview of the hole with the hole #, the par, the distance to the green, and the distance to 3 layuppoints in the fairway. It also will tell you the distance to different hazards on the course. That's pretty much all you'd ever need.
It comes preloaded with over 40,000 courses worldwide, it measures your shot distance, it can be paired with Garmin TruSwing, and it has notifications. Here's a demo video:
How Accurate Was The GPS?
What I like about Garmin GPS units is that they generally have the most courses available and they're also some of the more accurate. None of them are perfect all of the time but they are more often than not.
That was definitely the case with the G30. It wasn't always perfect but it was generally within about 5 yards of the course markers. That might not be good enough for professional golfers but it'll do the job for an average Joe like me.
Compared to the Garmin G10, it was a bit easier to see layup spots because it gave a hole overview.
How Was The Design?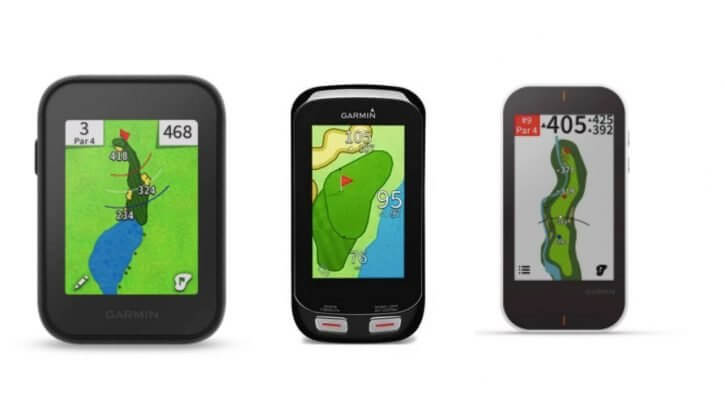 The shape and overall design of the G30 were great but there were a few things I didn't really like. None of them were enough for me not to recommend but it would be nice to see them improved.
It has a bit of a smaller screen (compared to other handheld units) and that makes the touchscreen a little bit tricky to use and isn't as responsive.
The second thing I didn't really like was the basic graphics it came with (it wasn't bad but other units have better graphics but also cost more).
How Does It Compare To Others?
Were there similar GPS units that I liked more? For handhelds no but the Garmin X40 watch is cheaper and does pretty much the same thing.
Were there similar GPS units that I liked less? The IZZO Swami, Bushnell Neo, Bushnell Phantom.
What if I want a slightly upgraded model? One of my favorite handheld GPS devices is the Garmin Approach G8 ($100 more).
What I Like
It can record up to 4 people's scores.
It'll keep track of putts and fairways hit and your common misses.
It's faster than the G10 and has better battery life.
What I Don't Like
It's a little bit pricey.
Some of the watches are cheaper and do the same thing.
The graphics are pretty basic and look old.
It can sometimes be a bit laggy.
The Breakdown
Performance Score: 8
Price Score: 8
Ease Of Use Score: 9
My Personal Score: 8
Is It Worth It?
Overall, if you're in the market for a new golf GPS and plan on using it a lot, this could be it. It's not the most advanced model out there but it's built well and is just as accurate as any.
It's a bit on the pricey side and some of the cheaper golf watches do pretty much the same thing. The only downside to the watches is that the screen is smaller so if your eyesight is bad this might be better.
Frequently Asked Questions
Q. Does it come with a belt clip?
A. Yes.
Q. Does it come with a rechargeable battery?
A. Yes.
Q. Are there any annual fees or subscriptions?
A. No, there's not.
Let me know your thoughts and any questions you have. Like this article? Feel free to give it a share!
Looking to get some new golf gear? Click here to check out our recommended gear page to see the stuff we're recommending and the cheapest place to get them.
Last update on 2023-07-26 / Affiliate links / Images from Amazon Product Advertising API