The question "What are the best public golf courses in Massachusetts?" may cross your mind. Your search has led you to the correct spot! Whatever kind of golf course you are searching for in Boston, we've put together a list of the best public and private golf courses available.
Golf has developed and proved itself as a significant sport in every region of the world, with each course exhibiting its own distinct flair.
Massachusetts offers a variety of golf courses to choose from, all of which are carefully maintained by keepers who work hard to keep them looking as attractive as possible.
So whether it's for the love of the sport or to enjoy the ambiance and take in the scenery on one of these courses, which may even persuade non-players to start picking up a golf club in the first instance.
Despite the fact that golf club membership fees might be expensive, you can still have a pleasant day on the greens without spending a fortune. Take an opportunity to appreciate the beautiful golf course, no matter what your score is.
1. Pine Hills Golf Club – Plymouth, Massachusetts
Pine Hills Golf Club is the complete package, and there is a component of natural magnificence to be found at this club. Nature is a lovely part of everyday life, as stated on their website, and this is evident just by wandering around the Jones course.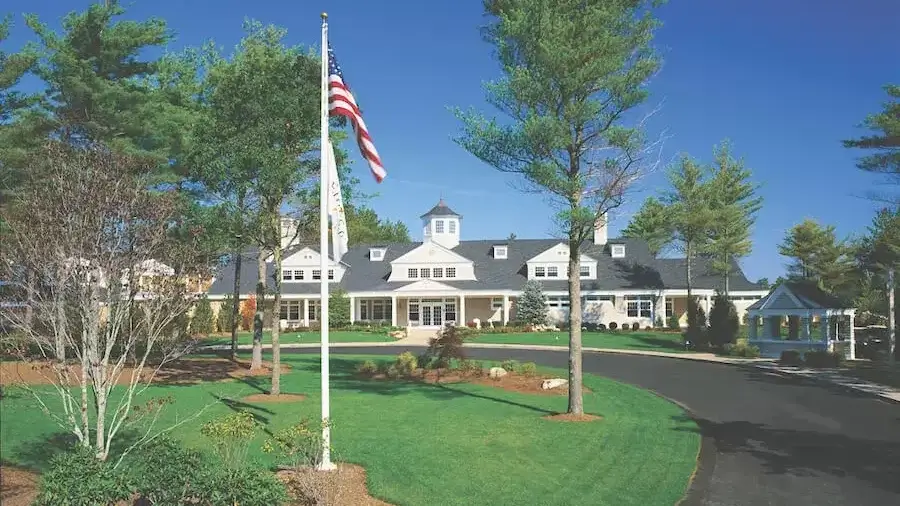 Despite the fact that pine trees border and surround each and every hole, the fairways are wide and open. The tiny touches, such as bunkers and the occasional splash of water, make the course fun for all players, and the natural woodland setting creates a quiet ambiance that is ideal for a day out on the course with friends.
Pine Hills Golf Club is located in Plymouth, Massachusetts, 30 miles southeast of Boston, right off the Pilgrims Highway to the east at Clark Road. The club has two 18-hole layouts and is situated in an upmarket residential neighborhood.
A portion of the Jones course winds through the undulating sand dunes of the Pine Hills, which are near to the Atlantic Ocean.
Elevation changes are plentiful, and there are a few forced carries over rocky ravines, as well as an array of pure white sand bunkers to protect the greens and wide, sloping greens on this course.
The course, which Rees Jones designed, measures around 7,200 yards and has course/slope ratings of 76/140 from the back tees with 4 fewer tees.
2. Squirrel Run Country Club – Plymouth, MA
The Squirrel Run Country Club is yet another treasure of Massachusetts, rich in history and home to The Best Game Ever Played Golf.
Much may be said about the layout, and there are some outstanding holes to be found there. It's a beautiful location for golf, with green hills and some wild cliffs thrown in for good measure.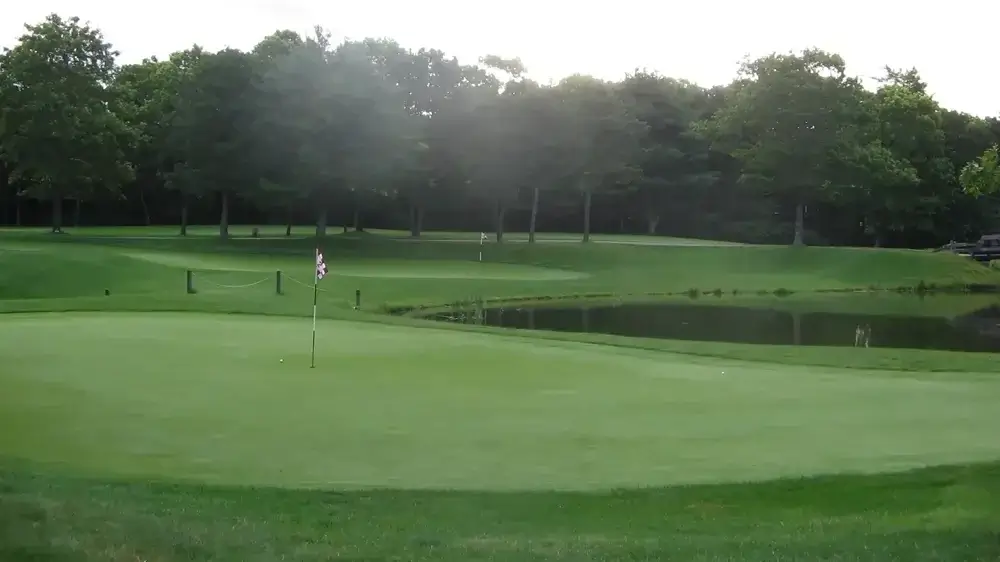 One of the typical aspects of the course that distinguishes it from others is the fact that they have allowed the rough to grow on several holes all the way around the green. If there is one issue about which I would be critical, it would be this: they are only making a clear maintenance decision.
It's just that I'm not a huge fan of it. Others, it seems, are enthusiastic about it. It is undoubtedly another layout that would take multiple rounds to acquire a decent feel for, but it is located in an area with a plethora of quality options.
The Squirrel Run Country Club is one of the most inclusive clubs in the US, which, when combined with its great history, makes it a one-of-a-kind establishment in the view of most people.
Golfers suggest that it is a lovely ambiance permeates the clubhouse, which also boasts a fantastic old-school style decor. It is unquestionably a pleasure to play and visit.
3. The Ranch Golf Club – Southwick, Massachusetts
The builder, Damian Pascuzzo, has done very little work on the east coast in recent years, having created only two original ideas in addition to a large amount of work on the California coast.
In fact, even The Ranch Golf Club is located quite a distance west of Boston in Massachusetts, a state that is known for its affinity for the shore.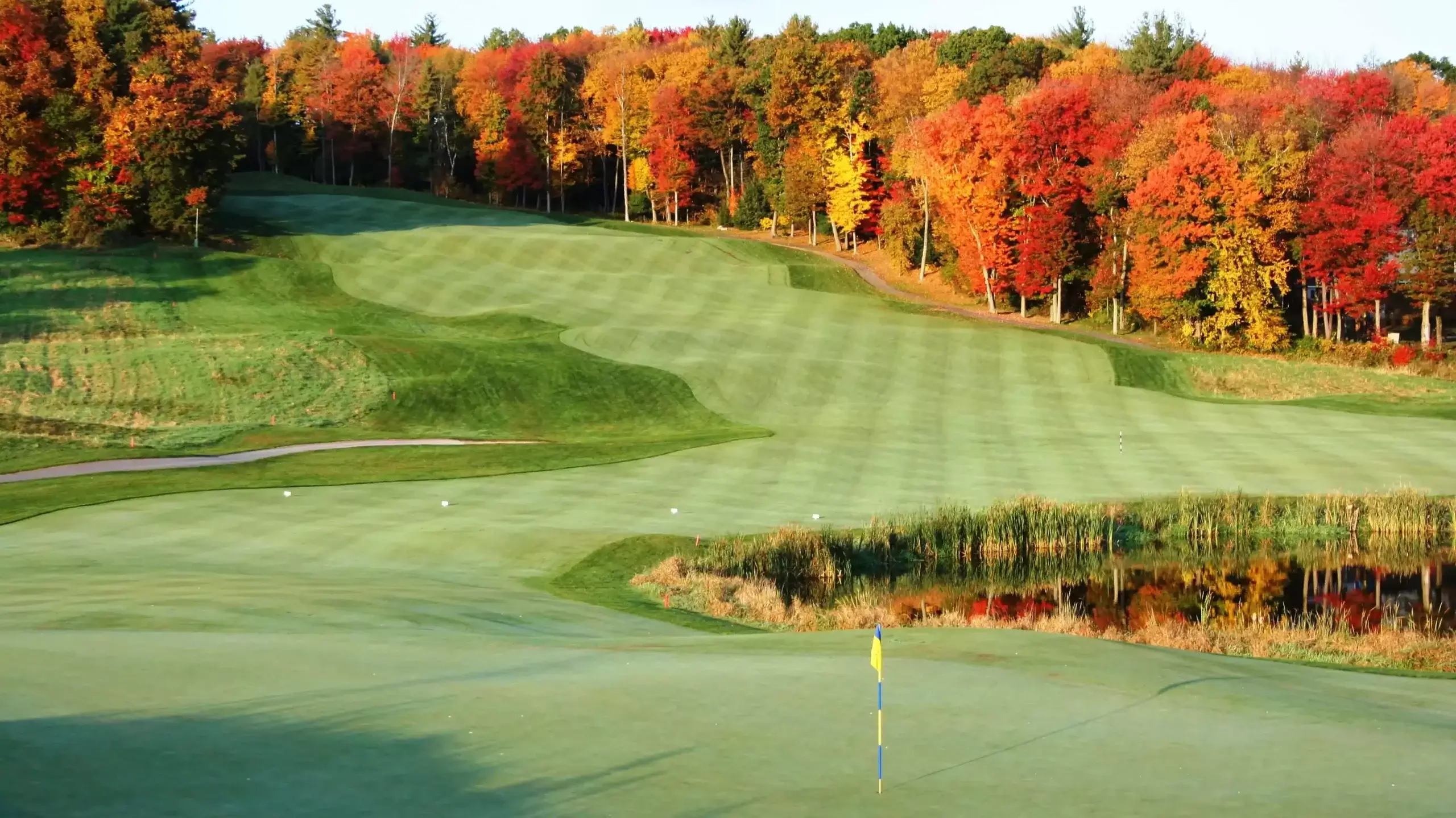 Given the opportunity to utilize this international opportunity, Pascuzzo threw everything but the kitchen sink at the first hole, an achievable split fairway par five that challenges players to take the risky left-hand path straight out of the gate, effectively throwing the notion of "a gentle handshake" right out the window.
Located in the undulating slopes of the Berkshires and encircled by woodlands and dairy farmland, the design is a great place to relax.
Several water obstacles are in play, and there are multiple doglegs, with courses that are open at times and surrounded by trees at others.
The fairways are covered by deep, intricately carved bunkers, with several of them nestled in coves covered by forests, which add to the overall challenge.
Despite the fact that the public golf course was built as part of a larger real estate development project, much of the field remains empty of residential development, alternating from empty land to countryside pathways throughout the course.
Creating a scenic impression away from the hustle and bustle of the metropolis.
4. Waverly Oaks Golf Club – Plymouth, Massachusetts
With a Brian Silva style that allows the use of all the dunes and forest terrain on which it was built, Waverly Oaks is widely regarded as one of Massachusetts's best golf public courses.
The terrain is undulating and offers more than 100 feet of height fluctuation, which Silva takes advantage of to great effect in his works.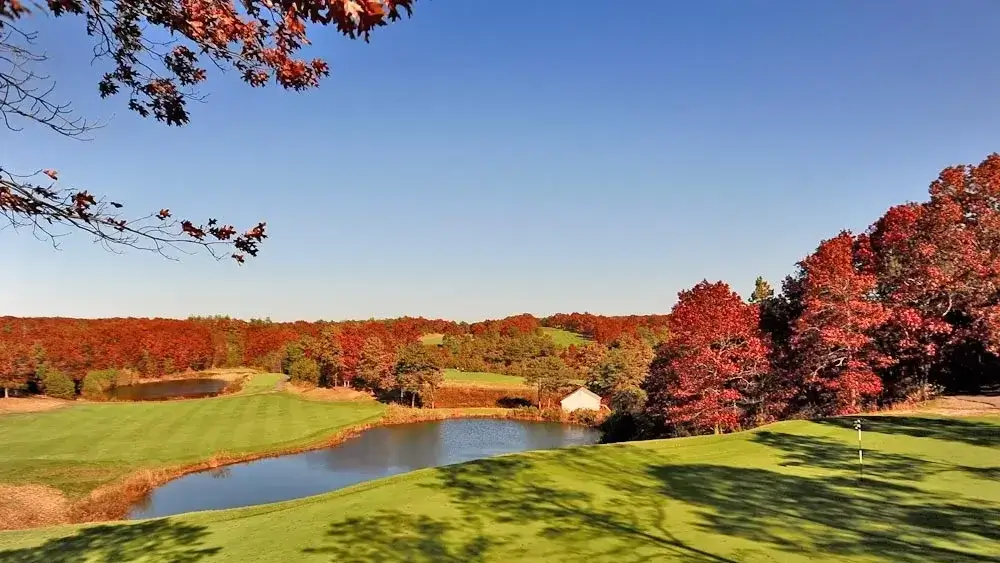 Throughout all of Silva's course designs, he pays homage to the architects of golf's Golden Age of architecture—and he does it here as well, on the fourteenth and fifteenth holes, known as "Raynor" and "Punch Bowl," respectively.
However, it is his own humorous imagination that distinguishes Waverly Oaks as a distinctive and entertaining place to visit. The fields, which are distinctive and secluded, are lined by steep facing bunkers, as are the greens, although there are only two water obstacles in total on the course.
The par 3s are the highlight of this course, with the last stretch of holes serving as an amicable solution to a match.
The course measures 4,830 yards from the back tees to 7,000 yards at the ends, with the greens tees at 6,200 yards from the back tees. The course measures back tees, with a course/slope score of 69.5/122.
It's found simply a short 15-minute drive southeast of Plymouth, among a small arrangement of golf clubs that ride either side of the Pilgrims Highway. So make sure you are packed for this experience of a lifetime.
5. Chicopee Country Club – Chicopee, Massachusetts
When it comes to golf courses in the area, Chicopee Country Club is often regarded as one of the best public golf courses in Massachusetts. The course features undulating topography, tree-lined fairways, and fast, sloping greens.
Over the years, magazines such as Golf Advisor, USA Today, and the New England Journal of Golf have praised this scenic golf course, which has garnered numerous awards.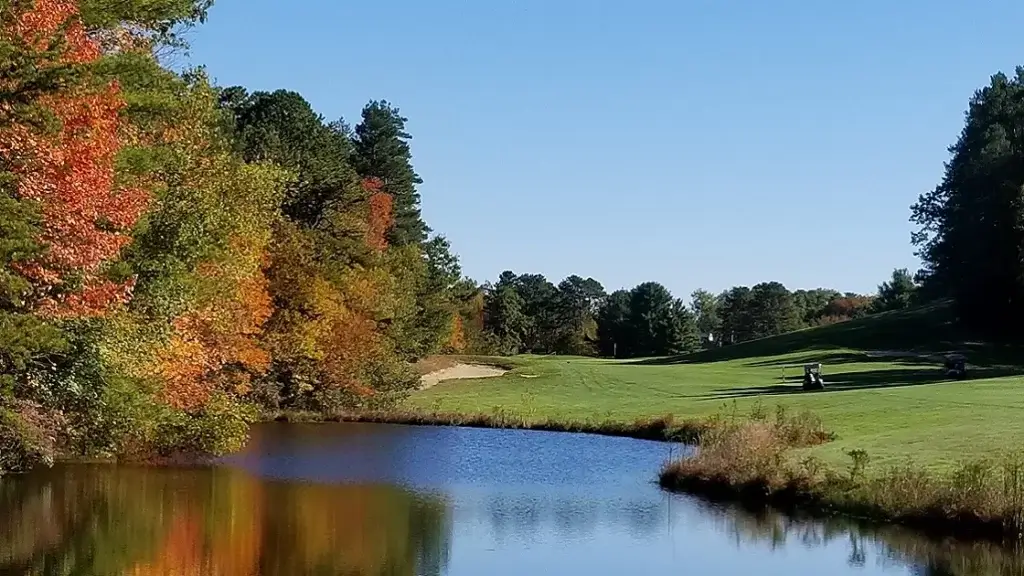 According to many publications, it is considered one of the best public golf courses in Massachusetts, has been designated one of New England's top 100 courses and is considered one of the courses that offer benefits in Massachusetts.
Chicopee Country Club is an upmarket city golf course located on the east side of Westover Air Force Base, northeast of Springfield, near the Massachusetts Turnpike.
There are various water obstacles, as well as sand bunkers defending the sides of the curved greens, on this parkland-style layout that winds down narrow forest fairways over fairly hilly terrain.
There are a couple of mild doglegs as well as several ponds and lakes. The golf course stretches from 5400 yards to 6800 yards in length, and the par is 72.
With its breathtaking vistas and top-notch playing fields, Chicopee Country Club is the place to go for your family and friends' golfing vacation. It is ranked as one of the finest public golf courses in Massachusetts.
6. Crumpin-Fox Golf Course – Bernardston, MA
The Crumpin-Fox Golf Course first opened its doors for practice in the late 1970s, with the back 9 holes being the first to open. The building was demolished in 1987.
The front nine holes were constructed under the supervision of Roger Rulewich, who also oversaw substantial repairs to the old back nine holes, the driver range, and the sprinkler system, all of which were completed under his supervision.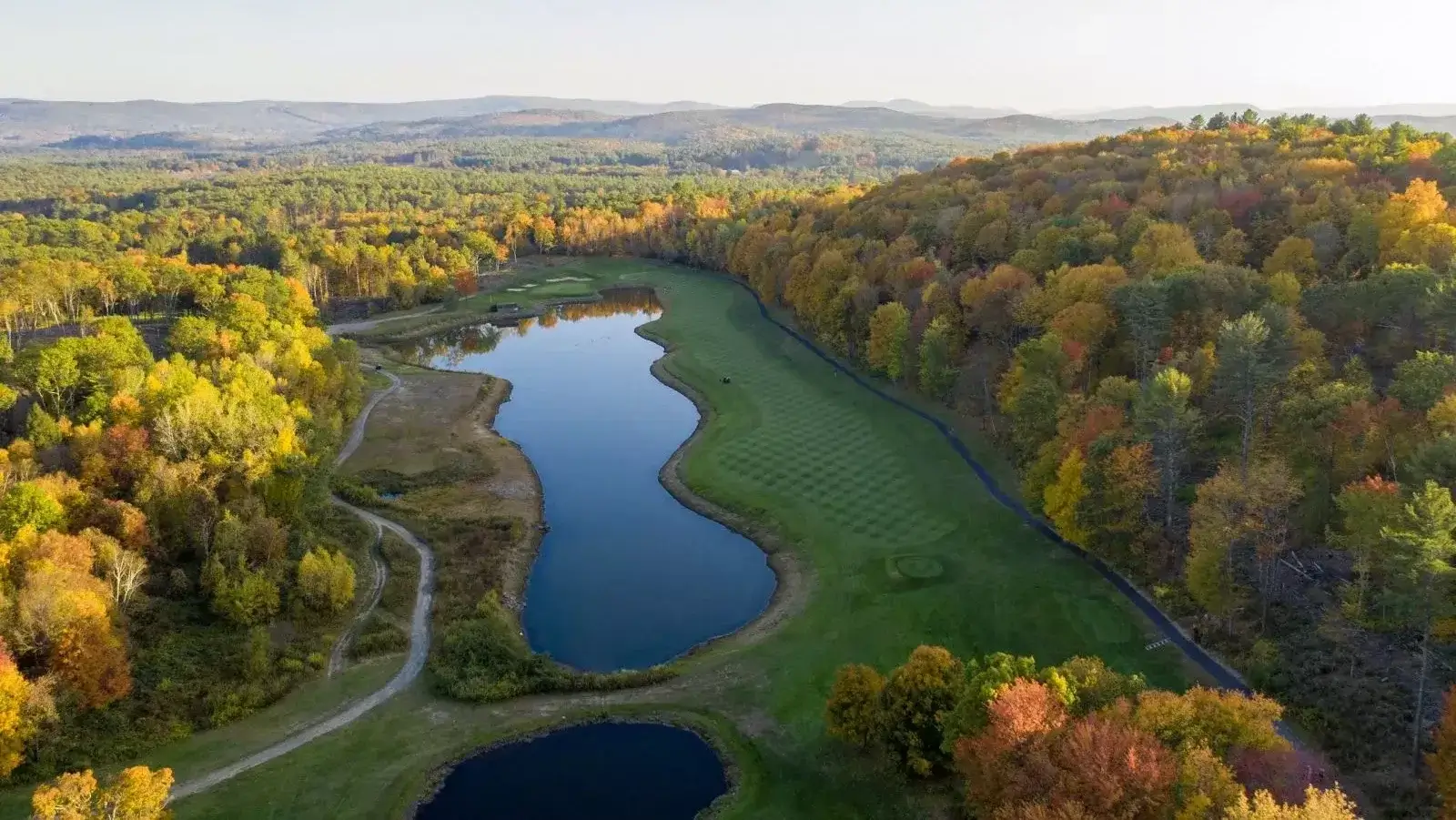 The course first opened its doors in June 1990, with bent grass fairways installed throughout.
This semi-private course is located in the heart of the Pioneer Valley, on the eastern side of the Berkshires, at the foothills of Vermont's Green Mountain, and is a great place to learn golf.
Because of its distinctive name, the Crumpin-Fox Soda Company was started in Bernardston in 1853 and then sold, resulting in the Crumpin-Fox Soda Company being named after them.
Every hole on this golf course has been carved through dense stands of woods and is set off from the others by a pond or a waterfall. Rivers run through the fields, and an antique red farmhouse and horse farm are located next to one of the holes in the front.
There are no two holes that go in a similar direction consecutively. Par 3's with stunning downhill carries, par 4's both wide and short, and a noteworthy set of par 5's are among the challenges on the course.
The eighth hole, a 592-yard par 5, begins from an uphill tee that is tucked away deep in the woodland. Dark trees overrun the right side of the green, the fairway cants mildly to the left, and a huge lake runs all along the left side of the course on the left side of the green.
The putting green, which is the biggest on the course, is located on the opposite side of the water.
So consider this masterpiece of a golf course and a historic landmark to really fulfill your vacation spell.
7. Segregansett Country Club – Taunton, MA
Segregansett Country Club, regarded as one of the best private golf courses in Massachusetts, has a long history that dates back more than a century, while recent renovations by Geoffrey Cornish and Bill Robinson have contributed to the course's current state.
The club, which provides a limited number of public tee times, was voted among the best 20 courses in Massachusetts by many sources.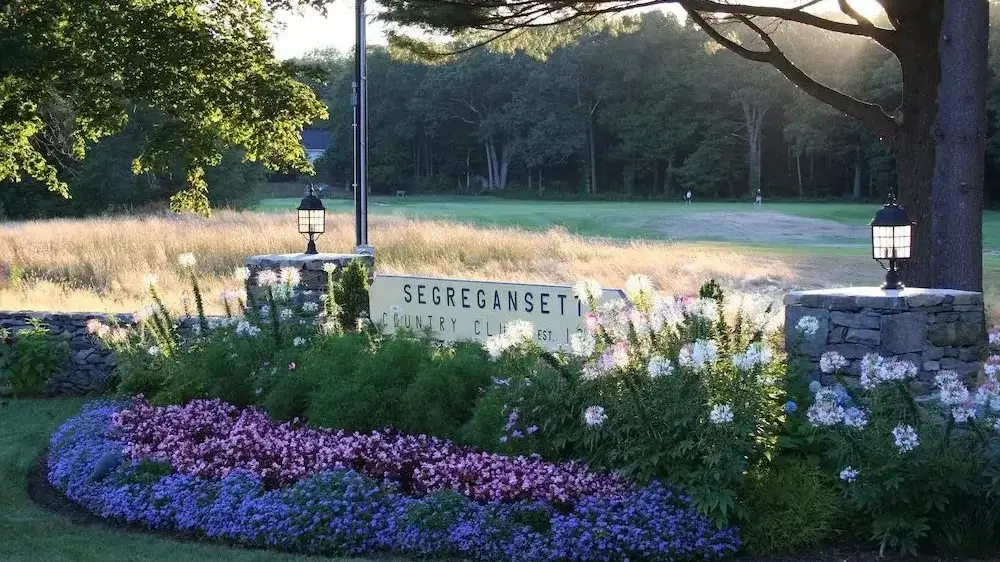 With 5 sets of tees and a total distance of 6,700 yards, it is a challenging course with many different unexpected twists. There are a lot of tall trees and quick greens on this course.
Several holes, like the second, a par 5 with a reservoir off the right side that comes into play from the tee, and another one off the left side on your second shot since the course dogleg around it, are affected by water in some way.
Segregansett, as locals affectionately know it, also has excellent practice fields, which include a complete range and a narrow area.
The club is comprised of lockers, club storage, a golf store, a members' dining hall, and a bar with an outdoor pavilion and terrace overlooking the course.
The Segregansett Country Club is situated on the west side of Taunton, 15 kilometers north of central Providence, and is a private golf club.
Located in the woods along natural corridors, the golf course is a typical New England park layout designed by Tom Doak.
The fairways, which are surrounded by trees and may be tight at times, are well defended by sand bunkers, which also guard the greens and the odd landing zone.
There is a various water features in play, as well as a couple of blind shots and little elevated greens that provide a continual challenge, particularly on the front nine.
8. The Brookside Club – Bourne, Massachusetts
The Brookside Club is one of the most exclusive places to play golf on Cape Cod, and it is open to the public. This public golf, dining, and event venue in Bourne, Massachusetts, has the sense of a magnificent private club while yet being open to the public.
Many aspects of The Brookside Club are appealing, including championship golf courses, an internationally known chef, and breathtaking sunsets.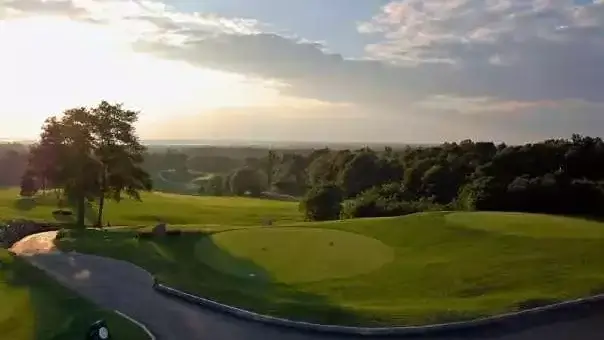 Located on the Upper Cape, The Brookside Club is ideally placed within an hour's drive of both Boston and Providence, Rhode Island, making it a popular destination for business travelers.
Because they have a genuine affection for this great game, they are delighted to be able to share it with everyone.
Brookside is a neighborhood in Bourne, Massachusetts, located immediately south of Buzzards Bay, just on Cape.
A mix of short-run and long-run fairways paths are interspersed with a variety of blind shots, uphill climbs, short and long holes, elevation changes, and deep sand bunkers across the course.
In addition to offering picturesque vistas of the Bay, it is a shot maker's design where course organization takes precedence over distance.
With 2 short practice green, it plays to 6,300 yards. It was developed by Dr. Michael Hurdzan in the late 1990s and later reconstructed by John Sanford.
How Many Golf Courses Are There in the State of MA?
There are 400 Public and Private golf courses in Massachusetts, which makes Massachusetts among the list of states with the most golf clubs.
What Is the Longest Golf Course in Massachusetts?
Multiple sources and commentators have ranked Pine Hills Course and Resort as the longest golf course in Massachusetts. The course, which was designed by Rees Jones, measures around 7,200 yards.
How Many Public Golf Courses Are There in MA?
Out of 400 golf courses in Massachusetts, more than 350 are public golf courses.
Conclusion
While some may disagree, one thing which can never be argued about is that Massachusetts is ample in competitive, world-class, and high-quality golf courses that show you do not even have to be an exclusive guest of an exclusive country club to enjoy the greatest golf available.  
So, before planning your next golf excursion with friends or family, take a look at the above guide top 8 public golf courses in Massachusetts to guarantee that you have a wonderful time at the beautiful piece of real estate, amazing architecture, and perfect summer weather is as enjoyable as possible.