Probably not enough people are aware of Michigan's reputation as a golfing state. When people think about golf states, they often conjure up images of warm-weather locales such as California or Florida, where golf can be enjoyed all year.
During the winter months in Michigan, there is usually lots of snow. Certain localities, such as Traverse City, in which the weather whips up lake-effect snowfalls, have an average annual snowfall of more than 150 inches in some seasons. There is nothing about there that screams "golf hotspot."
However, if you've ever played a round of golf on a Michigan golf course during the summertime, you will realize that the weather is near-perfect for the sport. When you're in Michigan, an 81-degree day with 0% humidity makes you want to hit the links for 36 holes.
Top 10 Best Public Golf Courses in Michigan 2022
You might be wondering what we have got for you on our list that will blow your mind. Well, sit tight and read further. Here is our list of the Top 10 public Golf Courses in Michigan.
Arcadia Bluffs Golf Club – Arcadia, Michigan
Cedar Chase Golf Club – Cedar Springs, Michigan
Diamond Spring Golf Club – Hamilton, Michigan
Macatawa Golf Club – Holland, Michigan
Quail Ridge Golf Course – Ada Township, MI
Pigeon Creek Golf Course – West Olive, Michigan
Orchard Lake Country Club – Washington, MI
Pine Trace Golf Club – Rochester Hills, MI
Pilgrim's Run Golf Club – Pierson, Michigan
Shepherd's Hollow Golf Course – Clarkston, MI
#1. Arcadia Bluffs Golf Club – Arcadia, Michigan
Arcadia Bluffs is a public golf course created by Warren Henderson and Rick Smith, and it first opened its doors in 1999. A wind-swept 245-acre location along the Michigan coastline is located around 140 miles northwest of Michigan Rapids and is open from April to November every year.
Arcadia Bluffs is an offering with a well-deserved placement in the top ten of the United States. It is a natural path with excellent holes and fairways, and the course designers, Rick Smith, and Warren Henderson have created something really unique amid the bluffs of Lake Michigan.
This is a highly playable course with three par fives in the first six holes, provided folks choose the appropriate tee box.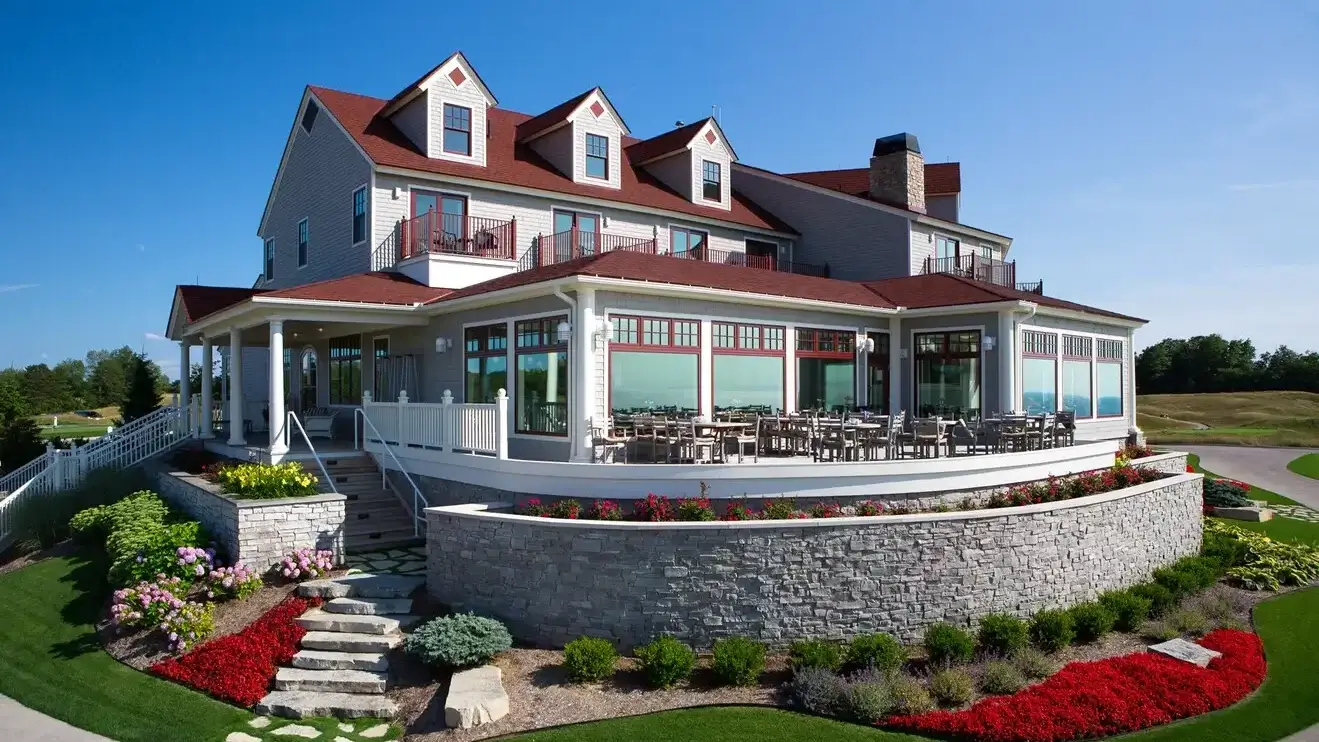 The settings are usually excellent early in the season, whether it is summer or autumn, and the covered carts equipped with combustion heaters are fantastic. The whole foundation provides world-class service to customers, and they do it well.
Because of the sandy soil, fairways are often broad and drain very well. Greens are typically 8,000 square feet in size, making them enormous.
It is recommended that players ignore all the 50 riveted bunkers which are sprinkled around the field if they wish to get a good score on the course.
A driving range and short-game practice facility are available at Arcadia Bluffs for you to use before your game.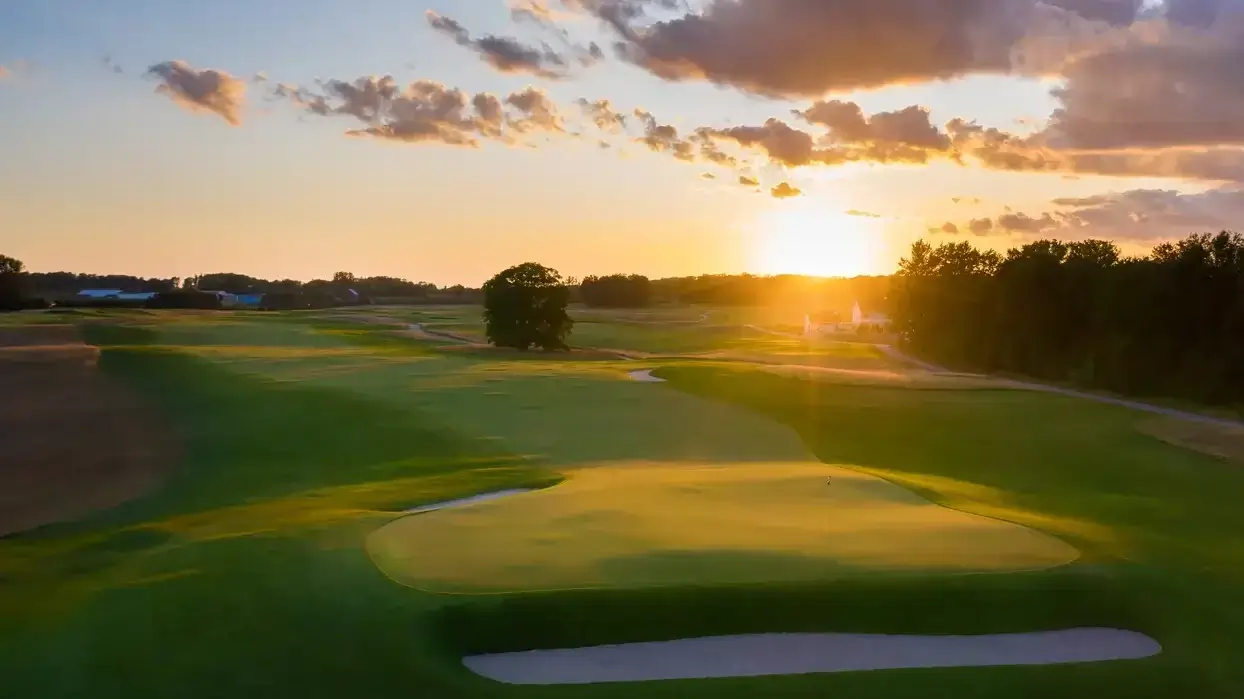 Also on site is a beautifully outfitted clubhouse with a large patio area, sunset barbecue, and dining hall where you may unwind after your game.
Because of the spectacular views over the lake, it has been remarked that "the dinner experience is nearly as amazing as your round."
With mesmerizing views and top-notch playing fields, Arcadia Bluffs is the one to beat for your family and friend's golfing trip as it is listed among the best public golf course in Michigan.
#2. Cedar Chase Golf Club – Cedar Springs, Michigan
Cedar Chase Golf Club is a premier course with a length of 7,100 yards that presents distinct difficulties for players of all ability levels.
A distinctive personality is given to each hole by the bentgrass fields, high tees, English-style roughs, and sand bunkers, as well as the large and sloping greens.
When it comes to golf, Cedar Chase Golf Club offers everything you're looking for: forest-edged fairways, scenic par-three over the lake, and rolling links-style courses.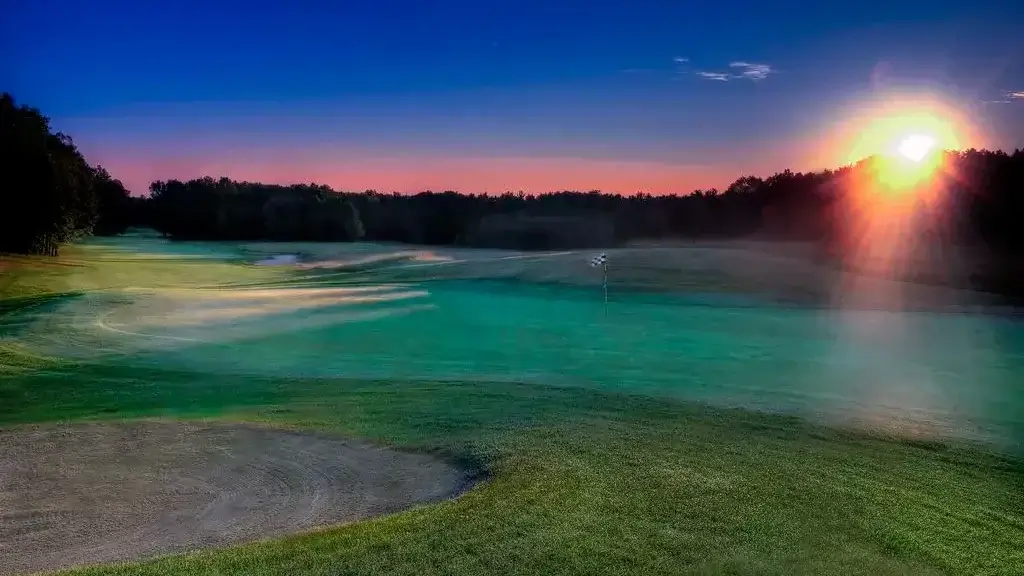 Besides the superb conditions and high course quality, the pleasant and easygoing but professional attitude that exists here will add to the experience.
Whatever your skill level, the huge, quick greens will prove to be a challenge for you. With four sets of tees, you'll be able to pick and choose how much yardage you want to take on, making the course play as simple or as difficult as you want it to be for you.
This magnificent course, which has been cut out of the woods, has gained a great deal of recognition and has been lavishly decorated: Among the accolades bestowed to Cedar Chase Golf Club in 2009 were four and a half stars from Golf Digest.
This kind of distinction is well-deserved because you'll discover it when you come to Cedar Chase Golf Club for a game of golf.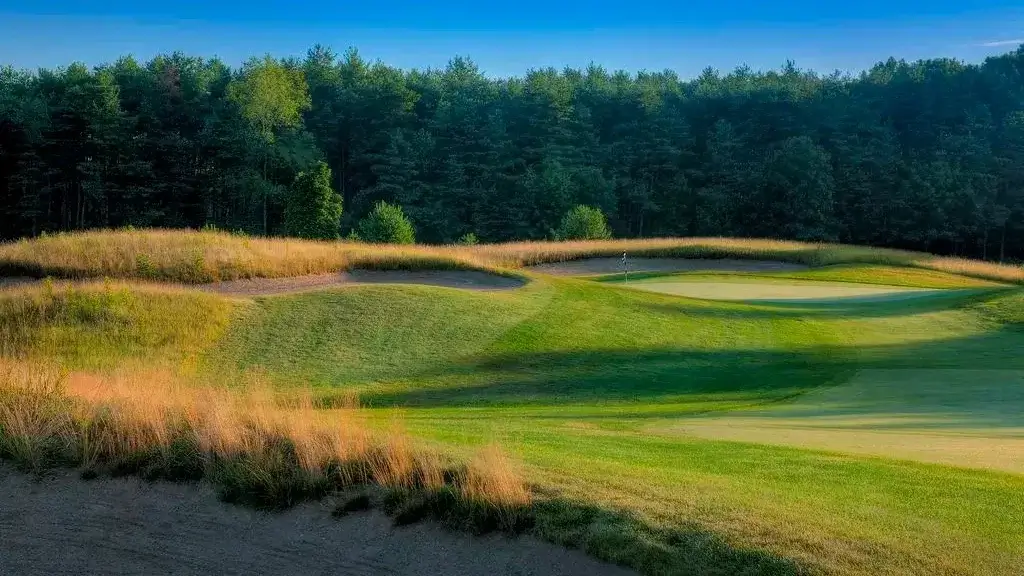 Enjoy your round, take a seat in the clubhouse room and reminisce over each stroke. Beyond wonderful meals, the clubhouse provides a wide variety of alcoholic and non-alcohol drinks to complement the dining experience.
A superb sweeping sight of the field and the surrounding region may be enjoyed from the patio, which is perched high just above the Kent County golf course.
#3. Diamond Spring Golf Club – Hamilton, Michigan
Diamond Springs is the centerpiece of the Allegan State Game Area when it comes to golf courses.
Tucked away in 250 acres of woods and sandhills, Diamond Springs is known for its dramatic setting, first-rate golf holes, and remarks like "picturesque setting" that golfers exclaim on the way back home.
Diamond Springs is located 15 minutes southeast of Holland in the Allegan Game Area, where you may roam through the woods without seeing a single house or road.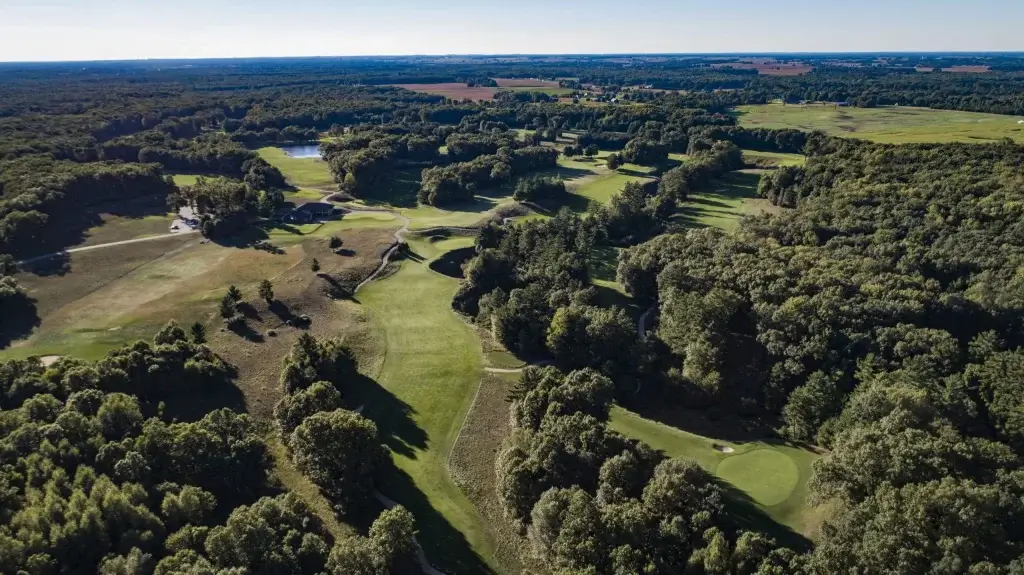 Diamond Springs is a tough and beautiful place to hike. In contrast to the first nine courses, which feature large greens and diverse terrain, the back nine is built around a breathtaking ravine.
The accommodating and helpful staff is on hand to make your gaming experience even more enjoyable.
The course has a fun parkland design with tree-lined greens and various ponds, as well as Miller Creek, that will keep you entertained.
In essence, it's a very easy course that takes you over isolated and unusual fairways with multiple mild uphill climbs and an abundant number of sand bunkers.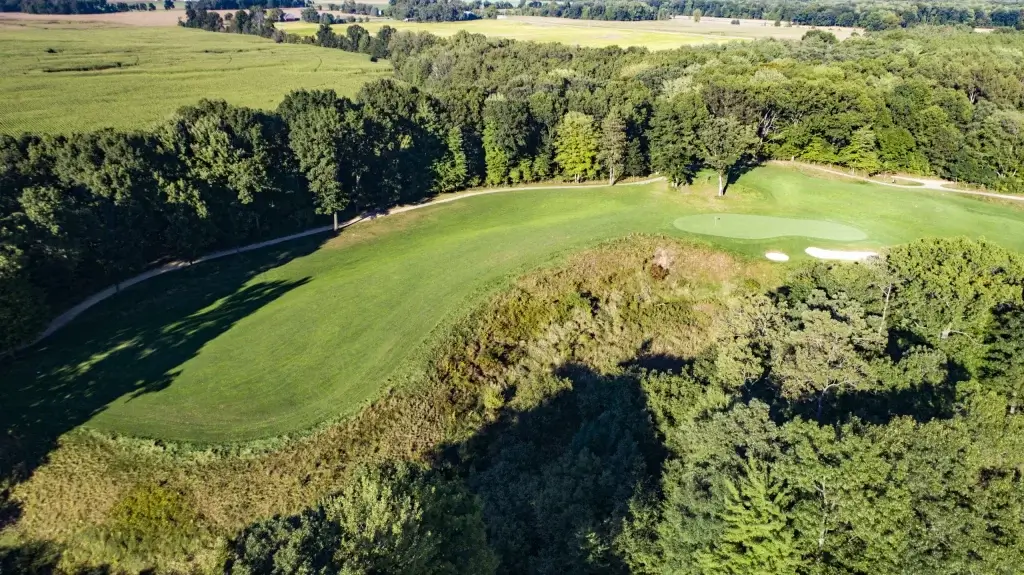 The course, built by Kris Shumaker and Mike Devries in 2002, measures 6,803 yds from the greens and has a training rating of 71.8/127.
The ambiance is impeccable and perfect for golf trips with your buds as it is the best public golf course in southeast Michigan because of its optimal playability and top-notch services.
#4. Macatawa Golf Club – Holland, Michigan
Macatawa is a challenging course that will appeal to both experienced players and those who are new to the game. It has intriguing water elements as well as cleverly positioned bunkers.
Ray Hearn, a multi-award-winning architect, is credited for their one-of-a-kind characteristics. This golf course is located in Holland, Michigan, just south of the Inn just on the Lake Michigan shoreline. Macatawa Golf Club is among the best public golf course in West Michigan.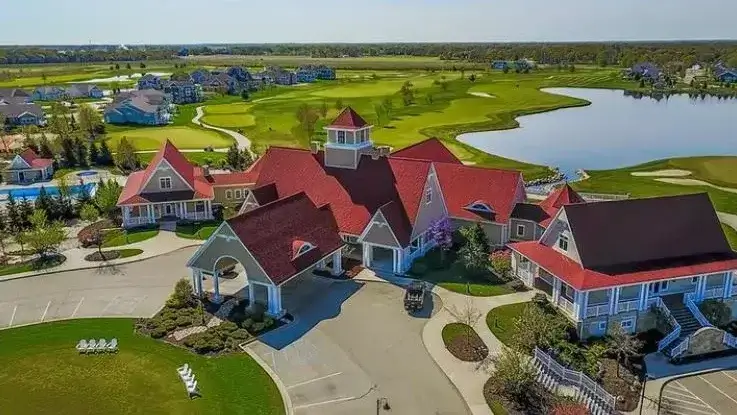 The golf course travels over wide fairways with a few trees dotted around the perimeter in the middle of a residential complex.
Approximately half of the courses are bordered by water, and there are several bunkers, both traditional and vast waste areas, around the landing zones and protecting the fairways.
The course, designed by Ray Hearn, features five sets of tees and measures around 7300 yds from the tips with the course and slope ratings of 74/135.
Ultimately, it's worth noting it is a high-quality course where you can have a relaxing round while still shooting low numbers, as long as you select the ideal tee boxes and stay out of most of the bunkers.
#5. Quail Ridge Golf Course – Ada Township, MI
Quail Ridge is an 18-hole golf course constructed by Raymond Hearn that has luxury conditioning and features. The layout is 300 acres in size and has a wonderful mix of links-style holes and forest-lined holes, with most holes having spacious fairways.
It hosts a variety of challenges such as rolling hills, water, and bunkers, which must be avoided; yet, with 5 sets of tees ranging from 5000 to 7000 yards, all players may play at their degree of difficulty.
The layout is enjoyable and fair, with plenty of landing places that reward excellent shots with level lies and allow safe routes to the huge, sloping greens on the back nine.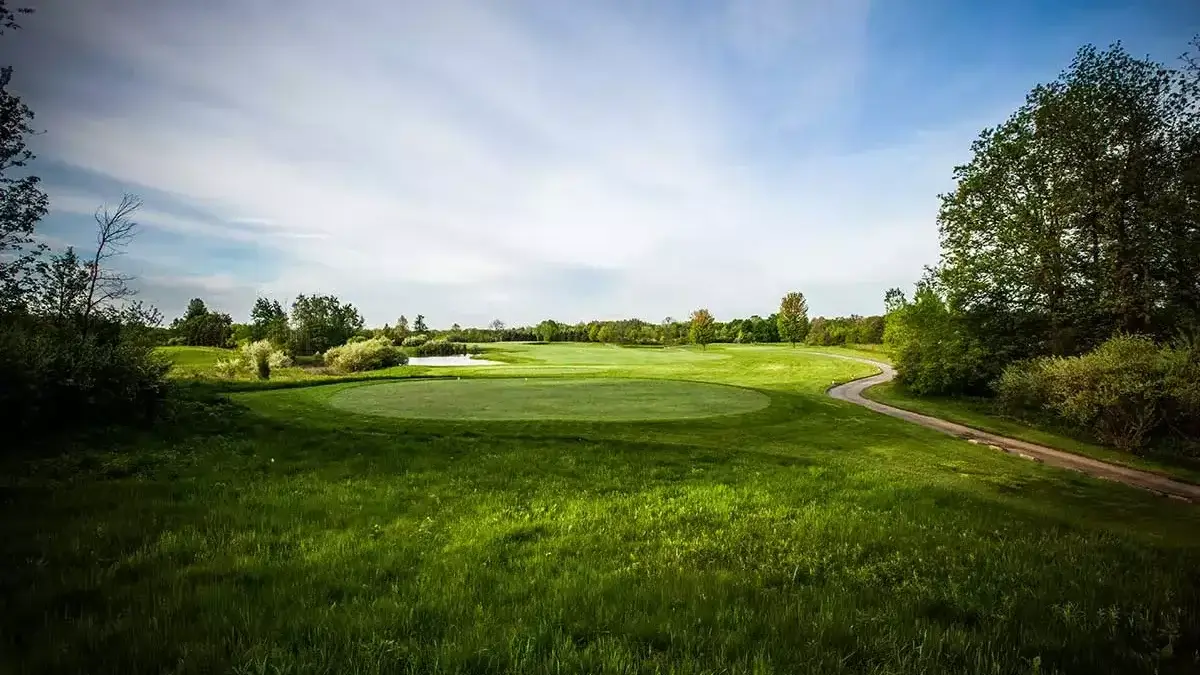 When crossing the various marsh regions and sand traps, there are enough difficulties to make one stop and consider and lie down when required.
Take a morning round of the course, which we assure will be sparkling with sunlight and offer spectacular vistas of the surrounding natural terrain.
Quail Ridge Golf Course first opened its doors in 1999 and has since grown into one of the best golfing destinations in Western Michigan.
In terms of layout, there is a wonderful flow to it, with the more difficult handicapped holes scattered among, the more competitive holes. Wildlife thrives in a remote environment created by the absence of resident homes.
In accordance with their respective slope ratings (109-127), this is a player-friendly layout that golfers of all levels of ability may appreciate. When you consider the pricing, Quail Ridge is an excellent choice!
#6. Pigeon Creek Golf Course – West Olive, Michigan
Pigeon Creek Golf Course in West, Michigan, is a links-style course that has all of the attributes of Michigan golf.
The course provides a fun and challenging experience for golfers of all skill levels, with four distinct tees to select from. 
There are also a few risk-reward holes on the course that are guaranteed to keep you on the edge of your seat every time you walk up to the tee.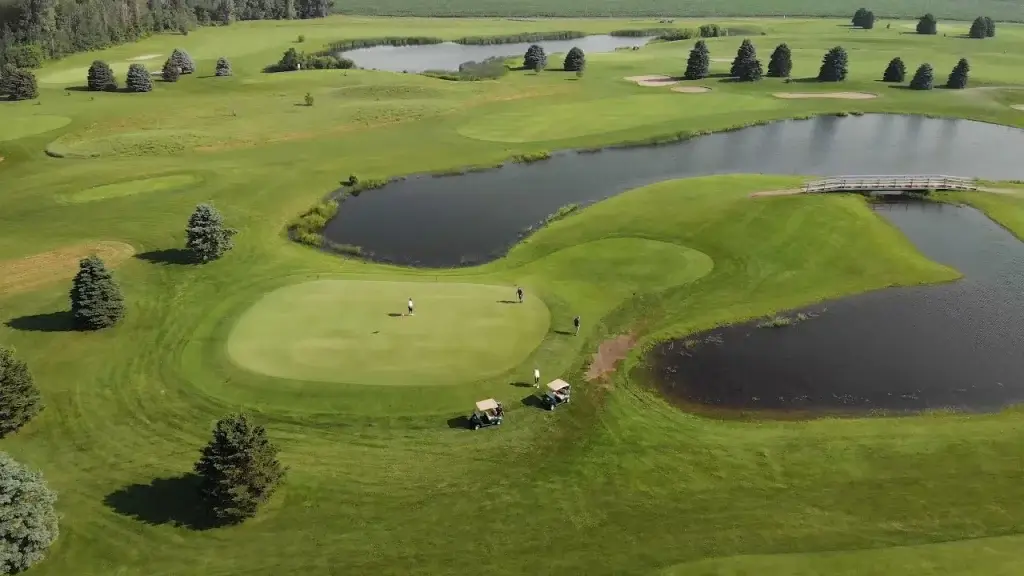 In addition to a beautifully kept course, you'll discover a driving range with 12 tees and two practice greens where you can sharpen your skills before going out in your next round of golf.
A casual game of golf in West Michigan may be found at Pigeon Creek Golf Course, which is located in the heart of the state's agricultural region. Rates are competitive, particularly when compared to twilight costs. In addition, the sunsets are spectacular here!
#7. Orchard Lake Country Club – Washington, MI
Orchard Lake Country Club was designed by Harry Colt's colleague, C.H. Alison, in the 1920s as well as is a classic example of Golden Age architecture.
Keith Foster's millennium renovation of the legendary architect's work has preserved most of the architect's original design and construction.
In 2002, the club reached out to architect Keith Foster with the hope of resurrecting the reputation of a course that had devolved into a watered-down, weaker version of the original design.
Despite this, even though new fairways were constructed at holes 2, 4, 8, 12, and 15 throughout the 1960s, most of Alison's original layout survived in its original form. The Orchards is located 10 miles north of Utica off of the Van Dyke Freeway on the west side of 29 Mile Road.
Even though the accommodation does not infringe on the golf course's boundaries, the course was built in connection with an entire community expansion.
In between forests and apple orchards, the course winds its way over undulating terrain, with multiple water obstacles and extensive sand bunkering throughout the fairways and big greens to contend with.
The course, which Robert Trent Jones Jr. built-in 1993, measures 7,036 yards from the ends with 74.5/136 course/slope scores and three lower tees.
#8. Pine Trace Golf Club – Rochester Hills, MI
Pine Trace Golf Club's inaugural round of golf was held in 1989, and the course has since grown in popularity. Arthur Hills was responsible for the design of the course.
The fact that Hill develops his courses for almost everybody to enjoy is a consistent thread running through all of his courses. Pine Trace Golf Club has four separate tee elevations that provide a challenging experience for golfers of all abilities.
The Tournament Tees are about 6600 yards in length. The Forward Tees are about 5000 yards in length.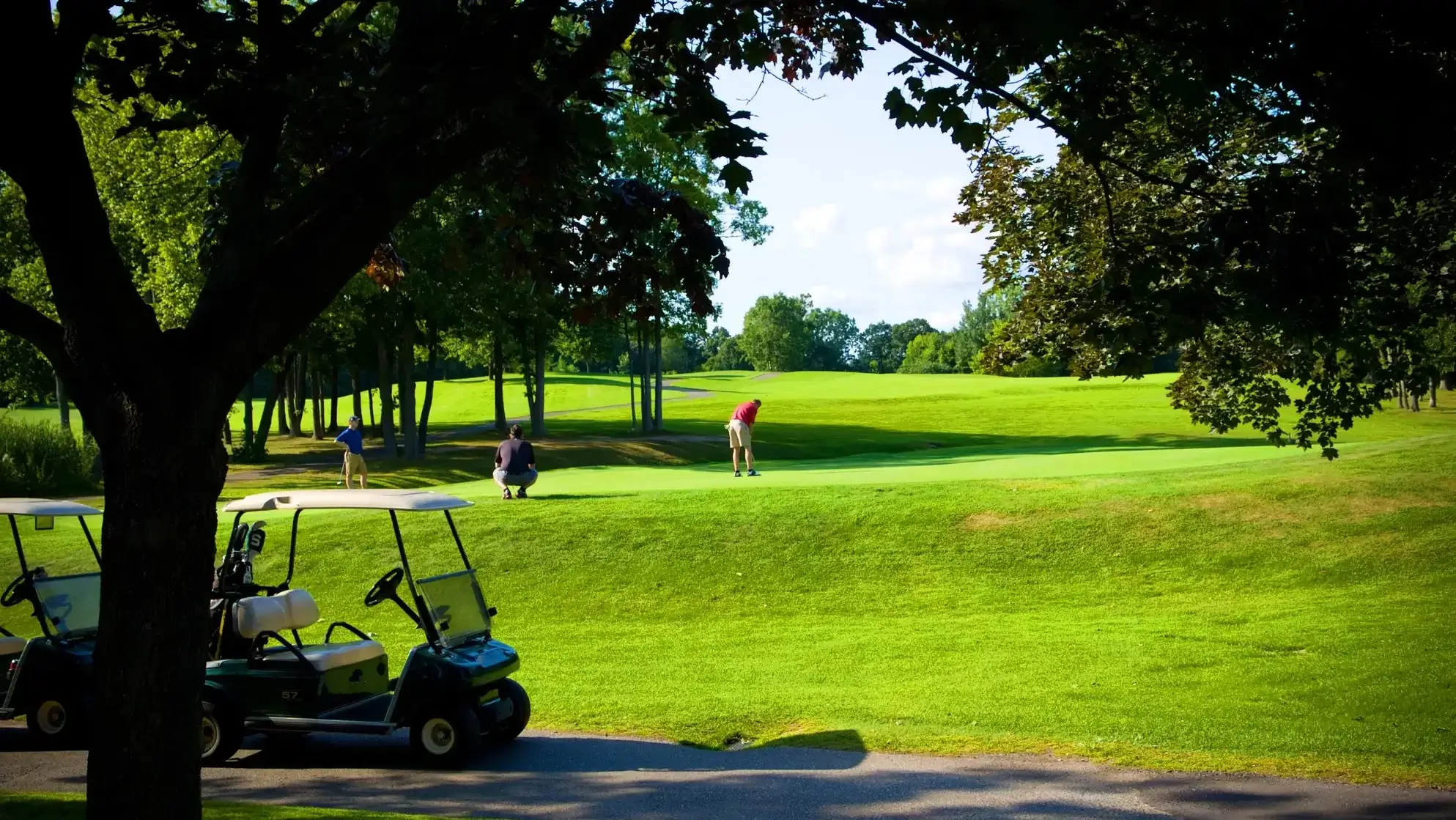 Throughout the course, the holes are put out in a really pleasing manner. Every hole takes use of the terrain in some way or another. Considering that every hole is unique, each approach technique must be tailored to the particular hole.
In contrast to some other courses, Pine Trace provides players with the option to play a variety of shots. It is estimated that the Pine Trace has sixty acres of coastal wetlands on its property. The field's standard par is 72. The course measures 6610 yards when played from the back tees.
The course's length is 4974 yards when played from the front tees. No. 3, a par-5 that measures 607 yards in length, is the toughest hole on the course. #15, a par-3 that swings to 136 yards from the back tees, is the course's most challenging hole.
The parkland layout crosses several small lakes and rivers over rolling forest outlines in an undeveloped, natural setting. It serves as a scenic masterpiece for anyone who plans their golf trip to Pine Trace Golf Course.
#9. Pilgrim's Run Golf Club – Pierson, Michigan
Pilgrims Run Golf Club, created by Michigan-based architect Mike DeVries, has two distinct golf courses with distinct aesthetics.
The Mines, which was built in the heart of Grand Rapids, was designed in a harsh links style, with hard fairways and big sloping greens that were difficult to read.
Constructed 150 feet above limestone mines that were in operation as early as the 1860s, the course is a historical landmark.
Pilgrims Run, which is situated 20 minutes north of the city on approximately 400 acres of picturesque and undulating countryside reminiscent of northern Michigan, was developed in the early 1990s.
A gorgeous parkland-style course with large rolling hills, stunning white pine trees, and black oaks, as well as entertaining sloping greens, will be your destination on your excursion.
Pilgrims Run is a wonderful design by Mike DeVries that doesn't deserve recognition! Many of the best public courses in Michigan are inferior in terms of construction, conditioning, and greens to this real gem of a golf course.
Pilgrims' owners understand this and put the golfer's needs at the forefront of their minds at all times. When you go onto the grounds, you get the impression that you are in a beautiful country club.
Tee sessions are $30-75 with range balls included. Pilgrims are such an excellent deal that Matt Ginella routinely ranks it among the top 10 best values in the United States.
We can't think of much that golfers don't appreciate about this course: excellent use of elevation, excellent routing, creative hole names, and magnificent De Vries greens, to name a few things.
After playing this jewel of a golf course for the first time, golfers develop a strong attachment to it. We feel that everyone should be so fortunate as to have a hole like this nearby them, and those of you who live in Pierson, Michigan, are fortunate enough to have a truly hidden gem in your neighborhood!
#10. Shepherd's Hollow Golf Course – Clarkston, MI
Shepherd's Hollow was built on the simple premise that so many golfers from the city of Detroit would travel to North Michigan in the summertime to play on the region's world-class courses.
Consider purchasing a piece of land close to outside Detroit where you might have the same adventure without having to make the lengthy commute. Shepard's Hollow was established on a purchased piece of land, which is just outside Clarkston.
If you take a glance at the overhead shot of the golf club, you can clearly see the brilliance in the routing that was used.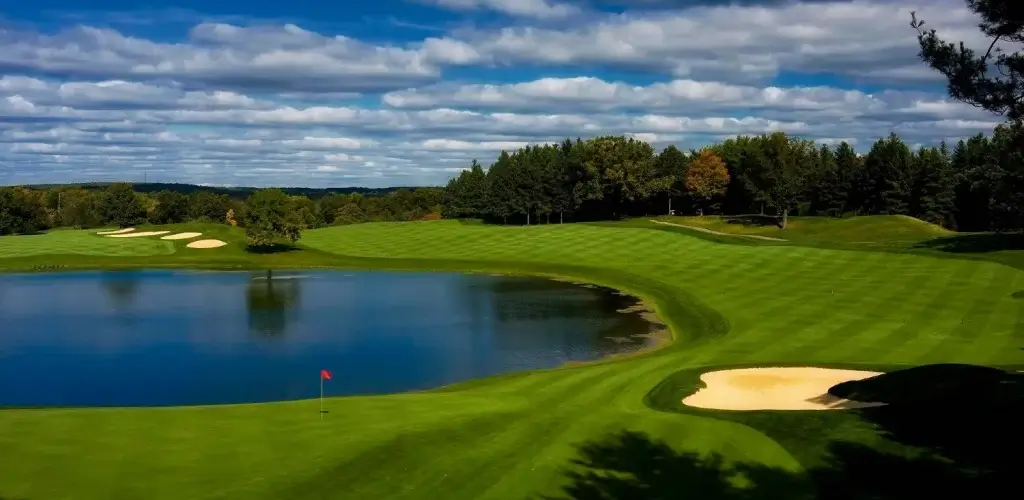 Being in a residential neighborhood, this is the type of layout where you'd normally be playing beside the homes, but they purchased a huge piece of land and spaced out the courses so that you're competing with forest on each side of the course.
Despite the fact that you are on the outskirts of the suburbs, the course is intended to make you feel like you are in the midst of nothing.
Because there are 27 holes here, you may take a variety of various routes when you play. All of them are based on the same construct: instead of placing two holes close to each other, stretch them out across a hundred meters of woodland to give them more space.
You'll get the distinct impression that you're someplace deep in the woodlands of Northern Michigan.
While planning your golfing adventure across Michigan, be sure to stop by this masterpiece of a golf course and resort and take in the breathtaking vistas as well as the fantastic playing fields that will boost your experience from good to once in a lifetime.
How Many Public Golf Courses Are in Michigan?
A total of 650 public golf courses are in Michigan, which ranks 5th among the states with the most public golf courses in the US.
A plethora of lakes and trees can be found in this excellent golfing state, which also boasts some of the most picturesque landscapes in the entire United States.
What Is the Number One Rated Golf Course in Michigan?
According to multiple sources and critics, the number one rated golf course in Michigan is the Arcadia Bluff's Course and Resort.
How Many Private Golf Courses Are in Michigan?
There is a total of 830 golf courses in Michigan. As discussed earlier, 650 are public, and therefore the remaining 180 are private golf courses.
Conclusion
Due to the fact that there are over 650 public golf courses dispersed across the Lower and Upper Peninsulas, our guide and map to identifying the top public golf courses in Michigan become even more helpful.
Therefore, before organizing your next golf trip with friends or family, be sure to review the Top 10 Public Golf Courses in Michigan to ensure that your stay at the fantastic piece of real estate, outstanding design, and ideal summer weather is wonderful.