You're about to go on an unbelievable golf getaway! Time to fire up your golf clubs and work on your swing in preparation for a round of golf on one of the many gorgeous golf courses in Maryland.
This is a wonderful experience for everyone, regardless of whether it's their first or hundredth time playing the game. Find out all you need to discover about every golf club in our comprehensive guide.
It's true that Maryland, dubbed "Little America," is one of the country's smallest states, but it's also rich in golfing legacy and home to some of the country's top golf courses. Whether it's marshes, deep woodland, or the gorgeous Atlantic Ocean, Maryland's golf facilities have been constructed to take advantage of the state's incredible natural beauty.
Top 10 Best Public Golf Courses in Maryland 2022
There are public golf clubs in Maryland to suit every taste and skill level, whether you're a professional looking to get away from events in Washington, D.C., or a PGA fan looking to improve your swing.
Professionals and amateurs alike take the game seriously, and as a result, their public courses provide a high level of service.
If you're searching for a place to tee it up, take a look at any of the below 10 top public golf courses located around Maryland.
Ocean City Golf Club – Berlin, Maryland
Eagle's Landing – Berlin, Maryland
Maryland National Golf Club – Middletown, MD
Blue Mash Golf Course – Laytonsville, Maryland
Musket Ridge Golf Club – Myersville, Maryland
Whiskey Creek Golf Club – Ijamsville, Maryland
Mount Pleasant Golf Club – Baltimore, Maryland
Rum Pointe Golf Course – Berlin, Maryland
River Marsh Golf Club – Cambridge, Maryland
Worthington Manor Golf Club – Urbana, Maryland
1. Ocean City Golf Club – Berlin, Maryland
Ocean City Golf Club – Newport Course, located not far from Berlin, provides stunning views and a demanding game for players of all ability levels.
Ocean City Golf Club – Newport Course's well-groomed fairways and greens make the course challenging while being friendly, and the staff can provide tips and advice for playing your best game.
Ocean City Golf Club is a fantastic option for your regular golf games or as a new location for both you and your pals while visiting Berlin for the first time.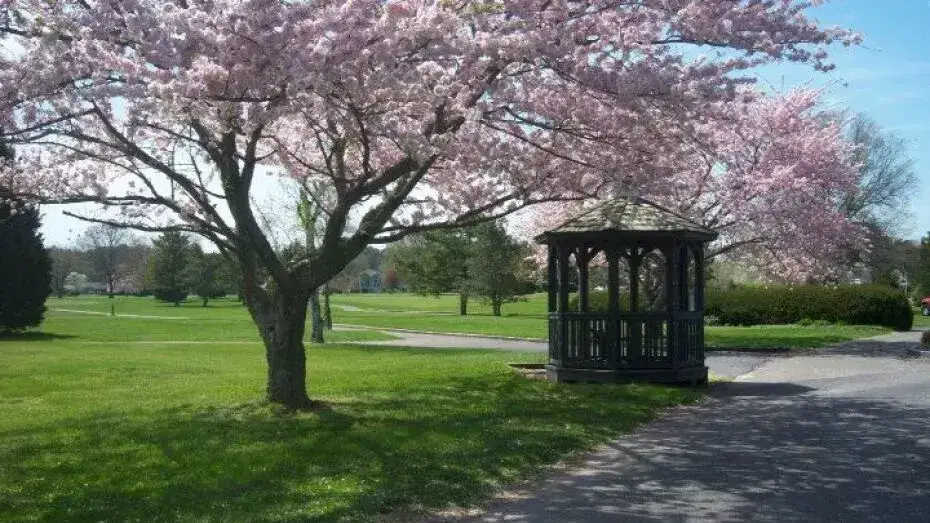 Two 18 hole golf layouts are available at Ocean City Golf Club, which is situated on the northern side near Newport Bay along Gibbs Pond.
The Newport Course has thin, pine tree-lined fields that cross flat terrain with a series of uphill climbs, as well as various water obstacles and sand dunes strategically placed in landing zones and around the greens to protect the greens.
Lester George constructed the course, which measures around 6,700 yards and has a course/slope rating of 71/125 from the ends with three fewer tees.
With such a diverse landscape and multiple amenities, no wonder this course makes the list of best golf courses in ocean city MD. So pack your bags and spend quality time enjoying the scenery and amazing golf with your friends or family.
2. Eagle's Landing – Berlin, Maryland
Eagle's Landing Golf Course earned the moniker "Beast of the East." The city course, which is fittingly located at Coffin Point, is little more than 7,000 yards in length.
It doesn't appear to be excessive according to contemporary beast course standards, but Michael Hurdzan certainly made players work hard throughout this round.
He starts the round by putting his foot on the brakes, allowing players to ease through the round. All hell breaks loose at hole number 6 when players will have to contend with a dogleg around a lake before arriving at a two-tiered green.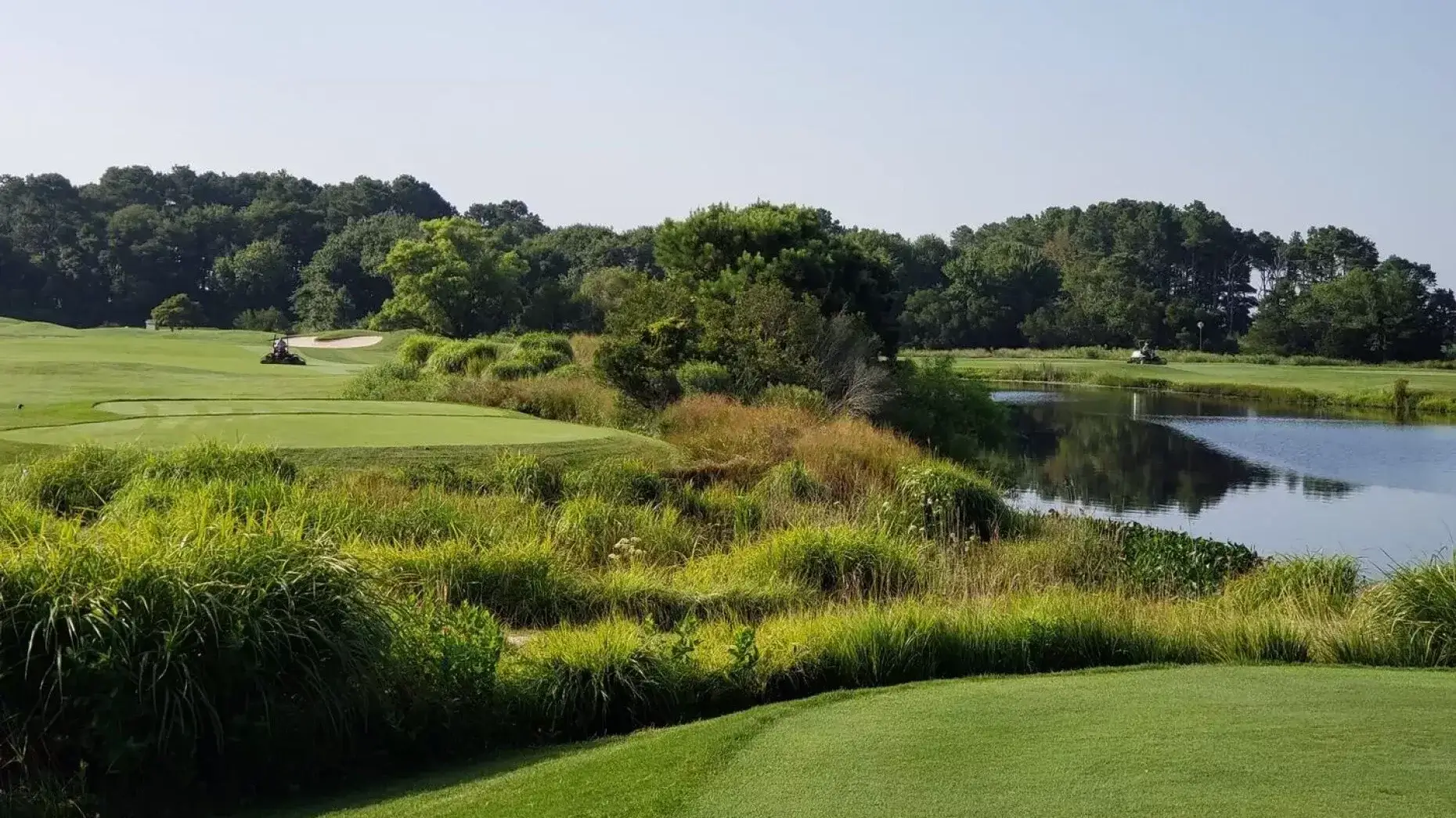 Heavy hitters would successfully reach the subsequent hole, a par five, in two strokes, but they will have to carry a 110-yard forced to lift to get to the green.
When it comes to hole No. 9, which offers a 120-yard forced push to the green, Hurdzan takes it one step farther.
Players could anticipate a similarly intimidating retinue for the remainder of this round, with the No. 11 challenge offering possibly the most demanding test.
On this par five, which measures 560 yards, water may be found either right or left of the green (but sometimes on both sides) over the whole hole duration.
Located in the salt marshes of Sinepuxent Bay, the golf club offers spectacular views of the bay from several of its holes, particularly the par-3 17th, which has tees positioned 400 feet outside in the marshland on a small island.
Due to its routing through flat, forest fairways, various ponds and wetlands, sand traps protecting the landing areas and greens, and the persistent wind coming off the Bay, it is a difficult course to master.
3. Maryland National Golf Club – Middletown, MD
Maryland National Golf Club sights offered by the gorgeous site do a lot of the labor on that front. Hillside makes use of the highs and lows of the land to provide a challenging environment for golfers to compete in.
The course employs several strategies to lure long hitters into a dilemma: offering chances for short distances. The 16th hole, for instance, has a 335-yard tee shot that travels sharply downhill to a right-to-left green that is bordered on the left by a creek.
Even those who escape hitting their driver into the water may find themselves with a challenging lay from the right-hand side if they are unable to structure the shot.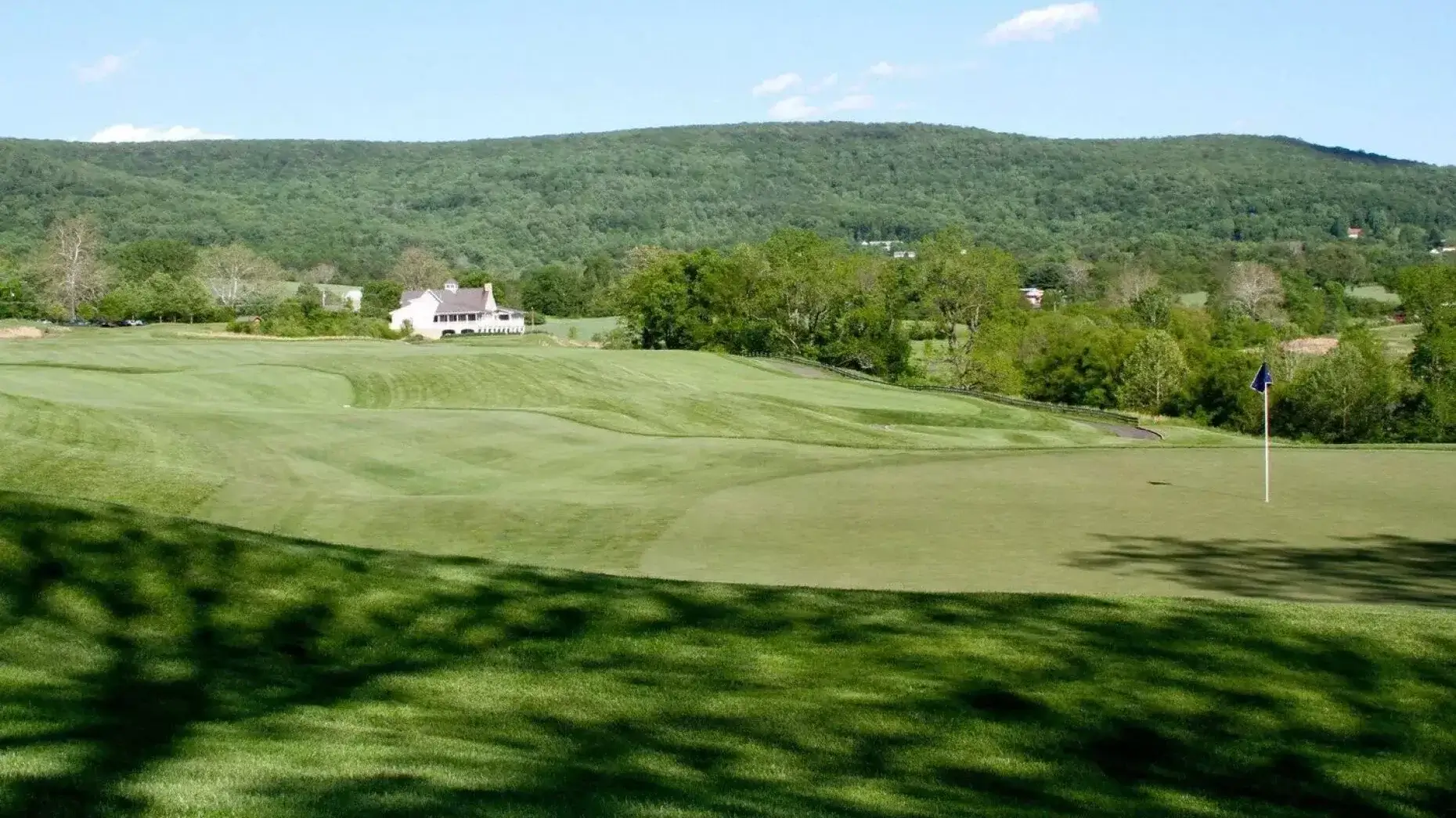 Following a game of golf, the clubhouse is situated at the top portion on the grounds, allowing you to take in the view of the fairway under you and ponder on the day's accomplishments.
Maryland National is located on US 40, just north of Frederick, and about 50 minutes from Baltimore or Washington, D.C.
All of the holes include a variety of elevation variations along mulched and sloping greens, with a sequence of tight landing spots in some cases and more spacious landing places in others.
Despite the fact that there are numerous blind shots off the tee and a few holes where mounding obscures the green from view from the fairways, the course is rather easy to navigate.
The greens are narrow, with modest humps, sloping, and tumbling, which may make it difficult to judge the greens throughout the round.
There are five sets of tees ranging in length from 4,900 yards to 6,800 yards at the edges, with the middle tees playing to 6,000 yards. The course was designed by Arthur Hills in 2000 and has a rating of 70/130.
4. Blue Mash Golf Course – Laytonsville, Maryland
The Blue Mash Golf Course, which Arthur Hills constructed, provides frequent discounts and promos, including "Pay Your Age" evenings for anyone under the age of 21 and sundown pricing. 
According to a Golf Digest review of local professionals, Blue Mash has been named one of the "Top Five Places to Visit in Washington D.C." This course has a good mix of forested and water hazards, as well as a putting green that is over 10,000 square feet in size and several other amenities. 
Blue Mash is situated in Laytonsville, Maryland, just north of Gaithersburg, off I-270 on Olney Laytonsville Road.
It combines wide links-style holes over mounded fairways with parkland holes along leaf fairways to provide a unique golfing experience.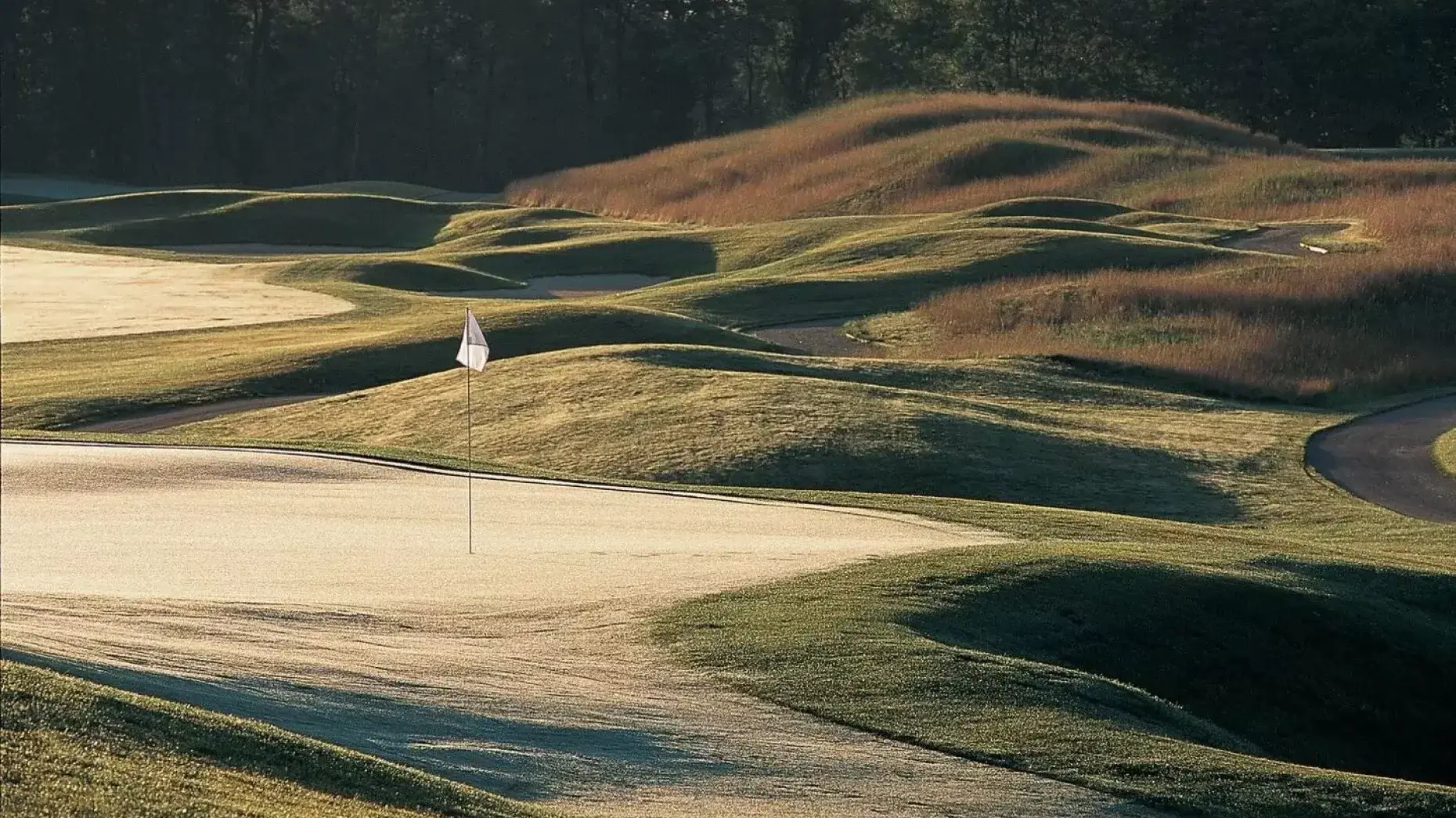 Many water elements, a mix of steep and level holes, and an abundance of sandpits somewhere at landing zones and across the fairways are all found on terrain that does not have houses or construction throughout the course's length.
The course, which Arthur Hills designed, measures 6,885 yards from the tips and has a 74/135 course/slope score, including three shorter tees.
So enjoy your round, then go to the clubhouse area and reminisce over each and every shot you made. The clubhouse serves delicious meals and offers a large selection of alcoholic and non-alcoholic beverages to compliment the dining experience.
The pavilion, which is positioned high above the golf course and provides a spectacular panoramic view of the field and surrounding area, may be enjoyed year-round by visitors.
5. Musket Ridge Golf Club – Myersville, Maryland
The combination of breathtaking landscapes and well-maintained fairways creates a demanding course that draws consistent acclaim from both novice and experienced players.
Musket Ridge Golf Club was Joe Lee's last design in 2003, and it was his last project before he passed away. It is fitting that he was able to take in the views over Maryland's Catoctin Mountains while working on the project since it marks the culmination of his career with possibly his most visually stunning course.
Catoctin Creek is reached through a trail that follows the ridgeline and periodically plays along the margins of a mountainside that lowers into the creek.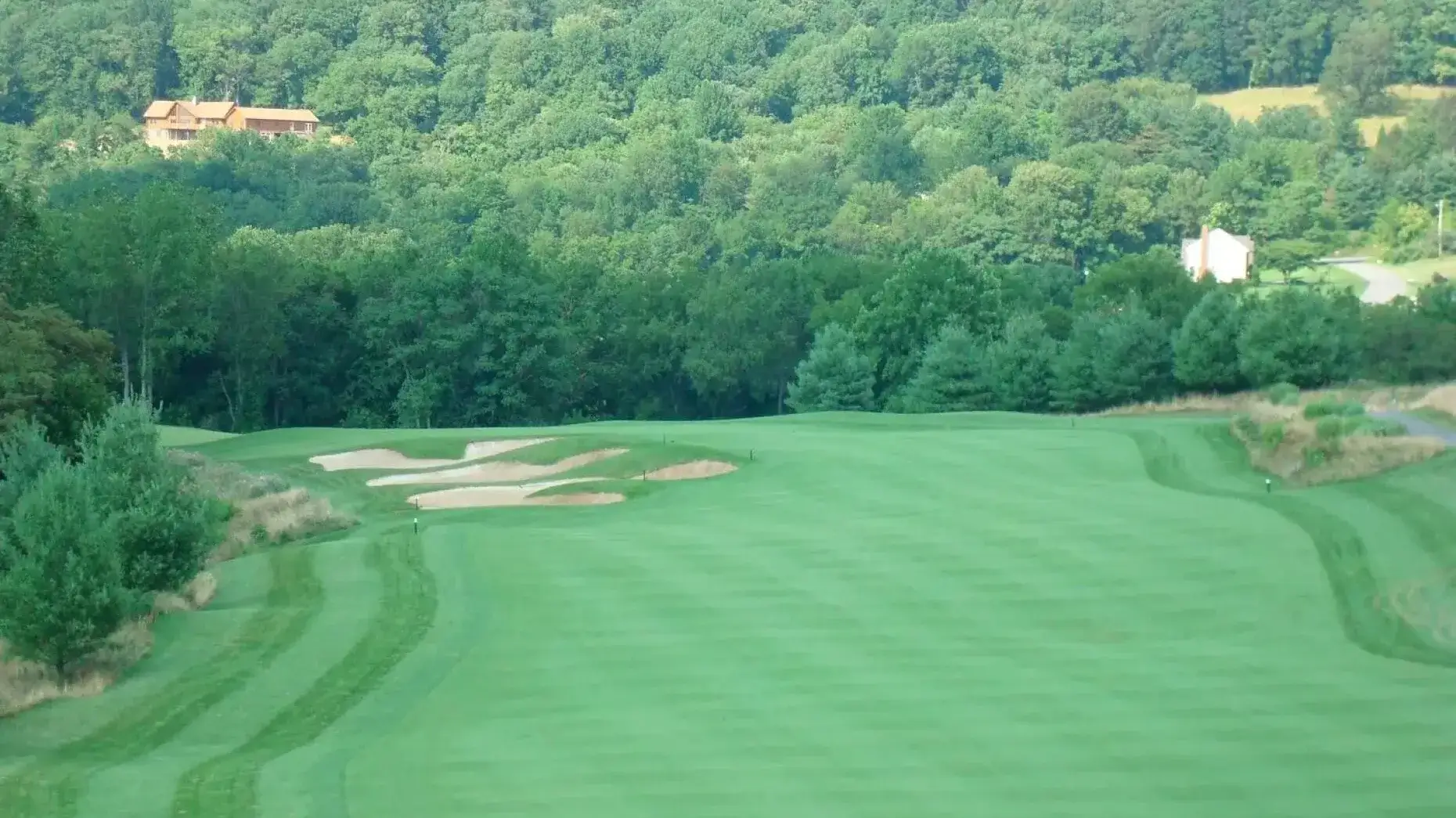 Having said that, more consideration should be devoted to determining the right line towards the green, as the curving putting grounds may prove to be the most difficult challenge during the game.
It is situated in Myersville, Maryland, approximately 45 minutes from Baltimore, in the Catoctin Mountains' foothills along I-70 at Exit 42. Musket Ridge is a gated community with a pool and tennis courts.
Designed in the traditional parkland style, the course has elevated teed off-fairways, multiple water obstacles, and strategically positioned sand pits along the fairways and around the greens and putting surfaces.
This mountain course is relatively easy, except for a few doglegs, with mid-sized, sloping, and contoured greens in a picturesque location with spectacular views.
The greens have included various elevation changes, with many perched high on a mountain ridge, others sidelined into the hillsides, and others flowing through a meadow, among other features.
The golf course is about 7000 yards from the tips and has a course/slope rating of 73.0/140. There are three shorter tees.
6. Whiskey Creek Golf Club – Ijamsville, Maryland
Playing on one of Maryland's most prestigious golf courses has never been more convenient. Whiskey Creek Golf Club, which is surrounded by a high ridge of woodlands and offers spectacular vistas of the Catoctin Mountains, is a true delight for players of all skills.
Even the course's design, which is genuinely distinctive and continually fascinating for the player, highlights.
It's clear that Poellot and Els used the terrain's natural features while designing the course, as seen by how each hole is seamlessly integrated with natural features such as hollows, hills, and crossed streams.
Golfers are rewarded with almost unending glimpses of the beautiful Maryland countryside from a number of tee boxes around the course.
While playing golf, you may lose track of the fact that you're on a golf course at all and instead think you're an eyewitness in a Civil War-era setting, as waves of fog drift through one valley peak to the other.
With vast fairways flanked by a diverse mix of grasslands, pines, oak stands, mossy rocks, and brick walls along with marshes, streams, and lakes, the course traverses a huge natural tract of undulating terrain.
An abundance of clawed sand bunkers surrounds the fields and greens. The Blue tees measure around 6500 yards and have a course/slope rating of 72/135.
Keep the Whiskey Creek golf course in mind while planning your golfing adventure throughout Maryland. You will be amazed by the stunning views as well as the great playing fields, which will elevate your experience from good to once in a lifetime.
7. Mount Pleasant Golf Club – Baltimore, Maryland
Mount Pleasant originally opened its doors for business in 1934. Gus Hook was responsible for the design of the Par-71 course. Mount Pleasant is a golf course that has received a 4-star rating from GolfDigest.
According to GolfWeek Magazine, Mount Pleasant is ranked the 12th best public golf course in Maryland and the US.
Over the years, both amateurs and professional golfers have put Mount Pleasant through its paces in tournament play. Arnold Palmer won his second professional golf event in the United States in 1956 while competing as a touring player.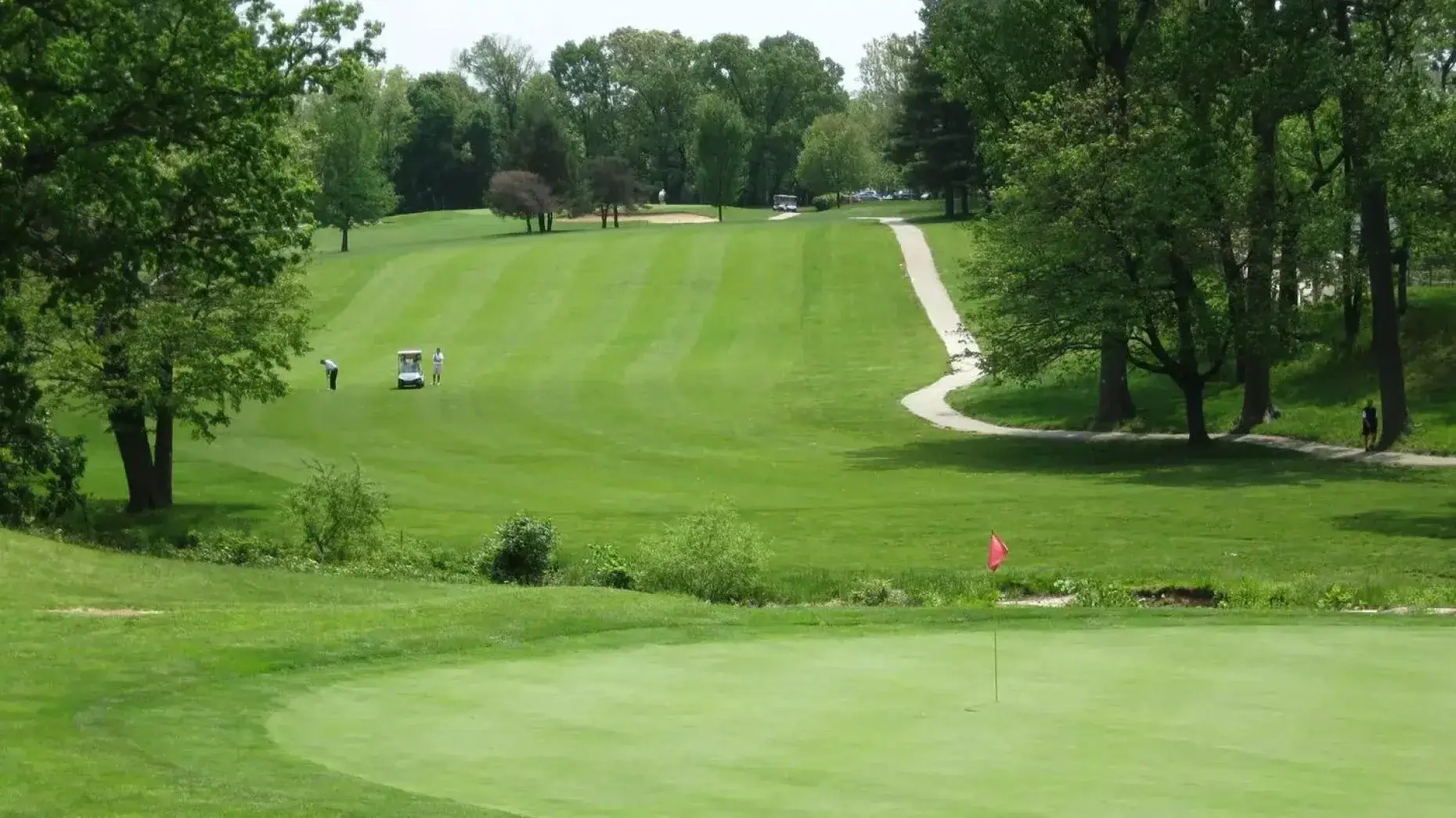 From 1950 through 1963, the course hosted the Eastern Invitational Open, a prestigious tournament in the golfing world. Mt. Pleasant is a popular choice for those who enjoy the challenge of a traditional design in their matches.
It is preserved in excellent condition because players get to enjoy the high-quality bentgrass field on the tees, fairways, and bunkers, where the only reason for a poor shot is how poorly it is executed.
The landscape is spectacular throughout the course, with various elevation variations, both slight and harsh, to struggle with and incorporate into the hole designs to provide variety.
The golf course incorporates an amazing combination of risk/reward, stroke, and technique, and it is as fun whether competing in a stroke play or match play game.
Its biggest strength, paired with a magnificent piece of land that seems isolated from the rest of the world, is the diversity of hole lengths, shapes, and strokes available to players.
The golf course is classic, with fairways surrounded by trees and undulating topography as its backdrop. Among the course's many hazards are sand bunkers guarding the greens and the odd fairway, in addition to Herring Run, which runs down the eastern end of the layout. The course measures 6,800 yards from the back tees.
8. Rum Pointe Golf Course – Berlin, Maryland
This links-style course in the Scottish tradition is the only one in the region to use bentgrass on the fields and greens. Seventeen of the 18 holes include views of the bay, with some holes providing direct access to the bay from which to begin the course and shorten it if necessary.
It is obvious that the Dyes have designed moments of chance and benefit that will raise the pulse rate of some of the more seasoned golfers.
Golfers of all talents will enjoy this championship-quality course from the back tees, which is challenging enough to hold a PGA Tour stop yet flexible enough from the center tees to suit golfers of all skills.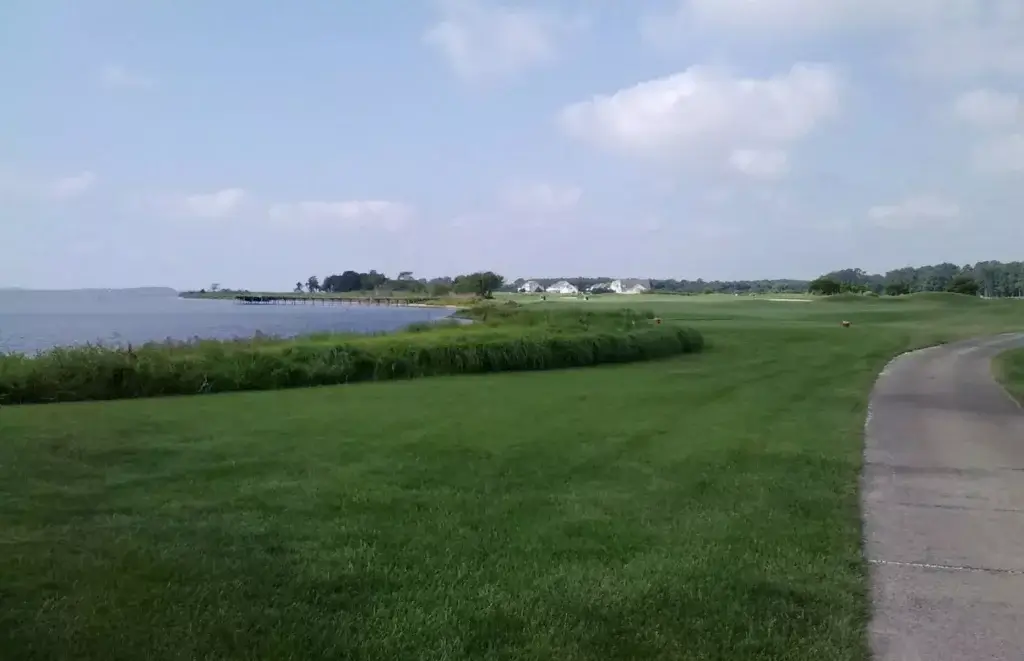 Rum Pointe Seaside Golf Links is situated along the shores of Sinepuxent Bay. Rum Pointe Seaside Golf Links is a public golf course.
The golf course is heavily bunkered overall and has various water obstacles to avoid. The Sinepuxent Bay, as well as the Verrazano Bridge, which spans the bay and leads into the park, offer a magnificent backdrop for the layout, which is constantly affected by the wind.
The course stretches a whopping 7,000 yards from the ends and has a 73/123 course/slope score, with 3 shorter tees to accommodate players of all levels.
Ultimately at Rum Pointe, it's a high-quality course where you can have a relaxing round while still shooting low numbers, as long as you select the ideal tee boxes and stay out of most of the bunkers.
9. River Marsh Golf Club – Cambridge, Maryland
Although it is about a journey, this golf resort on Maryland's Eastern Shore is well worth the effort. In addition to being challenging, River Marsh Golf Club is both beautiful and serene. The Choptank River is seen from this course, which a renowned golf architect created.
It is more than simply golf at this Eastern Shore golf course. Make another day of your vacation to Cambridge by enjoying the benefits of the on-site spa and several eating choices at River Marsh Hotel and Spa.
'Intricate' is the only word that comes to mind when thinking of the River Marsh golf experience. With the Hyatt Regency Chesapeake Bay that stands majestically over the surrounding region, this course is affiliated with the hotel.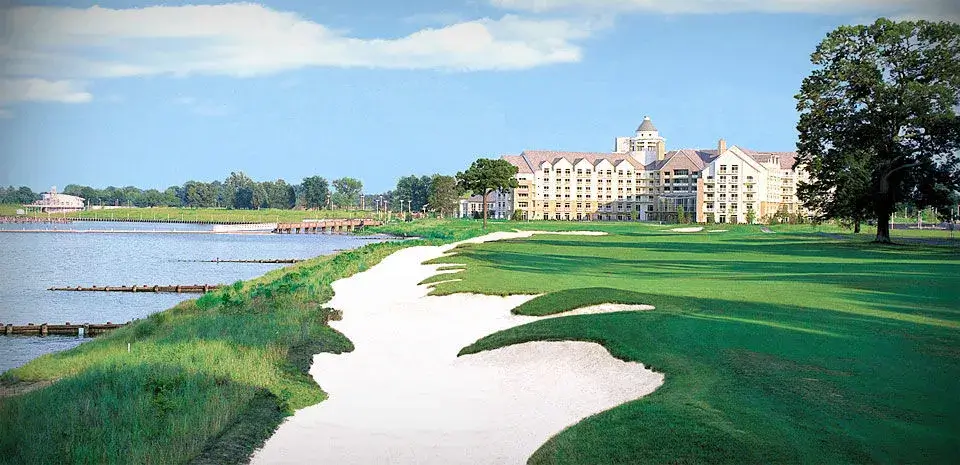 The hotel is situated on the banks of the lovely Choptank River, which flows into the surrounding Chesapeake Bay and is a popular destination for tourists. The house also has its own marina, which is really incredible! If you like spending money, this is certainly the place to visit.
Several water hazards and sand pits are included in the course, which runs over spacious, undulating fairways. The layout is a hybrid of links and grassland design characteristics.
It has an Eastern coast, low mellow vibe to it, with a variety of marsh regions and preserved wetlands, as well as mature oak trees along the boundaries and many holes all along Choptank River's banks.
Constructed by Keith Foster in 2002, the course plays to 6,800 yards from the black tees and has a course rating of 73/127 on a slope of 125. There are three short tee boxes on the course.
10. Worthington Manor Golf Club – Urbana, Maryland
It is situated in Frederick, Maryland, which is the place on the map where the state population centers of Maryland and Washington are triangulated. Worthington Manor Golf Club is a public course that welcomes the public.
Architects Brian Ault and Tom Clark collaborated to design a contemporary 18-hole course that traverses the undulating terrain and includes a blend of huge bunkers and occasional marsh carries.
Even though the site is nearly totally devoted to golf, golfers may be able to identify a rare house in the far end of the property, which is part of unconnected development.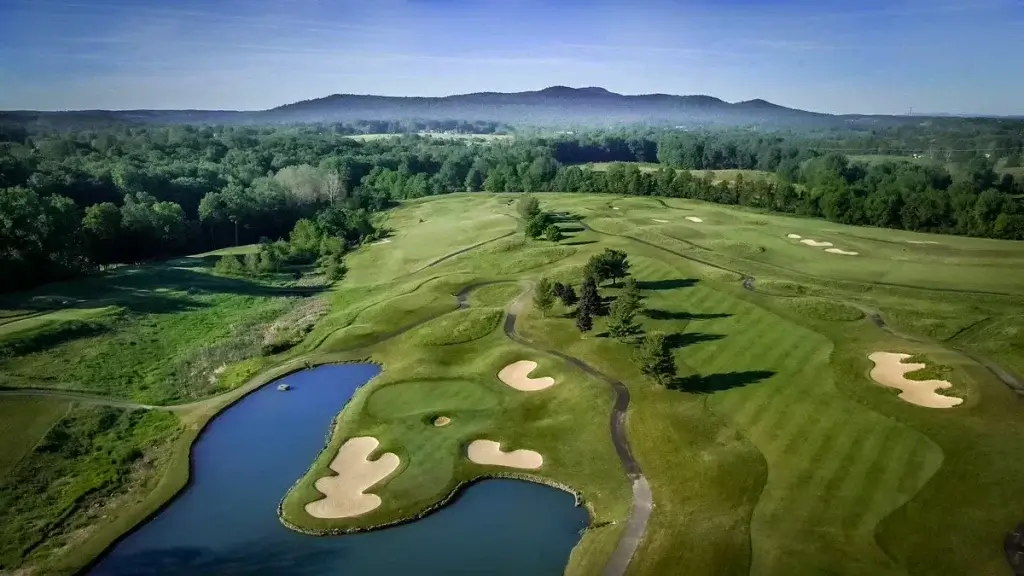 From the back tees, Worthington Manor measures little over 7,000 yards and has functioned as a qualifying location for the United States Open on several occasions since its establishment in 1998.
Located in a picturesque location with the mountains as a backdrop, the course winds through undulating terrain, through rivers and streams, and is protected by a good number of sand traps on the greens and fairways.
There is a links/parkland vibe to the course as you go down the large, mulched fairways and tall grass collars, punctuated by big, oak trees along the boundaries.
Worthington Manor Golf Club is the one to beat when it comes to a family or friend's golfing trip. With breathtaking vistas and top-notch playing fields, it is the Best public golf course Near Baltimore, and it is the best public golf course in Maryland.
How Many Golf Courses Are in Maryland?
The Free State homes around 160 public and private golf courses, which are more concentrated towards the Bay and Baltimore.
Is the University of Maryland Golf Course Public?
Yes, the University of Maryland Golf Course is accessible to the public. You can book your slot by simply calling their number or reserving your slot through their website.
How Old Do You Have to Be to Be a Cart Girl in MD?
You must be 18 years old to be a cart girl in Maryland golf courses.
What Is the Longest Golf Course in Maryland?
When it comes to golf courses, the length of the course is important, and Lodestone Golf Course in McHenry may be the best option for you.
You can see mountains and Deep Creek Lake from the highest-rated men's tee as you play 7,475 yards from the longest tee on the course.
Conclusion
Golfers have lofty aspirations. Golfers who want to play on the world's top courses and stay in the world's most luxurious resorts are in luck, as they can do both. When thinking about where to go on vacation, the first places that come to mind are usually well-known destinations.
To ensure that you have the most enjoyable time possible at the beautiful piece of real estate, and great architecture, take a look at the above guide, Top 10 Public Golf Courses in Maryland, before planning your next golf trip with relatives or friends.