The terrain of Alabama allows for a wide array of golf course layouts to be created there. The Gulf Shores region is home to some of the top golf courses in Alabama and is considered a "hidden gem" golf destination by many golfers.
It is possible to play on more than 30 different courses within just 45 minutes of one another, varying from award-winning resort-type courses in excellent condition to some of the hardest courses in Alabama to warm weather courses in good condition.
All of the courses are in excellent shape, are enjoyable and challenging, and are offered at very affordable pricing.
In addition, there are several alternatives for affordable accommodations and entertainment, excellent restaurants, entertaining and active beach bars, a plethora of other things to see and do outside golf, and long stretches of beautiful pristine beaches.
---
Golf is a game that should be performed with grace. You'll want to dress comfortably if you want to feel like a professional golfer! This is the most comfortable option for men's golf clothing.
Smooth and silky, the anti-pick, anti-pill fabric has a textured, snag-free surface. The four-way stretch fabric allows for more movement in all directions. The fabric wicks away moisture and dries rapidly. Anti-odor technology inhibits the growth of odor-causing microorganisms.
UPF 30 protects against the sun's harmful rays. The collar is rib-knit for extra durability. Performance-ready. Heat seals are used to secure logos. The fabric is composed of 95% polyester and 5% elastane.
---
7 Best Public Golf Courses in Alabama State in 2022
There's nothing better than a nice surprise, and it doesn't get any better than that. Here is the list and a complete review of the best public golf courses in Alabama State.
Gunter's Landing – Guntersville, Alabama
Kiva Dunes Golf Course – Gulf Shores, Alabama
Pursell Farms – Sylacauga, Alabama
RTJ Golf Trail at Ross Bridge – Hoover, Alabama
Gulf Shores Golf Club – Gulf Shores, Alabama
Orange Beach Golf Center ​- Orange Beach, AL
RTJ Golf Oxmoor Valley – Birmingham, Alabama
#1. Gunter's Landing – Guntersville, Alabama
Gunter's Landing is a small community on the north bank of Guntersville Lake on Route. As a result, it is considered to be one of the greatest public golf courses in Guntersville, Alabama.
The course winds its way through a beautiful setting near Lake Guntersville, with each hole being different and isolated from the others on the way.

It has hills and rising fairways with tree-lined fairways, elevated tees, and holes, as well as dunes in play across the fields and sand around the greens. This Greenville layout also features water hazards, dunes in play across the fields, and sand surrounding the greens.
Gunter's Landing is a wonderful golf course that will leave you with a lasting impression of your golfing experience.
Due to its attractive setting, challenging course, and beautiful clubhouse, the course provides an enjoyable and challenging golfing experience for golf beginners and experienced golfers.
Set on a mountaintop with panoramic views of Lake Guntersville, the 2,500 square foot bespoke pool area gives breathtaking views of the lakes and surrounding mountains.

On the lit tennis courts, you may enjoy the best playing conditions available in the area while enjoying a game of tennis. Spend some time taking a leisurely stroll along the walking route, which provides stunning views of the lake.
The clubhouse serves as an area to get up with friends and enjoy some good food.
While planning your golfing adventure across Alabama, be sure to stop by this masterpiece of a golf course and resort and take in the breathtaking vistas as well as the fantastic playing fields that will boost your experience from good to once in a lifetime.
---
Not sure which club to take on your golf trip, don't worry, we will help you. Here is the most diverse and highly rated golf club you can buy!
In addition to a heated Flash Face SS21 and a revolutionary internal construction that not only tightens the head vertically but also offers horizontal stability, the newest game-changing technology from Callaway is a Jailbreak A.I. Fast frame.
---
#2. Kiva Dunes Golf Course – Gulf Shores, Alabama
Kiva Dunes is frequently recognized as one of Alabama's best golf courses, and for a good reason. The links-style system, which is located on Fort Morgan Bay, is great as it's enjoyable to play!
This magnificent course was designed by Jim Edgemon, the property's developer, and Jerry Pate, the winner of the United States Open in 1996.
Recent enhancements have rendered Kiva Dunes extra player-friendly while also elevating the game to a much higher degree of difficulty. Kiva Dunes Live Cam!
Excellent playing surfaces are available from the first tee shot to the last putt, ensuring a successful round. But what should you do after your round is finished?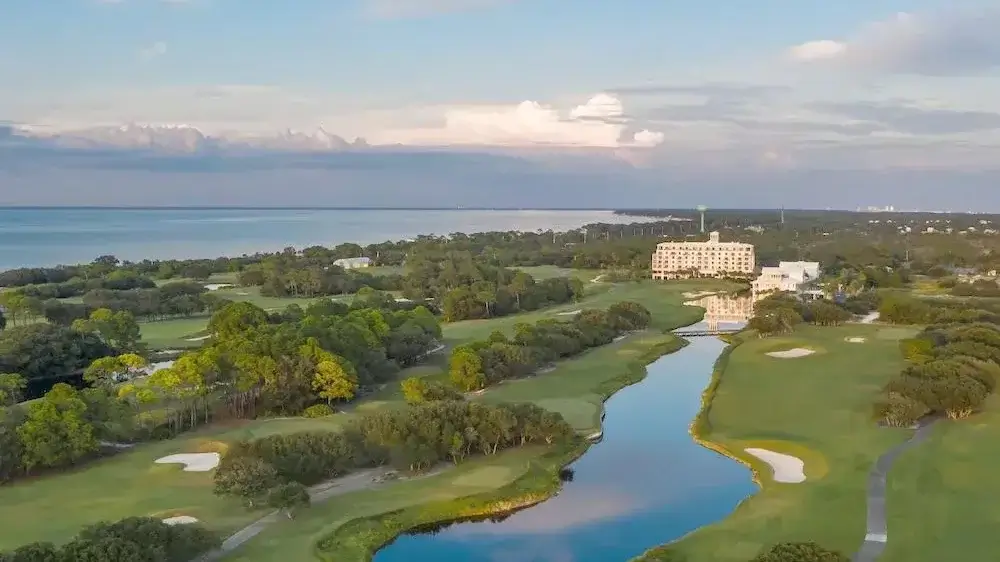 The first stop is the Kiva Dunes Beach Resort, perched on a 30-foot dune with a panoramic view of the Gulf Coast.
You'll also discover a huge water feature with a beachfront restaurant and bar setup, in addition, to different sandy white beaches.
An hour-long Swedish massage can elevate your degree of relaxation. The Kiva Beach Club is a private enclave of the resort that is only accessible to property owners and tourists.
Accommodations that are comfortable, simple, and stylish are available, and they are ideal for a golfing trip with friends or a family holiday.
Benefits include a condo at Kiva Lodge or Kiva Village, as well as one of the numerous vacation houses available, ranging in size from one to seven bedrooms.
In addition to being recognized as among the best 100 golf resorts by Golfweek, the #1 and the best public course in Alabama by Golf Advisor, which is one of the best public courses in the country by Golf Digest, Kiva Dunes is also a member of the National Golf Association.
With mesmerizing views and top-notch playing fields, Kiva Dunes is the one to beat for your friend and family golfing trip as it is the best public golf course on gulf shores.
#3. Pursell Farms – Sylacauga, Alabama
Pursell Farms is ranked next in this article as the best public golf course in AL. The course was designed by Michael Hurdzan and Dana Fry in the early 2000s as a kind of living experiment.
Has several various types of grasslands that were introduced to demonstrate the capabilities of the Sylacauga Fertilizer Farm to curriculum authorities from all over the globe.
The Pursell family sold the fertilizer firm in 2006. The course and its surrounding facilities have since been substantially expanded and improved, including an elegant resort, event venue, restaurants and cafes, gun range, and other amenities.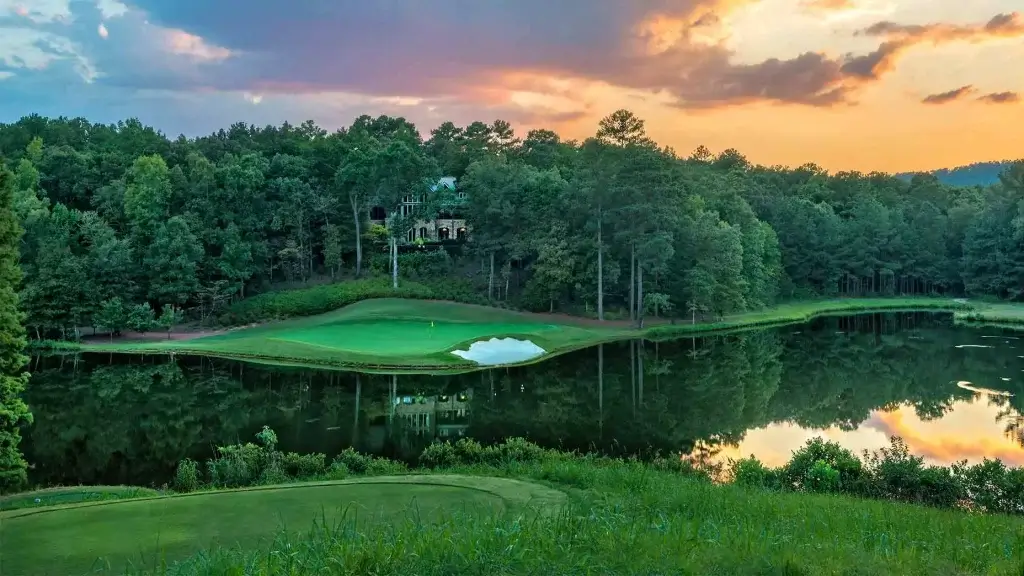 It is impossible to compare the course to anything else in the state, even if you take into consideration the diverse playing surfaces. Simply said, farm Links are a place that plays broad – quite wide as could be anticipated for a destination that was created to demonstrate the capacity to produce grass.
Some of the most memorable of the course's 18 holes include the 220-yard par-3 fifth, which delivers panoramic sights of the surrounding countryside before falling 178 feet down the mountainside to a gorgeous green below.
Farm Links Golf Club can have a terrific golf experience on classic fairways in a gorgeous, natural environment.
It is situated in the foothills of the Appalachian Mountains, about 20 minutes more away from Sylacauga, AL, and is accessible by car.
Once you arrive, you'll discover a refreshing combination of rolling green fairways with climactic elevation changes that take your breath away.
Additionally, you'll have the opportunity to visit the Spring House Spa, the Orvis Shooting Grounds, the UTV Mountain Experience, a heated outdoor pool with a sundeck, and a fitness center.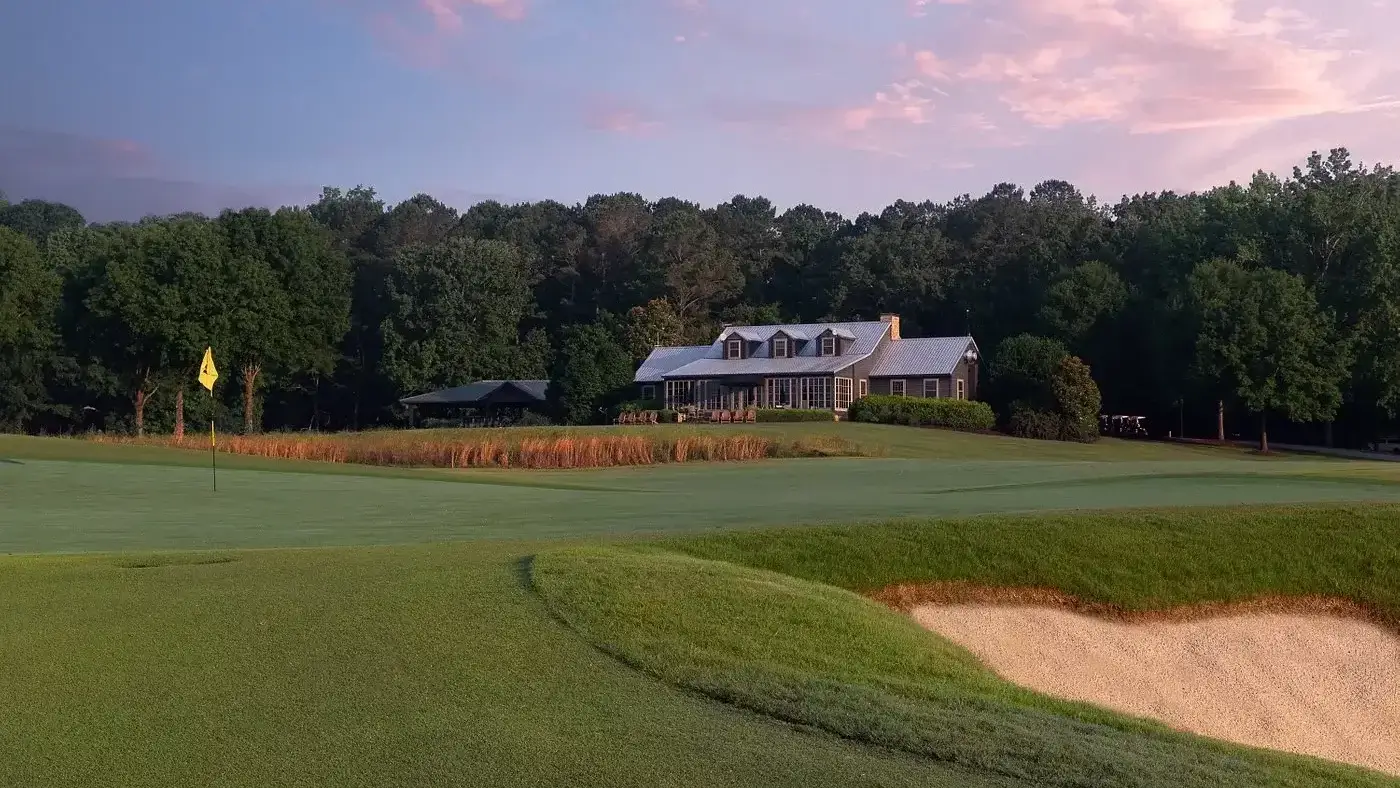 You may move about the property on a golf cart, electric or pedal bike, or on the three miles of walking route that runs around the property's perimeter.
From the front nine, several holes enjoy the benefits of the steep terrain, while the majority of the remaining holes drop deep through flattened landscapes, allowing golfers of all skill sets to keep swinging without missing too many balls while attempting to play over perfected turf to fascinating greens and spalling surrounds.
#4. RTJ Golf Trail at Ross Bridge – Hoover, Alabama
Known for its Robert Trent Jones Golf Trail, which comprises 11 courses dispersed around the state, Alabama is a popular tourist destination for golfers.
Ross Bridge Golf Course near Hoover, Alabama, is the world's fifth-longest golf course. It is 8,191 yards long from the Black tees, although it includes six tees to accommodate players of different abilities and skill levels.
Being sandwiched by hillsides and cut into the Shannon Valley, it has several elevation changes and forced carries, which add drama and hazard to the course.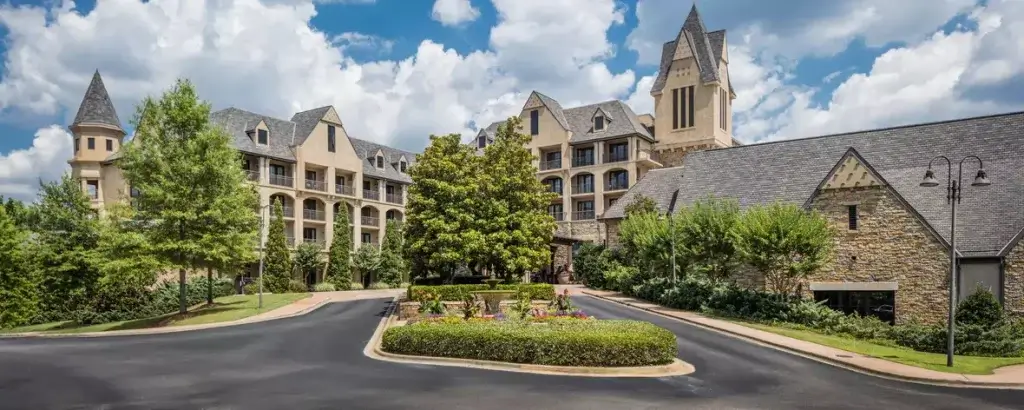 Ross Bridge Golf Club, located on 345 acres of undulating terrain, has a parkland feel to it, with a well-defined tree-lined course and 10 holes that run along the shorelines of two huge lakes.
Ross Bridge Golf Course, which opened in 2005 and was the final course to be constructed on the RTJ Golf Trail, has previously held PGA Champions Tour tournaments from 2006 through 2010.
As a result of the unusually wide fairways and big putting surfaces, it is the most forgiving of any of the courses along the path. Even though all the par-3 holes are spectacular and tough, the 4th hole stands out as the most memorable.
Iron is needed from the terraced tee that must clear the lake to a narrow and challenging green that does not have any bunkers to keep it safe.
Because a waterfall behind it cascades about 80 feet between the 9th and 18th greens, this hole is the most visually appealing on the course.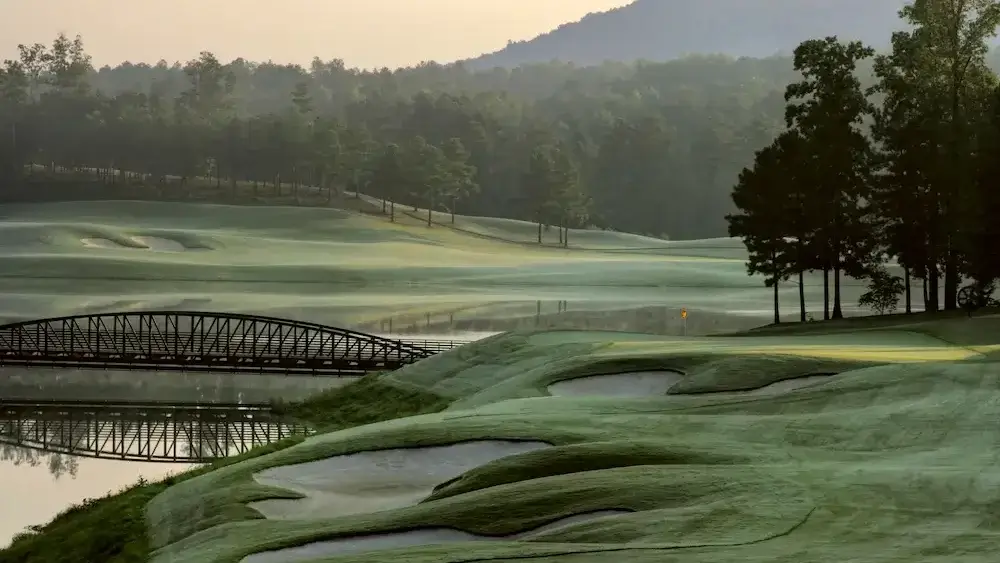 The original stone face grist mill, which serves as a background, serves as a constant reminder that this land was constructed on a historic mining location.
This course has several trademark holes, but my personal favorite is hole #13.
This sharply downhill par-5 is really a lot shorter than it seems. On your second shot, you must aim left of the fairway bunker but not too far left on your approach shot since a very well fairway dips away from you.
Stay until nightfall to enjoy the soulful strains of a bagpiper making his way to the fields if you can stand the wait.
#5. Gulf Shores Golf Club – Gulf Shores, Alabama
This course, formerly known as the Golf Course At The Wharf, was originally developed in the 1960s and became the first club within Gulf Shores. It is still one of the most renowned golf courses in the area, both among residents and visitors.
The course was closed in 2005 for a thorough $5 million makeover by Jay and Carter Morrish, who were the founding layout builders. The reconstruction was completed in January 2006.
The makeover increased the length of the par 70 courses by 300 yards and included various lakes and ponds, improved the fairways, constructed new bunkers, and introduced some new card pathways, among other improvements to the course.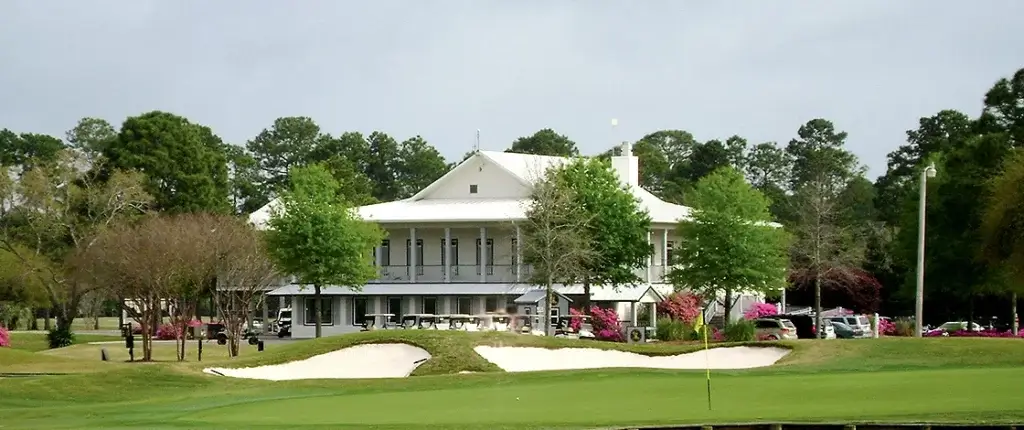 There are no tricks, gimmicks, or hidden surprises at Gulf Shores Golf Club, which was built in the 1960s in the original southern style with clear conventional fields and no quirks! If you can manage to maintain the ball in play, you will most likely have an enjoyable, amicable, and cheap round on your hands.
Nevertheless, like with most Morrish layouts, you will come across several wicked bunkers that are deliberately positioned and far bigger than the average size.
Jay Morrish's plans are typical of steep, deep bunkers in a variety of forms and sizes, with the majority of them being enormous and carefully situated.
The fairways on front nine are of average ranging from 26 to 30 yards deep, mainly oval, somewhat elevated, and have a little slope from back to front. The greens on the back nine are smaller and more rectangular.
On the reverse, they seem to be a bit more varied in terms of size and form and have a little more undulation. The greens at Gulf Shores Golf Club were in excellent shape, ran true, held the ball nicely, and rolled approximately a nine or ten on the scale.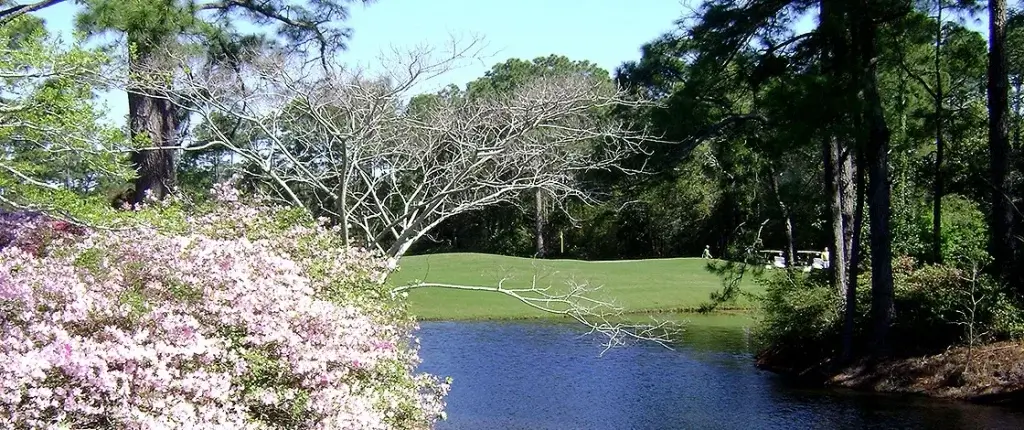 The fairways are largely forest, with the exception of a few holes that have some houses on one side of the fairway. Some of the fairways are next to one another.
They're mostly flat with little to no slope, but they're plentiful and have playable roughness – miss them, and you'll be in serious trouble. Some of the greens on the back nine have ripples and contours to them.
The bottom line is that this is a high-quality course where you can have an enjoyable and relaxed round while still shooting low scores, provided you choose the appropriate tee boxes and avoid the majority of the bunkers.
#6. Orange Beach Golf Center ​- Orange Beach, AL
In the Orange Beach region, you will find breathtakingly beautiful beaches with pure sandy beaches, and lush greens open almost year-round. Because of the mild weather, the golf course is a well-kept exhibition of landscaping expertise and a great spot to get away from it all for a few rounds.
The Orange Beach Golf Club, located inside the city of Orange Beach, attracts guests to the region with a unique golfing experience.
Residents get the option of paying a modest yearly charge for limitless use of the greens, while visitors must either pay for each 9-hole round or acquire a little more costly annual pass to play on the greens at their leisure.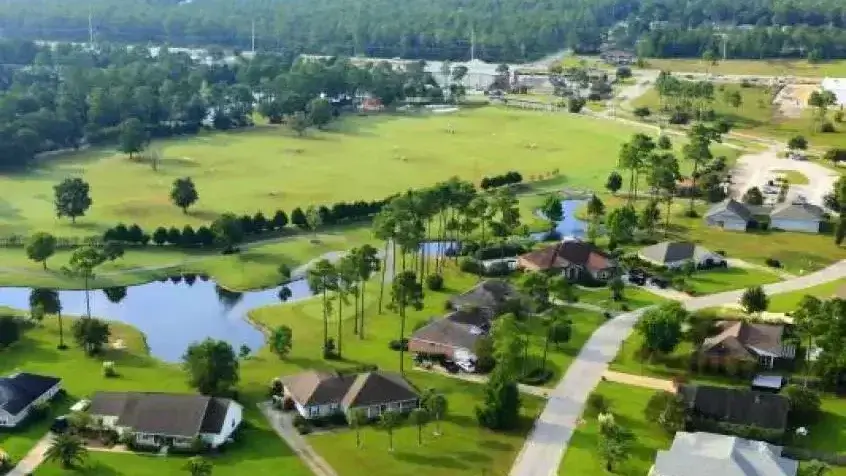 However, the town's golf club provides some of the most magnificent views in the Gulf Shores region, even if you don't pay to play. Water elements and undulating landscape abound, and the course is suitable for players of all skill levels, from beginners to specialists.
Throughout the course, wildlife comes and goes, and there are walking pathways accessible for those times when you need to take a break and just want to take in the fresh air and trees.
While the picturesque Gulf Shorelines and Orange Beach region is a popular destination for golfers, it is also a place that offers stunning beaches to exquisite seafood, and all in between. Are you ready to take a trip? Now is the time to reserve the ideal rental!
#7. RTJ Golf Oxmoor Valley – Birmingham, Alabama
Oxmoor Valley Golf Club is situated in Birmingham, Alabama, and is comprised of two 18 hole golf playoff designs and an 18-hole par-3 course that wind their way through a converted mining pit across a wide chunk of land in a remote environment.
This Mountain Course is comprised of a series of distinctive, rolling fairways that provide a 150-foot elevation difference and are bordered by dense trees and tall grass.
Water obstacles in the shape of streams and lakes may be found on numerous holes on the front nine, as well as the required fingered sandy dunes defending the field outposts and greens on the back nine.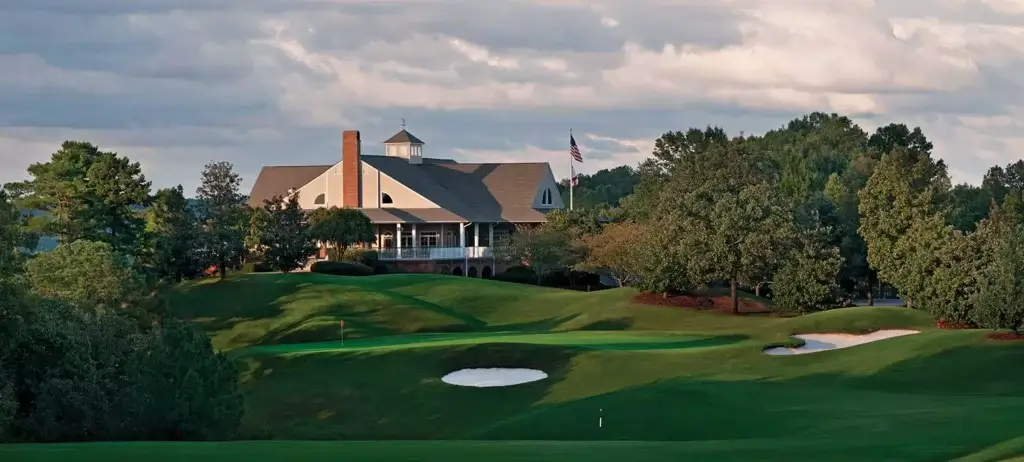 The Ridge course goes endlessly up and down, starting with the very first hole and culminating with an uphill eighteenth that leaves you gasping for air.
Although the course seems to have just four different hole types, it has four different kinds of doglegs: uphill, downhill, and diagonal doglegs. Only the par 3's are straight away from the house.
Many of the green complexes are likewise similar in appearance and feel, with a fronting bunker, an elevated green with considerable fall-offs, and tiering/excessive slants being common features. A forest of trees borders almost every hole.
The Valley Course winds its way thru the low valley landscape, past a few lakes and along tree-lined fairways, although it has less elevation variation than the Ridge Course.
Your appreciation for the difficulty of the 18th hole, 440 yards two-shotter, is known as "the Assassin" which plays steeply to a green seen by the clubhouse.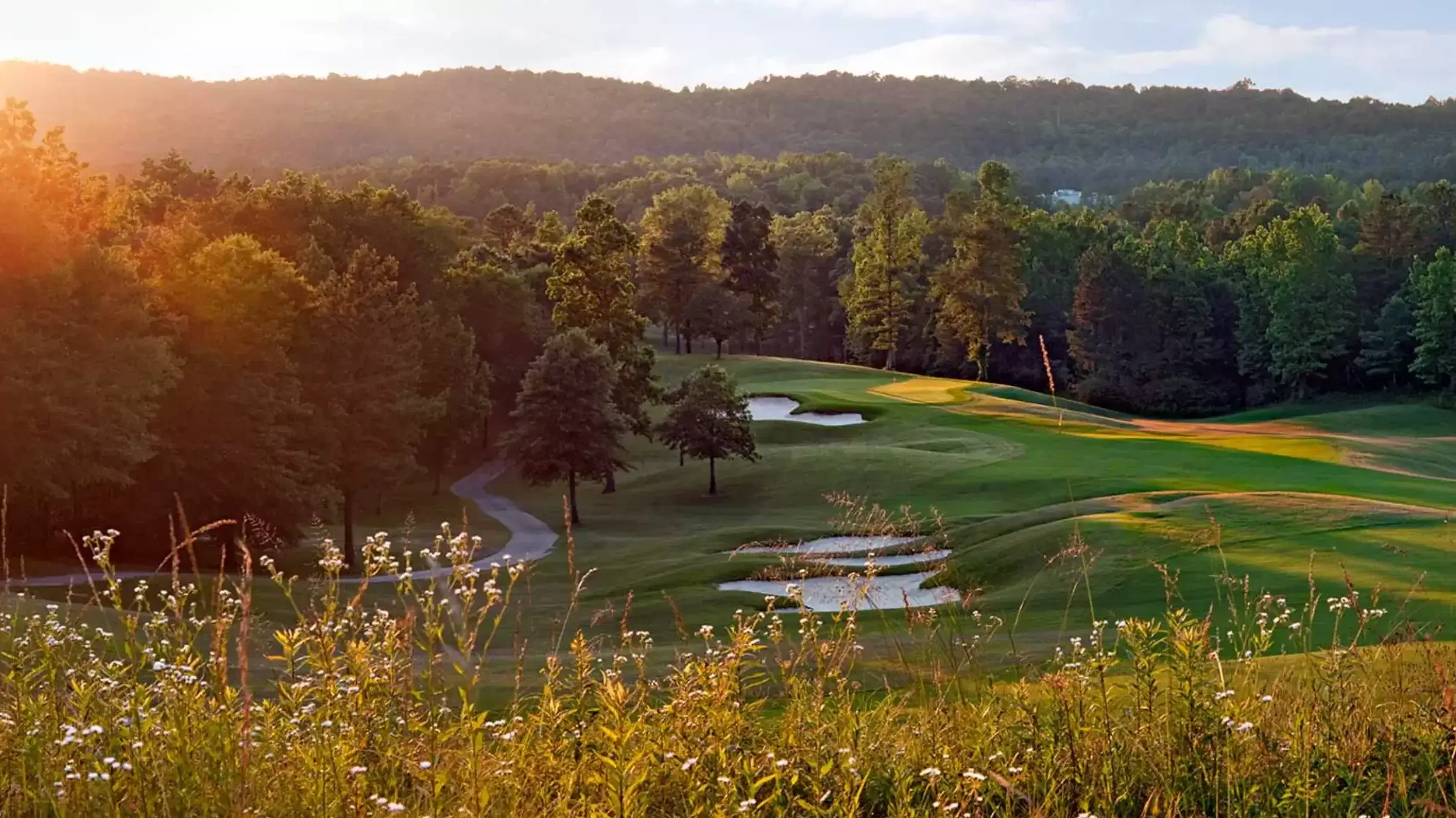 The Valley measures around 7,200 yards and has a course/slope rating of 74.9/146 from the tips, with three lower tees, while The Ridge measures 7,055 yards and has a course/slope rating of 73.2/141 from the tips.
So if you really want to challenge your golfing skills, we would like to suggest that you visit this course and witness the difficulty due to the diversity of this vast field.
---
A firm grip on the ground is critical, and for optimal performance on the golf course, one should wear the appropriate sports shoes; these golf shoes may be the ideal fit for you!
The anatomically built IGNITE PWRADAPT Caged provides exceptional comfort and a custom fit. The midsole incorporates the PWRCAGE saddle unit, which wraps around the medial and lateral sides of the shoe to give the ideal fit and support.
---
Conclusion
Golfers have big dreams. Golfers who wish to play on the world's best courses and stay in the most opulent resorts are in luck. When your thoughts turn to where you may go on vacation, you tend to go toward renowned locations. 
These resorts are located near some of the best public golf courses in Alabama. As a result, if you are searching for a variety of golf courses and something to suit every mood, these resorts, as previously indicated, will be a handy place to visit.
Last update on 2023-07-26 / Affiliate links / Images from Amazon Product Advertising API