Titleist is probably the most popular golf ball on the market and there is a good reason for it. That being said, not all of their golf balls are suited for every type of player. In this post, we'll be comparing the Titleist Pro V1 to the Titleist Velocity and seeing which ball is best for the average golfer.
What I decided to do was take both of these balls to the course and test them out for real. I played a par 3, par 4, and a par 5 to see which ball performed better in terms of distance, forgiveness, height, overall feel, and a number of other things.
If you're just an average golfer then it's important to play the right ball for your game. Most people actually don't use the right ball and that can lead to laughable distance, hitting the wrong fairway way too often, and getting zero height. You'll know by the end of this post what ball you should be playing. Check out the video or the full details below.
Velocity & Pro V1 Specs
 
Titleist Velocity
Titleist ProV1
Layers
2 piece
3 piece
Compression
High
High
Cover
Surlyn
Urethane
Spin
Medium
High
Pros
Less spin off tee
Straight shots
High launching
Good distance
More spin on green
Cons
Less spin on green
Lower launching
Costs more
Who's It For
Beginner/Intermediate
Intermediate/Low handicap
Check the price on Amazon
Check the price on Amazon
Velocity vs Pro V1: Feel
When it comes to how the ball feels it's really not something that'll impact performance. It's more of a personal preference but it can have an impact on your confidence. If your ball feels solid at impact then I do think it can be good for your game.
I'm sure you've hit a variety of balls and know that some are like hitting rocks while others are more like sponges. Both aren't ideal in my opinion and that's why we want to find something in the middle. I don't know about you but I tend to lean a bit more towards a softer ball.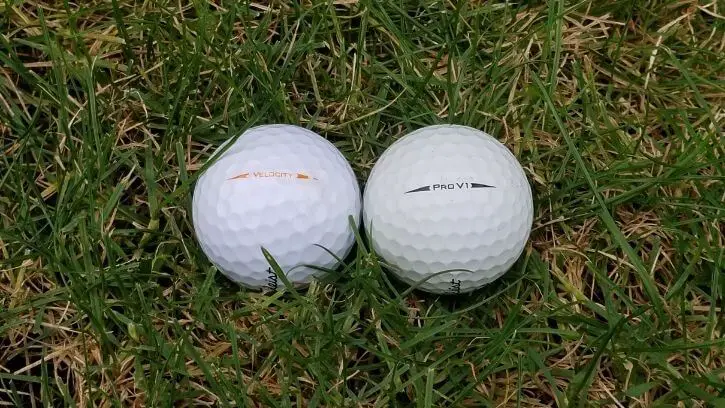 So, which ball did I like better?
Overall, I felt like both balls felt pretty good. They were both on the softer side and actually did feel better than most of the other balls on the market. Both balls felt really solid off the tee and on the green.
If I was forced to only pick one ball based on overall feel it would have to be the Velocity. Both were almost perfect (in my opinion) but the Velocity would have a slight edge on the green. It was super close but I think it felt a bit more solid and performed a little better.
Winner: too close to pick.
Velocity vs Pro V1: Distance
This is probably the main reason you're here. Everyone wants to increase distance and you're probably wondering what ball is longer off the tee. Nobody likes hitting the first shot into the green so let's try to get the most distance possible.
On the first hole, the Velocity clearly went longer than the Pro V1. That's a bit misleading because my shot with the Pro V1 was not one of my finer shots. The Velocity was pretty much perfect but my other shot was a low runner. That's pretty much the only reason the Pro V1 was behind.
My second shots into the green were a bit better in terms of comparing distance. Both were pretty good shots overall but they just started and stayed left. You'll see in the video that the Pro V1 was a bit further but that's because it got a better kick off the hill. I'd say that the two distances were very close.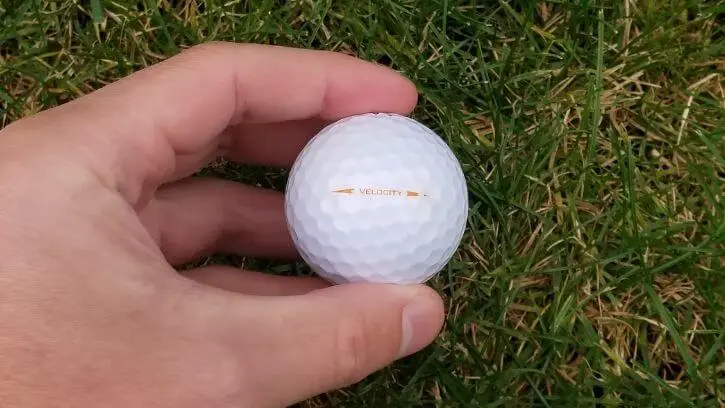 On the second hole, it was pretty easy to compare the distance again. Both shots ended up in different spots but I think they flew the same number of yards. I was pretty pleased to see that.
On the last hole, the Velocity did end up getting more distance but I did hit the Pro V1 a little fat. It ended up perfectly in the fairway but was 15-20 yards behind. If I hit it solid then I think the two balls would be very similar.
The second shot was a bit of a different story though. I had to layup on the par 5 and hook the ball around a tree. Both shots were pretty ideal but the Velocity was perfect. I feel like I hit both balls well but the Velocity was around 20 yards ahead.
The reason it went a lot further was that the ball flight was a lot higher. That's kind of what I noticed throughout the round but the distance was normally pretty close. Both balls were near the top of the distance chart compared to some of the others.
Winner: Velocity.
Velocity vs Pro V1: Accuracy
When I'm talking about accuracy I'm talking about how often the ball ended up in the fairway or on the green. This is probably the most important thing for me because it's pretty tough putting up good scores when you're always in the rough.
What I did notice was that both balls were pretty straight. I get a lot of curve with certain balls and I think the majority of golfers would run into the same problem. As long as you can hit the ball 200 yards straight then you should be able to improve your scores.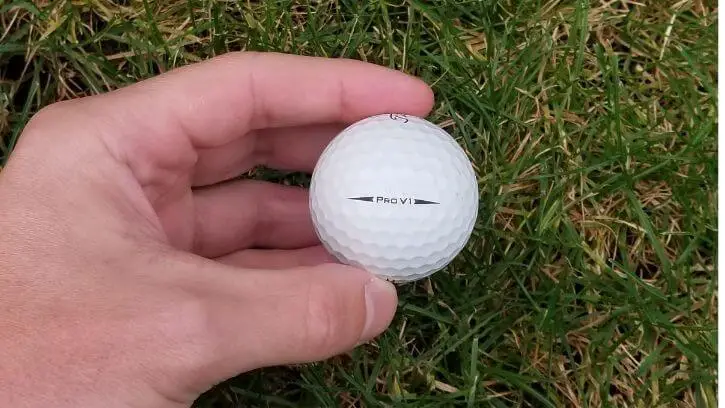 On the first hole, both balls ended up in the fairway off the tee. That's all I could really ask for. The second shots were pretty much identical and did fly pretty straight. I aimed too much left and that's where they both stayed.
On the second hole, both shots off the tee went fairly straight but they both missed the green. It was a pretty unfair hole and you had to be perfect. My first shot started too far left and it bounced down the hill. I aimed a bit right with my second shot and the opposite happened.
On the last hole, both balls ended up in the fairway. The same thing happened with the second shot. Both third shots missed the green but the line was very similar.
Winner: tie.
Velocity vs Pro V1: Launch Height
One of the best ways for the average golfer to get more distance is by adding height to their shots. I used to play blade-style irons and they were pretty low launching. I switched to a cavity back style and instantly added 15-20 yards to my shots because of the height difference.
The same thing can happen by playing the right ball.
Some of the more popular balls you see on tv are actually designed to fly pretty low. If you don't have a fast enough swing speed then your distance will really suffer. Most people don't realize that.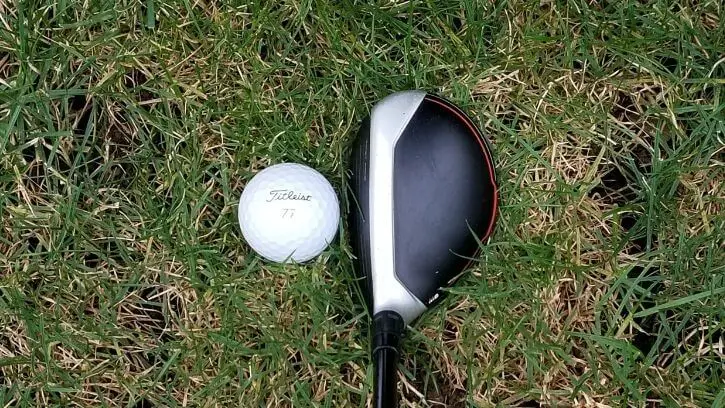 After testing out both of these balls I noticed that the Velocity was slightly higher launching. It wasn't a huge difference but it did add a slight amount of distance on most shots. I don't know about you but I'll take any sort of distance I can get.
Winner: Velocity.
Velocity vs Pro V1: Stopping Power
This isn't going to be a big deal for the average player but I thought I'd throw it in if you were wondering. All I mean by this is how much bite the ball had on the green. I'm sure you've seen the ball land on the green and spin back 15 yards.
The average player can't do that (myself included) but you definitely don't want something that lands on the green and runs out 20 yards. You want to play the ball that gives you any sort of stopping power on the green because it'll really help with distance control.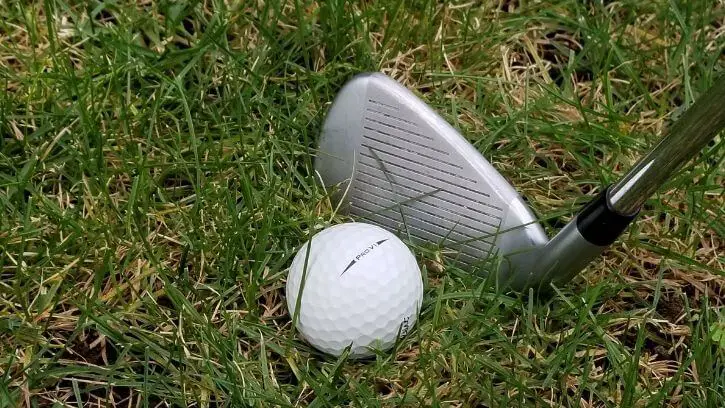 I tried the best I could to see if there was any difference between the two balls and I couldn't really see anything noticeable. For the average player, both balls should perform very similarly. However, the Pro V1 will generate more spin for the better golfer. That's not us though.
Winner: tie.
Best Titleist Golf Ball?
Taking into account everything I noticed after playing these two balls, both of them were very solid and I don't think you could go wrong playing either. Both of them were near the top of the list in all categories, but that being said, I would recommend one of them to the average golfer.
Which one?
If I had to pick then I'd end up playing the Titleist Velocity. I didn't see any benefit to playing the Pro V1 and found them both very similar. I did get slightly more height and distance out of the Velocity but the main reason I'd play it is that it's a lot cheaper than the Pro V1.
There's no need to spend a bunch more money to play something that's just as good. I'm pretty sure you'd think the same thing. Want to get a dozen Velocity balls? Check the price on Amazon.. Still, thinking about the Pro V1?  Get those on Amazon.
Looking to get some new golf gear? Click here to check out our recommended gear page to see the stuff we're recommending and the cheapest place to get them.
Last update on 2023-07-26 / Affiliate links / Images from Amazon Product Advertising API