Over the years, the 7 wood distance has been associated with slower golfers. Indeed, it is helpful for any person with a slower swing. However, it is useful in diverse situations, as popular golfers like Dustin Johnson include them in their bags. 
7 wood has been an option for golfers for decades. Still, some of its traits have made it a popular option again among the community. It doesn't matter if you have a higher swing speed. You'll likely find a benefit from the 7 wood.
Perhaps you're having a hard time trying to find a good club for your style between the woods and the irons. In that case, here you'll find all the information you need to know about 7 wood and why you should add them to your set-up.
What is a 7 Wood Golf Club?
7 wood golf clubs are part of the wood family. However, unlike the three or five wood, it has more loft. Therefore, it is easier to hit with it than with the mentioned clubs.
Compared to the 3 wood and 5 wood golf clubs, the 7 wood has a larger head but is shorter than the average 5 wood by one inch. Thus, its size grants it a higher level of forgiveness, making it perfect for golfers who often struggle to hit with other irons or hybrids. 
Consequently, it can be an excellent replacement for certain clubs, including irons and woods.
The 7 wood's larger head grants it a greater sweet spot. Hence, you will be able to hit off diverse lies, such as hard grounds.
7 Wood Distance Chart
Usually, the 7 wood distance that men can achieve is between 170-230 yards. On the other hand, women are capable of reaching from 120 to 170 yards. Of course, it all depends on how long you tee the ball. 
Other factors that affect the 7 wood distance exist, such as the difficulty of the course or how high or low the golfer has hit the ball.
7 Wood vs 3 Hybrid Club (Comparison Chart)
Golf Ball
Layers
Long Game Spin
Short Game Spin
Compression
Feel
Swing Speed
Best For
Price
Bridgestone Tour B X
3 Piece
Mid
High
Medium (85)
Mid
Fast
Advanced
$44.99
Bridgestone Tour B XS
3 Piece
Mid
High
Medium (85)
Soft
Fast
Advanced
$44.99
Bridgestone Tour B RX
3 Piece
Mid
High
Low (65)
Mid
Mid
Intermediate/
Advanced
$44.99
Bridgestone Tour B RXS
3 Piece
Mid
High
Low (65)
Soft
Mid
Intermediate/
Advanced
$44.99
What Is the Best 7 Wood?
As evidenced through the article, the 7 wood is one of the easiest-to-hit golf clubs. This is thanks to the mix of a bigger loft and a shorter length than its alternative, the 5 wood. Many golfers rely on their 7 wood due to these characteristics. It is especially useful on approach shots or tee shots (par 3).
It can be quite challenging to choose a 7 wood, especially because not all companies offer them. However, we have tested and reviewed some of the best 7 wood you can choose from in today's market.
1. Callaway Golf Epic Max Fairway Wood
This club was freshly added to the market. Still, its recent inclusion doesn't make it less effective. It can be a great addition to your bag if you have never used a 7 wood before. It is made of graphite and is only available in black.
Thanks to the oversized head shape, the 7 wood has better forgiveness. Furthermore, it includes Callaway's newest Jailbreak A.I, Velocity Blades. This new technology will allow you to enjoy a hotter clubface.
The combination between an oversized head and a shallow face makes this club excellent for launching fairways.
You Can Grab One of These on Amazon.
Top Features
It is an excellent option if what you want is more ball speed.
You can adjust the launch and the spin.
It's a good choice for golfers with slow swings.
2. Callaway Golf Mavrik Max Fairway Wood
If you'd like a versatile 7 wood, then the Mavrik Max is the best option you can choose.  It allows picking between different shaft options, including the UST Helium 40G and the Project X Evenflow Riptide 60G. 
Like the previous club, this one includes an AI-designed face. Thus, it has been optimized for better ball speed and distance. Thanks to the two weight options, you will also be able to select the preferred shape for your shots.
Besides the golf club, the package also includes a headcover.
Check the Current Price of Amazon by Clicking Here.
Top Features
It grants the user more versatility.
You can choose between diverse shaft options.
3. TaylorMade SiM 2 Max Fairway Wood
If what you want is to achieve longer distances, then this club is the right choice. Thanks to the innovative V Steel design, it has an upgraded turf interaction, but that's not all. 
It includes other characteristic TaylorMade systems, including the twist face technology. As the Thru Slot Speed Pocket is also present, you can be sure that you'll be able to achieve greater distances and improved speeds.
Additionally, you can choose between the 21 and 24-degree lofts based on what you want to achieve. It's an excellent choice if you're looking forward to having better long approach shots. 
The only drawback of this option is the high price.
Grab TaylorMade SiM 2 Max from Amazon Here.
Top Features
The pack includes a headcover.
You can achieve long distances on low-face shots.
It's incredibly easy from the tee and turf.
When to Use a 7 Wood?
Thanks to its versatility, the 7 wood is one of the preferred options by many golfers. It can be helpful in diverse situations, such as the ones mentioned below:
Firstly, this club is mainly used to make long shots. Since the ball will stop almost instantly after it lands, it's easier to hit with a 7 wood than with irons.
It is better for fairways. It's worth noting that the 7 wood covers 195 yards on the field, approximately – that if you have a modest swing speed. If you hit high or straight shots, the covered yardage would range between 150-190.
If you'd like a higher flight and more distance, you can choose a 7 wood.
On the rough, a 7 wood can make it easier for you hit off. It's a good alternative to long iron clubs.
It makes it less complicated to land the ball on the green softly.
Again, the 7 wood is quite versatile. You can use it for many purposes, such as tight tee shots or to reduce the probability of pop-ups on the long grass.
The 7 wood is appropriate for golfers with slower swings. It makes it easier to launch the ball. Therefore, if you're struggling to get the ball in the air, a 7 wood club can be the perfect pick for you.
It's also worth noting that the shorter the 7 wood, the easier it will be to hit. All of these characteristics make this club perfect for any golfer, be it an amateur or a professional.
What Degree of Loft is a 7 Wood?
The 7 wood loft degree varies based on the manufacturer and who it was designed for. For instance, it's usually for 7 wood clubs for men to have loft degrees between 21 and 22, although it is also possible to find some at 20.5 degrees. There are clubs with degrees of loft up to 27 degrees.
Higher degrees are typically for women's clubs.
The high degree of the loft is not a disadvantage; it's beneficial. While a 5 wood or 3 wood club may produce a low ball flight with a higher rollout, you will find it easier to control its distance with your 7 wood.
How Far Should You Hit a 7 Wood?
There are a few factors that come into play when it comes to how far you can hit a 7 wood club. However, it can be useful for low-ball hitters.
This way, elements like the climate circumstances or your accuracy will affect the distance. However, a 7 wood can typically cover from 190 to 210 yards if you have good control over the club.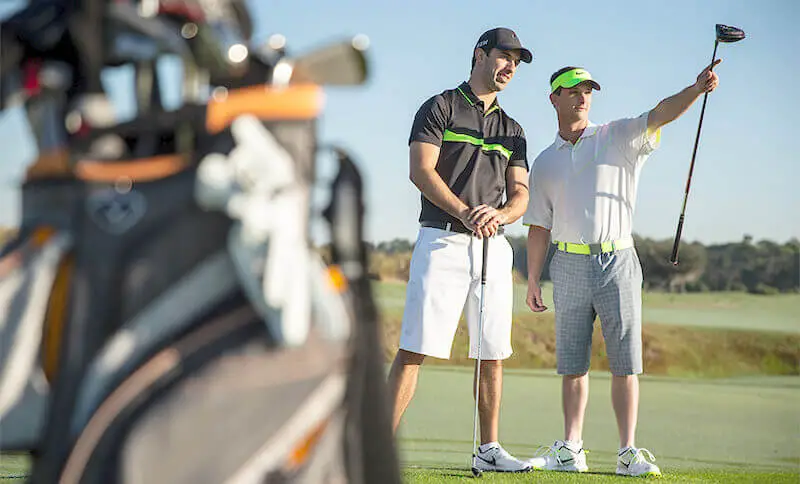 Some 7 wood, like the popular Ping G30, allow you to cover about 215-225 yards. This club in particular allows the ball to land softly. Combined with how easy it is to hit, it's possible to cover more distance with it.
You should also take into account other factors, such as how old the club is and other extra features it may contain. 
The manufacturer also has a key role in how far you can hit a 7 wood. It can vary from one company to another. For instance, it is possible to find 7 wood clubs that barely cover about 175 yards, such as the Big Bertha 4.
This yardage is far less than the 190-yard average that most 7 wood clubs have, including the options described above.
Average Distance for a 7 Wood
Averagely, the 7 wood golf club achieves distances between 153 and 191 for male golfers. For women, the yardage varies between 99 and 153 yards. Of course, it all depends on the club you're using, the manufacturer, and environmental factors.
Knowing the average distance for your 7 wood club can help you prevent wasting a few shots while you're on the course. Knowing the distance will also help you find out where the ball is likely to land.
It's also worth noting that there are club distance calculators available if you'd like to get a more accurate distance measurement.
---
---
7 Wood Golf Club Length
If you explore different 7 wood options for a while, you will find out that they're typically 40-42 inches long. However, if you're going to buy a 7 wood club, it is highly recommended to choose an option with a shorter shaft. The club already has less soft. 
It's also worth noting that a longer shaft produces more distance gaps. Since it is possible to find 42-inch 5 wood clubs, then we can assume that the optimal length for a 7 wood club would be 41 inches.
However, please note that you may find 7 wood clubs that are 43 inches long. It depends on the manufacturer.
What Club Does a 7 Wood Replace?
The 7 wood golf club can have a loft angle of 21 degrees. Considering that a 3 iron and a 3 hybrid have about 20 degrees of loft, that means you can use the 7 wood club as a replacement for both. The changes between loft angles aren't too big. Therefore, there isn't too much difference between the uses.
The 7 wood can indeed be used as an alternative to the clubs mentioned above. However, there are still differences between the 7 wood and their alternatives that you should know. For starters, the 7 wood is 41-inch long, and its head weighs about 230g.
Contrary to that, a 3 iron traditionally has a length of 39 inches. The head weighs 242g. A 3 hybrid has fluctuating lengths based on the manufacturer. However, it is considered to be the middle point between the 7 wood and the 3 iron. Still, a 3 hybrid's head weight is more similar to the one found in 3 irons.
Of course, you'll find gap differences that you must cover when you use a 7 wood as a replacement for the clubs mentioned. However, it is more comfortable and easier to use. You will be able to replace any iron with it, too. We recommend visiting a club-fitter before making a decision.
What Iron is a 7 Wood Equivalent to?
The 7 wood is equal to the 2 iron and 3 iron clubs, as well as 21-inch hybrids. The 7 wood is also capable of replacing the 4 iron golf club. However, you should know that this equivalence varies based on the manufacturer and the current 7 wood model you're using.
Typically, the 7 wood has 21 degrees of loft, which means it can replace iron with the same measurement. This same fact makes the 7 wood longer in length. It is also longer than other hybrids and irons.
The 7 wood can also replace the 3 iron, although there are slight distance differences between both options. With both clubs, the distance you achieve will also hinge on your swing speed and accuracy.
Again, the equivalence can be different in each 7 wood based on its foundation. For instance, a 7 wood with a shaft degree of 21.5 can replace a 3 iron. Furthermore, it can achieve between 190 and 200 yards.
7 Wood vs 3 Hybrid
On the one hand, we have the 3 hybrid, which grants you more versatility. However, the 7 wood is easier to manage and can be as versatile as the former option. Below we describe the benefits of each option for you to choose the most convenient club, based on your preferences.
As evidence, a 7 wood will help you achieve greater distances.
Typically, 7 wood has more sweeping action, which can help you launch the ball easily. Likewise, it won't interact too much with the turf.
A 7 wood can fly a long way. All you'll have to do is to sweep it off the ground.
The 7 wood is a better option for those that consider themselves proficient with woods and driver.
A 7 wood is an excellent replacement to the tee.
Those that struggle with the driver can benefit from a 7 wood. By teeing it slightly, you achieve a bit more distance than usual. A hybrid will allow you to do this, but it will not be as easy as it would be with a seven wood.
If you want to hit shots out of the rough, then the best option you can choose is the 3 hybrid.
Like a 7 wood, the 3 hybrid makes it easy to launch the ball. Furthermore, the 3 hybrid allows you to stop on the green rapidly.
The three hybrid is better on a par three due to the low trajectory and more roll it has.
Suppose you're trying to hit a shot to a pin, straightforwardly. In that case, the 3 hybrid is a smarter choice than a 7 wood.
7 Wood vs 4 Hybrid
The 7 wood and the 4 hybrid are quite similar. However, one option can be more appropriate than the other based on your swing speed. Below you will find a comparison between both golf clubs.
Golfers with a steep swing speed with divots can obtain more benefits if they choose a 4 hybrid.
However, if what you want is to launch the ball more easily, then you should go for the 7 wood.
Likewise, a 7 wood can be a better option than a hybrid if you want to cover the more vertical distance. Furthermore, its soft landing makes a 7 wood faster on the green than a hybrid.
Beginners may find it easier to achieve consistent shots with a 7 wood. A 4 hybrid is more appropriate for more experienced players.
However, the 4 hybrid is more appropriate for shots off the rough. In this case, the hybrid will cover more distance and will allow you to achieve more consistent shots.
4 hybrids have shorter shafts, which can help you achieve more accurate shots. They are also helpful in filling yardage gaps.
Golfers with middling swing speeds can benefit from both options. Still, you might be able to hit better shots if you used a wood instead of a hybrid.
If you're playing on a windy day, a 4 hybrid may work a bit better.
7 Wood vs 3 Iron
As mentioned above, 7 wood can replace 3 irons. However, there are specific situations where one option can be more convenient than the other. Below you can find some of the situations where you can choose a 7 wood over a 3 iron, and vice versa.
7 wood makes it complicated to hit good shots off the rough. However, it's easier for them to give incredible shots off the tee or the deck.
On the other hand, a 3 hybrid can help you more if there's too much wind or if you want to do stinger shots.
7 wood has a lower, deeper gravity center.
3 irons are better for on-the-rough shots. It can give you straight, more consistent shots in this case.
7 wood will make the ball follow a straight, high trajectory. Contrary to this, the 3 iron will attract fade and will allow the ball to stay low.
The reason why 7 wood can replace 3 irons is that they have similar loft angles. Therefore, you shouldn't include both clubs in your bag simultaneously.
Since both clubs have so many similarities, you will likely not notice the difference between them.
However, please note that if you have a good performance with a 3 iron, a 7 wood will grant you an improved gap.
7 Wood vs 5 Wood
Both types of woods have similarities. However, you can gain an advantage to a certain degree if you choose one option over the other in certain situations.
5 wood makes it easier for you to cover about 200 yards. Typically, a 5 wood club can cover about 250 yards.
7 wood is better for filling gaps and landing more consistent shots. Your swing speed will define if you'll be able to cover about 140-160 yards. At most, you can extend it to about 175 yards. This yardage is the low-end 5 wood covers.
If you want to tee off on par threes, then you can choose whatever option. You will find slight flight differences, though.
5 wood are similar to the 3 irons in ball flight. Therefore, they have a considerably low and penetrating flight. Contrary to this, 7 wood have an intermediate flight, but they do have a higher arc.
Long hitters can benefit more with 5 wood. 7 wood may be prejudicial for them as the ball is more likely to spin.
Conclusion
The 7 wood distance can be quite beneficial for slow swingers. However, you can also use this club as a replacement for other clubs during specific situations.
For instance, golfers that want more versatility will often choose a 3 hybrid. However, if you want more accuracy, distance, and consistency, a 7 wood can be a better option.
You will start noticing where you should use one option or the other as you get more experience. Still, if you're a novice, we recommend you to keep a 7 wood in your bag for ease of use.
Last update on 2023-07-26 / Affiliate links / Images from Amazon Product Advertising API