Most of the time, I'm trying to find "the best" golf products on the market but this time I wanted to flip that on its head. I wanted to go out and find the weirdest looking putters on the market that not only were ugly to look at but were also really bad to play with.
Every single one of these putters is extremely bad looking in my opinion. Some of them actually didn't perform that bad but most of them had a terrible feeling to them, some were completely unbalanced, and some weren't able to roll the ball smoothly.
I'm not saying these putters won't work for you because they might, but you'll definitely get some odd looks if you pull one of them out of your bag. Give one or two a try for fun because you never know. Let's jump into the list.
Axis1 Umbra
This is a putter that's really not that terrible when it comes to quality but the price and shape are something I can't get over. They have a few different designs but the majority of them have weird curves and angles to them. They're over $200 each and you'll have to pay for shipping as well. It's supposed to have a soft yet solid feel and I will give them that but it's not something the average golfer would feel comfortable with right away. Check out more here.
Trilogy 408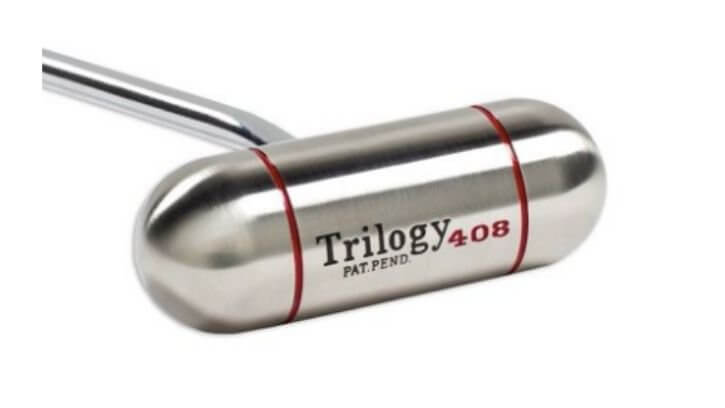 This is a cylindrical putter that's supposed to strike the ball slightly above the center to give it a smoother roll. I kind of get what they were trying to do here and the design will definitely prevent making contact with the ground before the ball. It almost felt like a toy though and reminded me of the putters you'd use for mini-golf. I thought the way it felt at contact was pretty poor and the ball would always end up jumping (which made distance control pretty tough). It's currently unavailable (wonder why).
Dead Aim 3D Laser Mallet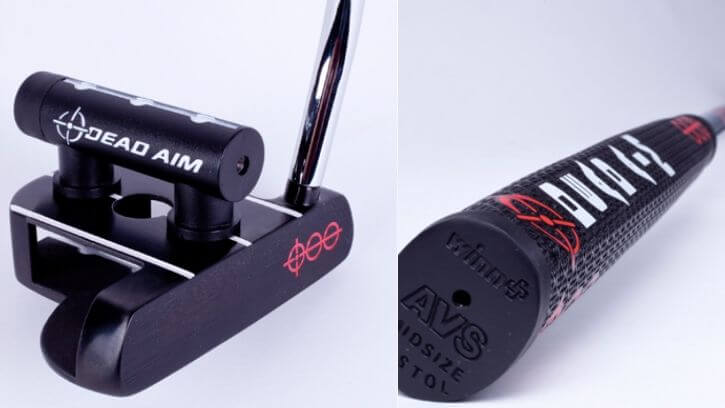 This is one of the putters I have mixed feelings about because everything about it is pretty solid. The grip it comes with is fairly nice, it feels pretty balanced, and the feel of the face is close to what I like. The first thing I don't like about it is the price. It's not the most expensive putter out there but it's around $200. For that, I'd way rather get something else. The second thing was the laser it comes with. I don't really know how your buddies will react when you pull out a putter that has a laser to help you aim. I know I'd get roasted.
Nike Method Concept
This is another putter that's not that bad when it comes to quality, performance, and feel. The only thing I can't get my head around is the weird shape. The back of it has a shape that completely throws me off and it's really tough to line it up properly. I like everything else about it but I don't understand the reason behind the shape. That's probably why they don't make it anymore.
Tour Edge T-Balance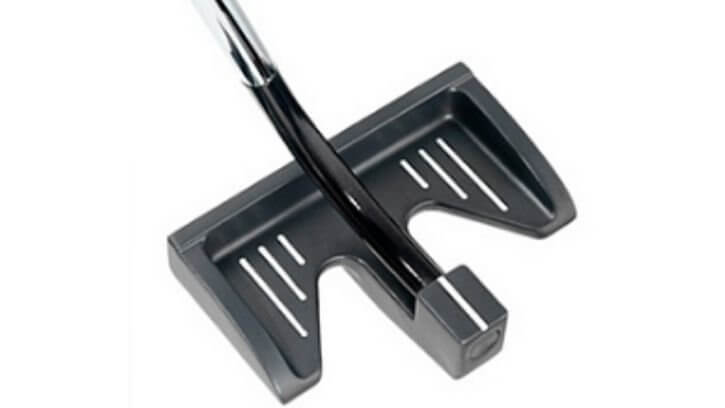 I'm actually a fan of some of the golf products from Tour Edge but this putter isn't one of them. It comes in a few different designs (I tried the 05 version) but they're all extremely weird to me and didn't perform well at all. It was perfectly fine on shorter putts but it's really hard to get a good feel for it on the longer ones. It also has a weird ting noise at impact which I wasn't big on either. It's not available on a lot of marketplaces so I'm guessing it wasn't a big seller.
Chase Glen Putter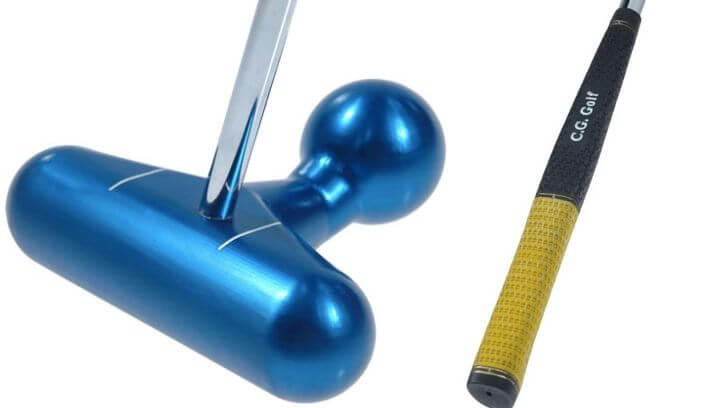 This is a pretty interesting putter and I've never really seen anything like it. They say you'll never find another putter that scores like it and you'll get a bunch more attention you'll get on the course. That's probably because the thing looks so ugly. It has a cylindrical shape to it which is supposed to give it a smooth roll and it's supposed to be more forgiving. I'm not convinced. I don't know any pro who's tried using it and there's probably a good reason for it.
Heavy Putter D1 DF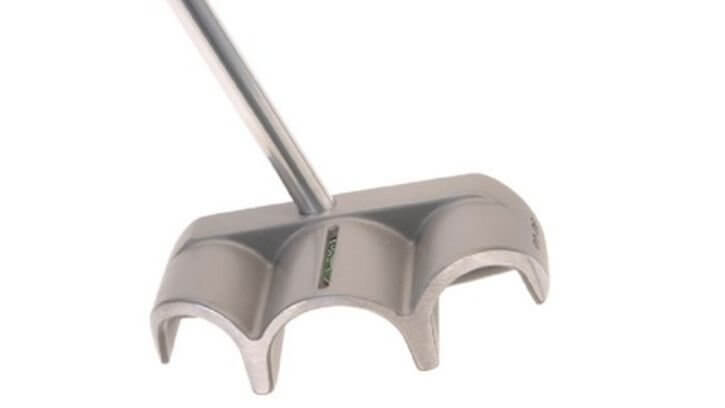 This thing makes no sense to me at all. I've never heard of this company before and I guess there's a reason for it. You can buy the thing for like 30 bucks ($200 when it first came out) but I wouldn't recommend you do. It's one of the stranger designs I've ever seen and the bottom always seemed to dig into the ground. The sole on it is pretty small so there's nothing to glide along the ground. Pretty bad design if you ask me.
Biomech Acculock ACE
This is another putter that's not awful but the shape of it throws everything off. It's designed to help you stabilize your hands, shoulders, and arms to give you a steadier putt. The face and grip are better than a lot of putters I've tried but the putter just feels plain awkward. I couldn't get comfortable with it and had a really tough time making longer putts.
Fourteen Br-3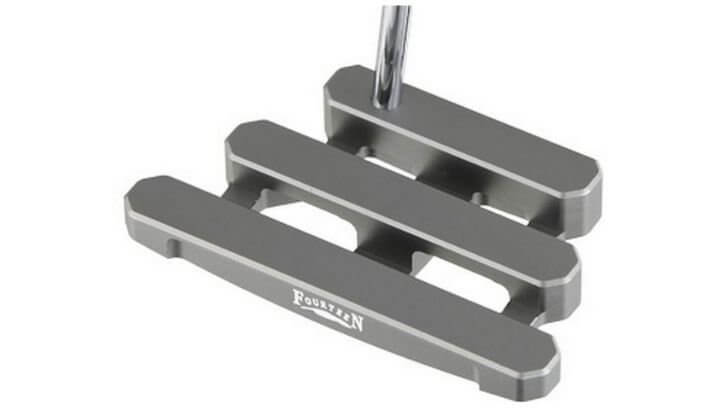 This is the last and quite possibly the worst putter I've ever used. There really isn't anything I like about this thing. It's plain ugly, it's awkward to putt with, it sounds & feels terrible, and it flat out doesn't perform. It doesn't come with any alignment help for some reason and I don't know what the back two rails are for. You can't even use it to pick up the ball. I haven't been able to find many places that have it for sale and there's no mention of it on Fourteen Golf's website. If you want a good laugh then go out and give it a try (if you can find it).
Let me know your thoughts and any questions you have. Like this article? Feel free to give it a share!
Looking to get some new golf gear? Click here to check out our recommended gear page to see the stuff we're recommending and the cheapest place to get them.
Last update on 2023-07-26 / Affiliate links / Images from Amazon Product Advertising API