I had never heard of Cut golf balls until recently and I was pretty excited to get my hands on them considering the cheaper price. In this post, I'm going to be reviewing the Cut Blue golf balls and sharing my honest thoughts after testing them out.
What did I think of the Cut golf balls? The only two things I liked about these golf balls were the price and the distance. You can get a dozen balls for under 2 bucks each or a trial pack for $7. The distance I got was pretty much just as good as any other ball but that was pretty much it. I didn't like the way these felt at impact (too firm) and I didn't feel like they had enough forgiveness for an average "weekend" golfer. Also, the durability was terrible and they got knicked up far too easily.
I'm not saying they're bad golf balls or they won't be for you but that's my personal opinion.
I could get past the way they felt because that doesn't impact performance and I could live with the forgiveness but the fact that they don't last very long was the deal-breaker for me.
If you want a more detailed review or you want to find out where the cheapest place to get them is, then continue reading. The good news though is that it's something that can be fixed in the future. I don't know if it will but I'll keep my hopes up and give them a try in the future. Let's jump into the full breakdown.
Check The Price On Amazon. If you want to enter into our golf giveaway you can click here to subscribe to our YouTube channel, like the video, and comment giveaway. Do all 3 and you'll be automatically entered.
Control & Forgiveness
I'm pretty sure these balls were designed for the average golfer considering the price so having something that's easy to control and is forgiving is pretty important.
I wouldn't say it was bad in these areas but there were definitely other balls that performed better for me (at a similar price).
I was able to control the ball pretty good and most of the time it went where I wanted it to. I wanted to see what it would do if I tried putting a big hook or slice on the ball and it did take off on me.
That's probably not the best thing for the weekend player.
https://www.youtube.com/watch?v=E9L6FuFkico
The first thing I didn't really like was the feel at impact.
This is more of a preference thing but I prefer a slightly softer ball and found this one a little too firm. Some people will like that and some people won't. I prefer the feel of one of these.
I think most golfers could benefit from switching to a softer golf ball that's more forgiving and there are other balls on the market at a similar price that are better in my opinion.
Distance & Performance
I wasn't really expecting a cheaper ball like this to be very long but I was pretty surprised.
It pretty much went just as far as any other ball I've tested. That was the case for every single one of my clubs, so I was happy with that.
The flight of the ball off the tee was awesome as well. I find some balls fly way too high or low and the Cut ball was somewhere in the middle and seemed to be just about perfect.
With a wedge, it felt pretty good and had a decent amount of stopping power on the green. It didn't have the most spin (I'm not the best at this) but it was respectable.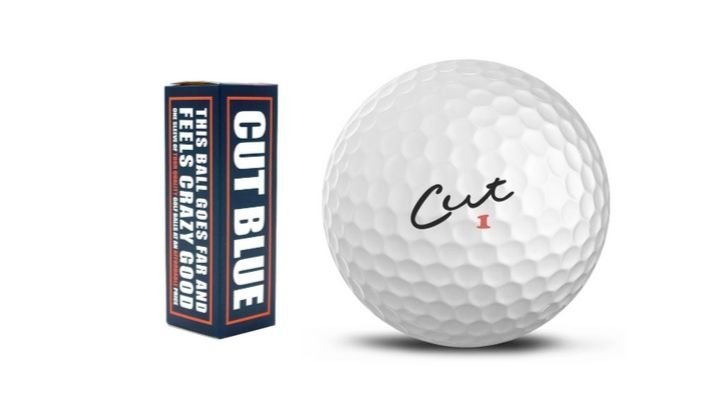 My distance control on the greens was also fairly good but it did feel a bit too firm for me. I could notice the difference right away compared to what I normally use but it didn't really impact the performance.
The one major issue I did have with it was the durability.
I don't normally mark up balls quickly but even after a few holes, it was getting knicked up pretty good. I'm sure most weekend players won't want to be ordering new balls every couple of weeks.
Cut Blue Golf Ball Specs
| Product | Cut Blue |
| --- | --- |
| Layers | 4 Piece |
| Compression | 90 |
| Cover Material | Urethane |
| Spin Rate | High |
| Market | Better Player |
Pros
The price point is great.
It was just as long as any other ball.
I was really impressed with the flight of the ball.
Cons
It was a bit too firm for me.
Most golfers could benefit from a more forgiving ball.
They get marked up very easily and will need to be replaced often.
The Breakdown
Performance Score: 8
Quality Score: 7
Value: 8
Personal Score: 7.5
Frequently Asked Questions
Q. Are Vice or Cut balls better?
A. I'd say Vice balls are better and they have a more specific selection based on your game.
Q. Do they have a trial pack?
A. Yes, you can get 3 balls for around 7 bucks.
Q. Would these be alright for someone with a faster swing speed?
A. Probably not because you'll "cut" them up pretty quickly.
The Verdict
Overall, if you're in the market for a cheaper golf ball and are considering the Cut then I'd probably recommend you try something else.
You can always get their trial pack and give them a try but I didn't like the fact that they broke down so easily.
The distance was great and so was the ball flight but they were a bit too firm and the forgiveness wasn't quite there for the average weekend player. This is always something that can be improved as time goes on so you may want to come back to them in a year or so because that's what I'll be doing.
Let me know your thoughts and any questions you have. Like this article? Feel free to give it a share!
Looking to get some new golf gear? Click here to check out our recommended gear page to see the stuff we're recommending and the cheapest place to get them.
Last update on 2023-07-26 / Affiliate links / Images from Amazon Product Advertising API