There are numerous wedges ranging from 48 degrees to 64 degrees. All of them have their own characteristics and purpose. This article will solely focus on the 54 degree wedge, its uses, and 54° wedge distances.
The 54 degree wedge sits in the goldilocks zone. You may ask how? The answer is simple the 54 degree wedge covers the short shots that cannot be covered by a pitching wedge but not too long shots to be covered by a sand wedge on the greens. 
This makes this wedge so diverse, and because of that, we have created an entire guide on how to play with the 54 degree wedge on your next golfing trip. Moreover, we have also listed the best 54 degree wedges and comparisons with other wedges.
54 Degree Wedge Distance
A 54-degree wedge falls into two categories: the gap wedge category, which includes wedges with lofts ranging from 50° to 54°, and the sand wedge category, which includes wedges with lofts ranging from 54° to 58°.
When covering shorter distances but with somewhat more bounce than a 52-degree wedge, a 54 degree wedge is the best option. Depending on the conditions, a 54 degree may often reach approximately 90 to 110 yards.
However, in addition to the degree of the golf wedge, several other factors determine the distance traveled by a golf wedge.
What is the 54 Degree Wedge?
The 54 Degree wedge is a highly flexible club for usage around the green. Its main function is to help players escape from sandpits, but its heavyweight and huge bounce make it handy for a number of other shots.
Golfers like to utilize the 54-degree wedge when they take the majority of their chips, particularly those near the greens on the course. 
With the hefty base of the club, it is really easy to get through dense rough around the green, and the loft allows you to hit the ball near the hole without worrying about the ball going too far away from where it falls.
54 Degree Wedge Distance Chart (Yards and Meters)
Depending on your skill level, the 54 degree wedge distance chart differs. The estimated numbers are shown in the chart below. You may use this distance chart to analyze your next game's performance better.
[table "40" not found /]

What is the Best 54 Degree Wedge?
There are a plethora of various kinds of golf wedges to choose from. It's difficult to track down a 54-degree wedge that's both efficient and durable.
Pitching wedges, sand wedges, gap wedges, and lob wedges are all different types of golf wedges.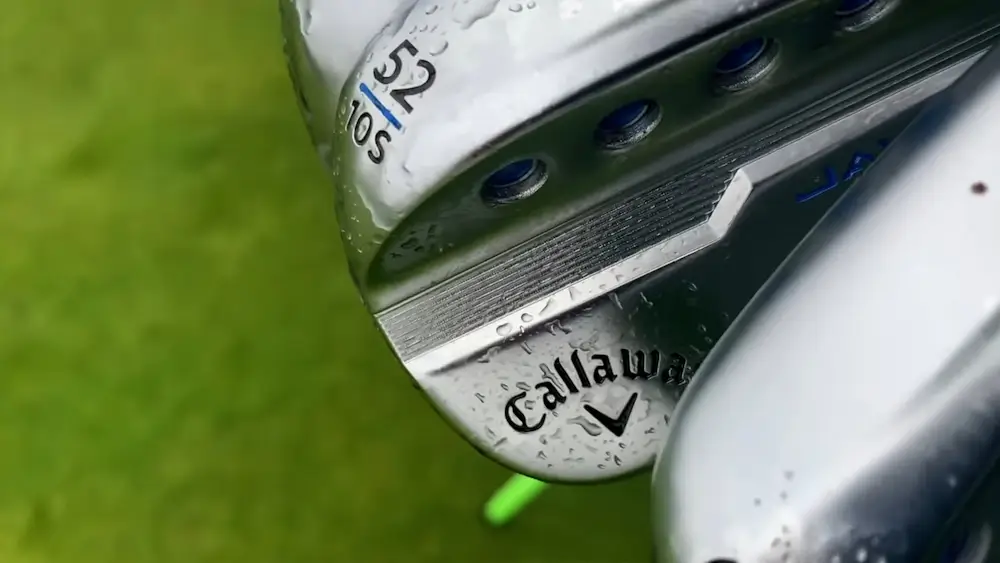 However, finding the optimum golf wedge depending on their angular form is simpler for some players than for others.
1. Callaway Mack Daddy CB Wedge
If there's one wedge you should purchase right now, it's this one. The Callaway Mack Daddy CB Wedge should be the appropriate choice. The reason why Callaway is effective is that it is specifically designed for performance.
Under the supervision of PGA tour players and what they have found to be effective for them.
Equipped With:
Cavity back construction 
Groove-In-Groove Technology
Four Sole Grinds
2. Wilson Staff Model Men's Golf Wedge
Wilson's renowned reputation is a bonus that goes with this wedge. As a result, the golf wedge remains faithful to its designer. Offers precise attack angles, adjustability, and a wide range of shooting options.
It provides a difficult blend of classic and traditional elements. Its performance is so outstanding that it makes it difficult for other comparable golf wedges to compete with it.
Made with 8620 carbon steel, it has a very smooth touch that reassures the player and is just what most golfers are looking for around the greens. Due to the fact that it provides a very continuous experience over much of the face, mishits are nevertheless interesting.
3. Callaway Mack Daddy 5 JAWS Wedge
JAWS MD5 Wedges are designed to provide you with the most powerful grooves available in golf, allowing you to achieve great spin and precision.
The JAWS grooves have been significantly improved, bringing the groove-sharpness to a whole different level for optimum grip and spin from across all positions on the golf course.
When used on shots from 80 yards and in, it produces a "one hop and stops" angle that every golfer likes, making it extremely successful.
Equipped With:
8620 Mild Carbon Steel
C Grinds
Groove-In-Groove Technology
How Far Does a 54 Degree Wedge Go?
The typical 54-degree wedge distance is estimated to be somewhere between 80 and 110 yards. The distance is influenced by the golfer's skills as well as their gender.
Beginners who use a 54-degree club often hit the ball further than more experienced players using the same wedge. Furthermore, female golfers often travel 15 years less distance than male golfers.
Some golfers have also been able to produce above-average results on the golf course. It was possible to cover greater distances with a 54-degree wedge, spanning between 102 and 107 yards, or possibly up to 126 yards with a 54-degree wedge.
Average Distance for a 54 Degree Wedge
An average golfer can go around 70 yards with a 54 degree wedge in their hand. On the other hand, top pros often hit a 54-degree shot that travels more than 100 yards, with the majority traveling between 110 and 125 yards.
With a 54-degree wedge and a regular club, a male golfer can typically achieve a distance of around 85 yards with his ball. On the other hand, female golfers are able to cover around 59 yards with the same wedge as male players.
Best Bounce for 54 Degree Wedge
If you ever paid close attention to PGA tour players you may notice that they always carry a 54 degree wedge. Why is that so you may ask? It is because the 54 degree wedge creates the most efficient and deepest bounces. 
To further understand, you must know what bounce is. Whenever the wedge gets in contact with the field, the amount of bounce defines how quickly and how much the wedge repulses away from the surface. 
Since it stops the club from sinking deeply into the field and slows the club down, this might be useful in circumstances when the grass or sand is puffy.
It may also be detrimental if you use a high bounce wedge on narrow grass since the club will fly off the ground and directly into the center of the golf ball.
54 Degree Wedge Length
When it comes to 54 degree wedges, various lengths depend upon which type of shaft. A 54 degree Wedge with a graphite shaft is usually longer in length as compared to a 54 degree Wedge with a stainless-steel (ss) shaft. 
Women's 54 degree wedge is manufactured smaller compared to Men's 54 degree wedge. The following table will show the average length of a 54 degree wedge.
[table "41" not found /]

Can You Use a 54 Degree Wedge in the Sand?
Absolutely yes, the 54 degree and 56 degree wedges are often regarded as sand wedges. Therefore, their main purpose is to tackle sand pits. 
Many golfers utilize their 54-degree wedges for hitting distances out of bunkers, or off the green or tee, among other situations. It has been shown that these 54 degree wedges assist golfers to play better in soft bunkers and chipping around the greens.
How to Use a 54 Degree Wedge?
The best approach to hit a 54-degree wedge depends on the position: where you stand (sand, rough, fairway), whether narrow or covered in the thick your position is, and also what approach do you want to play.
Sand Pit
Treat the shot as if it were any other bunker shot on the course whenever you are in a nice position in a sandpit and want to hit your sand wedge.
Enter the sandpit behind the ball and allow the wedge's bounce to glide the clubface below the ball, pushing the ball into the air. You may want to try shifting the ball forward in your stance if you're having difficulties striking behind the ball.
Rough
If you come into a bad position in the rough and you're within striking distance of the hole, you should be avoiding going all at it on the ball with the edge of your club and plunging your wedge into the dirt.
Using a 54 degree wedge, the idea is to take advantage of the bounce and concentrate on pushing the club through the rough towards the ball.
Position your wedge far behind the back and knock it with a swing, so you have enough speed to propel the club across the grass and into the ground. The grass will grab and delay your backswing if you don't do so, and you will almost certainly make a poor play on the ball.
Secondly, keep in mind that you should spin completely through your shot since failing to do so may encourage the club to get stuck in the grass and dig.
How to Chip with a 54 Degree Wedge?
Traditionally the chip shots are taken with a 60-degree wedge. However, there are some cases where the 54-degree wedge comes in handy.
Suppose if the ball is in the rough but not quite tucked into the ground. There is some space between the ball and the surface. So how would you take a shot then?
Don't Worry! We elaborate on how to take this shot with a 54 degree wedge. 
Step 1: Check the lie of your golf ball. If it is sitting on the grass, you are ready to go.
Step 2: You can hit high for a softer landing or lower shots. 
Step 3: Address the club correctly, place your hands a little bit in front, towards the inside of the foot, and lean on your front foot.
Step 4: Take the shot and evaluate your results!
52 Vs 54 Degree Wedge
In general, a 52 degree wedge is a viable solution for golfers who want to cover an approximate distance of 120 yards, while a 54 degree wedge is a great option for those that want to cross a somewhat lesser distance, such as 110 yards.
Some players prefer a 54-degree wedge over a 52-degree wedge when playing from tight positions or off tee when playing off the tee or the green.
For accuracy, golfers who prefer a 54 degree wedge over a 52 degree wedge will choose the 54 degree wedge.
54 Vs 56 Degree Wedge
A 54-degree wedge is recognized as a sand wedge and should be utilized accordingly. If you have a 58-degree lob wedge and another wedge that is near 50 degrees, a 54-degree wedge is the best choice for you.
56-degree wedges are also termed sand wedges and are mostly used for striking out of the sand and chipping around the greens on the course. Among the most frequently used clubs, a 56-degree wedge has the greatest loft of any club that a typical player should have in his or her bag.
Typically, players fly their 54-degree wedge 93 yards, although the distance may range between 76 and 115 yards depending on the conditions.
A 56-degree wedge is often shot 84 yards on average; however, the distance might vary between 76 and 104 yards depending on the player.
Conclusion
With so many distinct wedges available on the market, you may be perplexed about which one is the greatest fit for your needs and preferences.
We hope that our in-depth look at the 54-degree wedge helped you better grasp the lengths you can hit with them and the situations in which you may utilize them.
We hope that you discover what your thing is, and you try it on the golf course as soon as possible!
Last update on 2023-07-26 / Affiliate links / Images from Amazon Product Advertising API