If you're a beginner or high handicapper and shoot above 90, you're considered an average golfer. Everyone loves bringing the big stick out of the bag but it's also really important that you play the right driver.
Here are the best drivers for the average golfer:
Cobra F9 Speedback (best for mid to high swing speeds)
Cleveland Launcher Turbo (best for slower swing speeds)
Callaway Epic Flash
Ping G400 Max
Wilson Launch Pad
I'm a big believer that the average weekend golfer shouldn't be buying the latest and greatest drivers. Over the past 5 years, almost all drivers go the same distance and you'll probably see little difference between them. These are all great options and we'll jump into each now.
What Is An Average Golfer?
An average golfer is anyone who shoots above 90 on a par 72 golf course. These golfers are also referred to as high handicap players.
So, the good news is that you can still bogey every hole on the course and you'll still be considered average. I don't know about you but that makes me feel a bit better about my game.
This might seem a little bit hard to believe but the average golf score for all ages of golfers is 91 on a par 72 course. Average golf is essentially bogey golf.
If you can shoot in the 80s then you'd be considered a mid handicap golfer. If you break into the 70s, you're in the low handicap range.
What's kind of crazy is that the average score hasn't changed very much over the years. If anything, it's gotten slightly worse. Even with the clubs and balls "improving" year to year.
What about if you normally shoot in the 80s? A lot of the time mid and high handicaps are completely fine using the same driver. Sometimes it is worthwhile switching though to really dial in your game.
What Should An Average Player Look For In A Driver?
If you're a beginner or high handicapper, you should be looking for different features than you would if you're a scratch golfer.
You don't have the same clubhead speed as the pros, you don't hit the sweet spot as often, and your launch angle isn't going to be the same. That's why you need a driver that's designed for you.
Here are a few of the most important things to look for:
The correct shaft flex
The right loft
Large sweet spot
Adjustments (maybe)
Most people will just go out and get whatever feels the best in their hands. Sure, that could work fine, but if you really want to improve your game, you should look a little more closely.
Best Driver Shaft Flex For Beginners & High Handicaps
| | | |
| --- | --- | --- |
| Carry Distance | Swing Speed | Shaft |
| Under 200 Yards | Under 80 MPH | Senior/Ladies |
| 200-240 Yards | 80-90 MPH | Regular |
| 240-275 Yards | 90-100 MPH | Stiff |
| Over 275 Yards | Over 100 MPH | Extra Stiff |
High handicap golfers normally have a swing speed between 80-90 MPH and that's why the best driver shaft flex is a regular flex. This will help generate torque and that will give you more distance.
The average golfer doesn't have the fastest swing speed and a regular shaft will help you launch the ball higher, will help you close the face, and will help with distance. Some golfers do have a faster or slower swing, and if that's the case, use the info in the chart above to pick the right shaft.
If the shaft doesn't say regular or stiff then you'll want to look for these letters:
L: Ladies
A or M: Senior
R: Regular
S: Stiff
X or Tour: Extra Stiff
Stiffer shafts are better for people with higher swing speeds. If you use a stiff shaft but have a slower swing, you'll probably slice the ball a lot and your shots won't go very high.
On the other hand, if your shaft is too light, you'll have a really inconsistent ball flight (mostly big hooks).
My swing speed is in the 90-105 MPH range and I could still get away with using a regular shaft. I've even used a senior shaft and still played fine. It's just a good idea to get the right setup for the most consistency.
Why not use a regular shaft all the time?
As you start getting better your swing speed will probably increase. When your swing speeds up, you'll send more torque through the shaft. Too much torque is very hard to control and there can be too much.
As I said before, a shaft that's too light will send the ball in all sorts of directions. Most of the time, your club will be closed at impact and will result in a hook.
Your distance will also suffer a bit. If you have a fast enough swing then a stiffer shaft will give you a bit more distance.
The majority of average players have a swing speed under 90 MPH and that's why a regular shaft will give you the best results overall.
Best Driver Loft For Beginners & High Handicaps
| | |
| --- | --- |
| Swing Speed | Loft |
| Under 80 MPH | 13+ Degrees |
| 80-95 MPH | 11-13 Degrees |
| Over 95 MPH | 9-11 Degrees |
For high handicap golfers with an average swing speed, the best driver loft is between 11 and 13 degrees. This will generate the most distance and will also improve forgiveness.
Again, if your swing speed is faster or slower then you'll want to go with a different loft for optimal results. See the chart above for the full details.
Since your driver is lower lofted compared to other clubs, it's going to have the lowest ball flight. Average players don't have the fastest swing speeds and the extra loft will help get the ball in the air.
Professional golfers normally use a driver with a loft between 7 and 9 degrees. That works for them because they normally swing hard enough and hit the ball at an upward angle.
If you tried using a lower lofted driver, you'd most likely hit the ball 10 feet in the air and you'll most likely be hitting your second shot first.
What loft you decide to go with will really depend on your swing speed. If you're older and have a slower swing speed, go with a 12-13 degree driver. If you're young and like to kill the ball, go with a 10.5 degree.
The good thing about some of the drivers is that you can actually adjust the loft to see what's right for your game. If you get a 10.5-degree driver you'll be able to raise it to 12 degrees or lower it to 9.
What's The Right Driver Head Size?
The majority of drivers these days are 460cc and that's what you'll want to look for. The bigger the number the more forgiving it usually is.
Pro golfers sometimes like something a little smaller because it could be easier to control. They hit the ball so well that they don't need the increased forgiveness.
You'll sometimes see a driver that comes in a standard and alternate model. The alternate model could be a tour model where it's a touch smaller or it could be a game-improvement model (a little bigger).
Should You Get An Adjustable Driver?
An adjustable driver isn't as important as the other factors and it shouldn't make or break your driver choice. That being said, it's a useful tool when you start getting better.
Being able to adjust the loft or lie of your driver can fine-tune your game but it's not going to instantly fix a hook or a slice.
When I first started playing I had a big slice with the driver. I went out and got an adjustable driver and tuned it for a draw bias. But guess what, it didn't fix the slice.
Sure, it did help slightly but it's not the main thing you should be looking for in a driver. If the driver comes with that feature, great, but don't worry about it if it doesn't.
When Should You Upgrade Drivers?
As you start working your way to the low 90s and eventually break into the 80s, you might be thinking it's time to upgrade your driver.
There are times when that could benefit your game but the good news is that some of these drivers can be used by all skill levels.
If you're a very high handicap and slice the ball off the course you might need an ultra forgiving driver. You could use it as a mid handicap player but you might want a bit more versatility.
Being about to draw or fade the ball or control the trajectory is important as you start getting better. Some of these ultra forgiving drivers won't let you do that but you're not at that point yet.
What I've noticed is that almost all drivers over the past 5 years hit the ball the same distance. The only differences are the spin rates and maybe the forgiveness.
Get the driver that's best for your game right now. Once it becomes more than five years old or you feel like you need it to do a bit more, go out and upgrade.
Best Drivers For Average Golfers In 2023
If you're a beginner or high handicap golfer and are in the market for a new driver it's important that you pick the right one. I've gone out and bought a club that I've seen on TV and it just didn't perform well for me.
That's because the club wasn't designed for my swing speed and skill level. What I'd also recommend is that you don't go out and buy the newest model on the market.
Sure, you could if you wanted but I think you'd get the same results by getting something that's 1-2 years old. Save a bit of money and put that towards lessons.
Some of these drivers can be used by all skill levels while a couple of them are designed for higher handicaps. All are great options for you right now but go with the one you feel would benefit you the most.
Cobra F9 Speedback (My #1 Pick)
If you're looking for an awesome all-around driver that can be used by all skill levels, the F9 could be perfect for you.
It came out in 2019 and won a Golf Digest award for drivers. Even though it's a year or two old, it still holds up to the newest models and is one of the best drivers in all categories.
What I like about this driver is that it's long and forgiving for the beginner golfer but it's also adjustable so the lower handicap can fine-tune the setup.
There are 8 loft adjustment settings and moveable weights that will let you dial in your launch angle, spin rates, and ball flight.
The loft can be set anywhere between 9 and 12 degrees. Beginners will probably like 12 degrees better but scratch golfers might like 9 degrees for the lower spin rates.
There are two adjustable weights on the club that'll also help with your shots. If you put the heavier weight to the back then you'll raise the launch angle, make the club more forgiving, and have a draw bias. The opposite with the weight up front.
What's also cool is that it comes with an Arccos Sensor. It'll give you GPS data when you're on the course and will tell you how far you hit your driver.
It'll also keep track of your stats and will let you know where your common misses were, how many greens/fairways you hit in regulation, and what your shot dispersion looked like.
It's also going to track your hits and let you know your ideal loft and weight settings.
Pros
Reasonable price for what you get.
Sounds really good.
One of the longer drivers.
Cons
Not the best option for shaping the ball.
Cleveland Launcher Turbo (My #2 Pick)
If you're someone with a slower swing speed and want a driver that's high launching and forgiving, this might be the best option for you.
I'm a big fan of Cleveland products and I actually could see myself playing this driver. It's high launching, long, and straight.
It won a Golf Digest award in 2020 and is best suited for beginners and high handicaps. You could use it as you get better but there are probably better options out there.
One of the downsides is that it's not adjustable. Not a huge deal but you will have to pick a specific loft. It comes in either 9, 10.5, or 12 degrees but I'd probably recommend the 12 for most.
It's not going to be as easy to shape the ball around but that's not something you should be looking for right now. Focus on hitting more fairways and you'll see your game improve quickly.
Pros
Very forgiving.
High launching.
Pretty good price for a 2020 driver.
Cons
Not adjustable.
Doesn't sound the best.
Callaway Epic Flash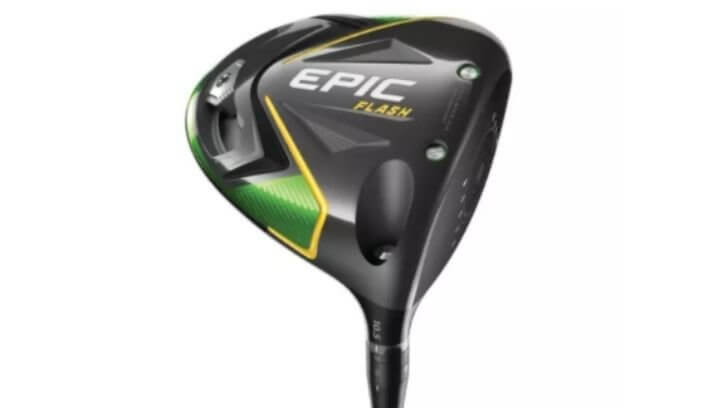 If you're a fan of Callaway clubs and want a good all-around driver, this could be the option for you.
I actually still use an Epic Flash fairway wood and absolutely love it. I didn't like the driver quite as much as the F9 but it was still really solid.
The distance between them was pretty much identical and I actually do prefer the look of the Epic Flash.
What I did notice was that the F9 was a little bit straighter for me and that's why it could be better for the average player.
Some people really love the way Callaway clubs feel, and if that's you, this is still a really good option.
It won a Golf Digest award in 2019 and was the only driver to get 20 out of 20 stars. It's best suited for people with swing speeds under 105 MPH.
This driver does come with adjustable weights to get the ideal ball flight and you can also change the loft. I'd probably recommend the 10.5-degree driver and then you can raise it up a degree or two.
This driver does come in two different versions, the standard and Sub Zero. Go with the standard driver because the Sub Zero is for lower handicap players.
Pros
Adjustable weight and loft.
Looks slick.
Great distance.
Can be used by all skill levels.
Cons
Not as forgiving as some.
The sound is a little muted.
Ping G400 Max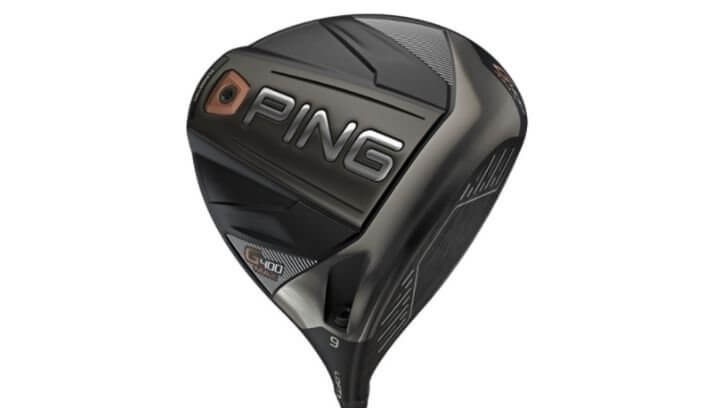 If you're someone with a faster swing speed and want an ultra forgiving driver, this could be right for you.
The G400 does come in a few different models and the Max is their high handicap option. The head is a little bit deeper and that's where the increased forgiveness comes from.
I prefer the standard G400 myself but both are solid choices. If you'd like a driver you can use as you get better, the standard model might be better for you.
The distance on this driver is essentially the same as the others but it might have the best feeling coming off the face.
Pros
Adjustable loft.
Great sound.
Very forgiving.
Cons
Not the best for shaping the ball.
Wilson Launch Pad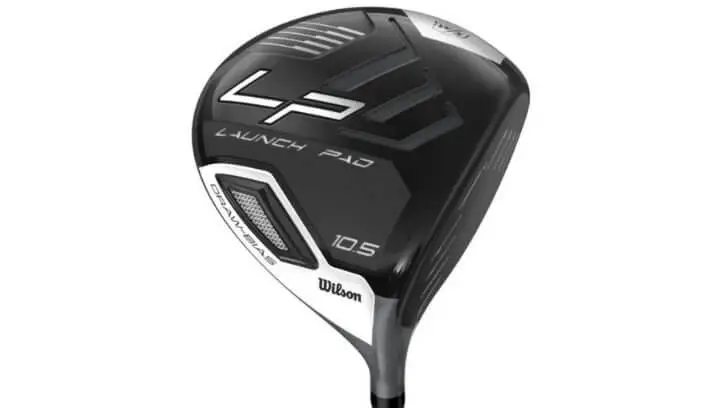 If you don't want to spend the big bucks on a new driver and want something super forgiving, this could be for you.
A lot of people overlook Wilson products but I do really like them myself. They may not be the best for scratch golfers, but for us average hackers, they do a really solid job.
This driver isn't adjustable so you'll have to pick a set loft. I'd probably recommend the 13 degrees to get that high ball flight and more distance.
Wilson made this driver for people who slice the ball. Again, it won't fix your slice overnight but it should straighten things out a little bit.
The big downside to this driver is that it's not going to be the best when you start getting better. It could work alright but it'll be tough controlling the trajectory and shape of the ball.
Pros
High launching.
Made for slicers.
Reasonable price.
Cons
Not adjustable.
Won't offer very much control.
Last update on 2023-07-26 / Affiliate links / Images from Amazon Product Advertising API