If you're someone that has a fairly straight putting stroke then you'll most likely want to play a face-balanced putter. This post will talk about our favorites from different price ranges, so you can pick the putter that'll be perfect for your game.
Here are the best face-balanced putters:
Odyssey Stroke Lab Versa.
Taylormade Spider FCG.
Pinemeadow PGX.
When we were trying out all the putters we ranked them all based on how comfortable they were to swing, how good the distance control was, and also how much they cost. We tried the best we could to find a cheaper option as well as a more expensive one. Continue reading for the full details of each putter.
What Is A Face-Balanced Putter?
A face balanced putter is one where the face of the putter points towards the sky when you rest it on your finder. This is opposed to a toe balanced putter, which is one where the toe points down when you rest it on your finder.
The first reason face-balanced putters point towards the sky is that they have more weight towards the back of the putter. These are typically the larger putters (mallet-style) but they can also look like a traditional blade (they're just a little bit wider).
The thinner and more traditional looking putters (blade style) is normally toe balanced. This is one of the ways to normally tell the difference. The picture above shows you an example of a face-balanced vs toe balanced putter.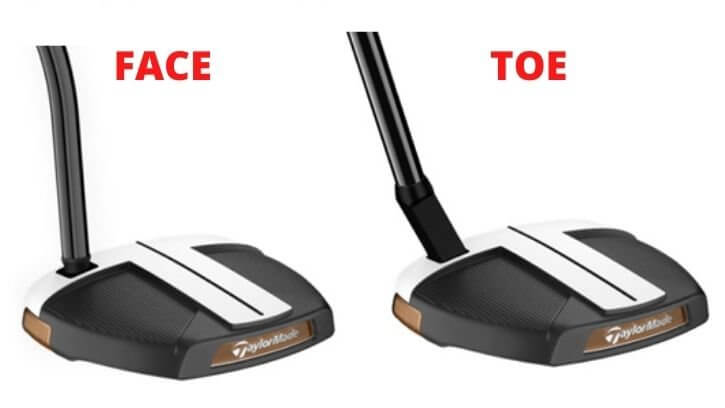 The second reason face-balanced putters point up and down is because of the shaft design. With a lot of face-balanced putters, there will be no hosel. This means that the shaft goes straight into the putter head. It's not always the case but it is more often than not. The picture above will give you a better idea.
What Is The Advantage Of A Face-Balanced Putter?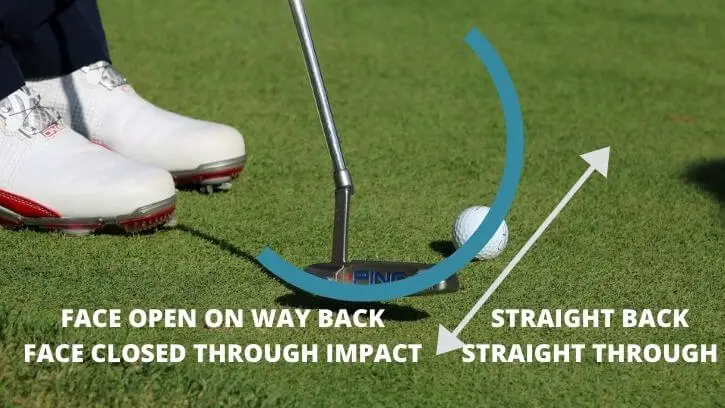 The main benefit of a face-balanced putter is that the face won't open as much on the way back and close as much through contact. This type of putter is suited for someone with a fairly straight putting stroke.
The majority of "weekend golfers" probably don't have a lot of ark in their putting stroke. That's why a face-balanced putter would perform better on the green. If you take the putter straight back and straight through then this type of putter will roll a lot straighter.
Some golfers do have an arc in their putting stroke, and if that's the case, you probably shouldn't play a face-balanced putter. Toe balanced putters tend to open more on the backswing and close more on the downswing. If you have a straight putting stroke then you'll most likely miss a lot of shots left or right.
Pinemeadow PGX
https://www.youtube.com/watch?v=wtVGHApvKMI
The Pinemeadow PGX is a cheap face-balanced putter that's perfect for the beginner golfer or someone who just wants to try this style. It's probably not going to last years but I was really surprised by how nice it felt on the green.
If you're fairly new to golf or you just don't get out much, there's really no reason to spend a bunch of money on a putter. I can guarantee that an expensive putter won't help a high handicap player sink more putts.
The PGX is 34 inches long, which is the standard putter length for most people. The grip that comes with it is actually quite nice, and it's somewhere between a standard and jumbo-sized grip. For the majority of golfer, I'd recommend using the bigger grip because it'll stop you from using too much wrist movement.
The overall weight and balance of the PGX are also really nice. It's not going to be quite as good as my other two picks, but since it's a fraction of the price, I'm fine with that.
This type of putter should give you a lot more control and improve consistency on faster greens. There's a bit more weight compared to a blade putter and I've noticed it really does help (as long as it works I don't really care).
One thing I really like about this putter is the alignment aid. Most of the traditional putters out there don't have a whole lot of alignment help and it makes it so much harder for most people. Once I switched to something that had a long line that I could aim with, that's when my putting got more consistent.
One thing I will say about the PGX is that some people have had issues with the face popping off. I haven't had that issue yet but it's kind of expected for something under 50 bucks.
Pros
The price.
Alignment aid.
Pretty good grip.
Cons
The face can pop off.
A slightly bigger grip would be better.
Taylormade Spider FCG
https://www.youtube.com/watch?v=uoTkOzhKk4M
If you're someone who golfs a lot or you already know you'll like this type of putter, the Spider could be the right option for you. It's the most expensive putter on this list but it is an absolute dream to putt with.
These putters are pretty common on tour so that should give you a good idea that they're good. There's only one head design of this putter but it does come in three different hosel designs. The option that's face-balanced is the single bend hosel.
I really like this putter because the weight and balance are perfect, it feels really solid at impact and the way the ball rolls is as smooth as I've ever seen.
The grip that comes with this putter is a SuperStroke 1.0 Pistol Grip. It's actually really nice and is somewhere between a standard and jumbo-sized grip. I think the average golfer would benefit a lot from a grip like this because it is bigger.
The one downside to this putter is the price. Everything about it was awesome but I couldn't pull myself to spend over 300 bucks on a putter. That's the reason it's not my favorite option.
Pros
The ball doesn't jump off the face.
The stock grip is really nice.
It has good alignment help.
Cons
The price.
A little firm feeling (only a con to some people).
Odyssey Stroke Lab Versa
https://www.youtube.com/watch?v=pmtOtWRwMUY
My favorite face-balanced putter is the Odyssey Stroke Lab Versa. The main reason I like it so much is that it's 90% as good as the Spider but it's around 100 bucks cheaper. That extra $100 wasn't worth it in my books.
What I like about this putter is that it comes in a variety of design options and you can pick between a couple of grips. Not all the design options are face-balanced but my favorite is the 2-ball fang putter. Here are the other face-balanced options:
Double Wide.
Turtle.
Seven.
2-Ball Fang.
V-Line.
V-Line CS.
For the grip, you have the option of an oversized or pistol grip. Both of these are larger than your standard grip but I prefer the oversized myself. I think the majority of "weekend" players would as well because it stops you from using too much wrist action.
This putter is also on the firmer side and one of the key differences is that the Spider felt a bit more solid coming off the face. I don't know what you prefer but I do like a slightly softer feeling putter (the Spider was a touch softer). The Stroke Lab was still really good though.
Other than that, everything else was pretty much the same as the Spider. The weight and balance were solid, the grip was nice, and the ball rolled smoothly along the green without a whole lot of jump. That's all I can really ask for in a putter.
Pros
Cheaper than the Spider.
Good feel and control.
The stock grip is good.
Cons
It's not quite as soft as the Spider.
Which Putter Is Right For You?
Now that you know a bit more about each putter, the choice is really up to you and how much you want to spend. All three putters are excellent and I'd have no issue adding any of them to my bag.
If you're brand new to golf, don't get out much, or just want to try a mallet-style putter, go with the Pinemeadow PGX. It's extremely cheap and even though it's not the highest quality, it does perform really well.
If you're someone who's going to use their putter a lot and want something high quality, I'd recommend the Odyssey Versa. It's my favorite putter overall when you take into account performance, quality, and price.
If you absolutely have to have a soft feeling putter and have the money to spend, go with the Spider. It's not worth the extra $100 to me but for you, it might be. Still, one of the best putters I've tried.
Last update on 2023-07-26 / Affiliate links / Images from Amazon Product Advertising API