During the teenage period, many individuals get their first employment opportunity. Some kids work as golf caddies, which is a part-time profession.
While teens are unlikely to begin their golfing careers by lugging the bags of some good players in major competitions, numerous private clubs, as well as other golf resorts, hire caddies who carry the sports equipment of other golfers during a game of golf at a country club.
In the student year, working as an amateur golf caddy is a fantastic match for students since they can chauffeur on weekends when a course is open, and they can caddie all week when schools are closed for the summer season.
We know you must be bombarded with questions like how much the average teenager makes a week or how much a pro golf caddy makes. Well, you don't have to worry as we got it all covered for you.
In this article, you will find all the answers to your questions so that you can also jump on the bandwagon and become a teenage caddie yourself.
How Much Do Teenage Caddies Make in Golf?
The teenage years are the most advantageous for getting practical experience. Being a caddy at a young age might provide you with the opportunity to earn some additional money to help cover your bills or perhaps to obtain valuable experience in the golfing industry.
If you are above the age of 14, you may work as a caddy. A young caddy may expect to earn between 15 and 30 bucks per hour.
A young caddy may expect to earn between 500 and 700 bucks each week. In the event that a young caddy is engaged for a year's worth of service, the total sum that they may make is approximately $30,000 to $50,000.
Teenager years are the process of learning and accumulating experience. It is inevitable that the more time you devote to this specific sector, the more skills you will get overtime.
How Much Does the Average Teenager Make a Week?
As you would expect, the age demographic with the lowest wage is the one that is completely composed of teens, many of whom are only employed during the summer months.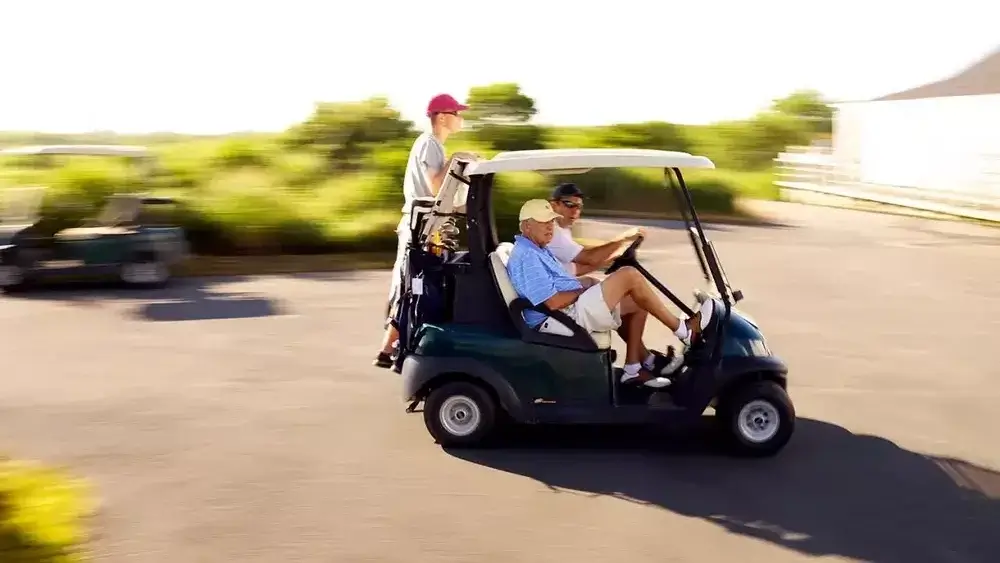 According to the Bureau of Labor Statistics, the typical weekly wage for 14 to 19-year-olds is $506 per week, equating to $26,312 per year. That is the mean for all races, genders, and educational levels.
So when you see other teenagers making more than $1000 per week you must be intrigued by how they are making it and really want to do the same job as them, well we have good news for you the job that you are intrigued y is none other than caddying. Stick around and learn how you can make money as a caddy!
How Much Does A 14 Year Old Golf Caddy Make?
To begin with, most clubs require that you be 14 years old to caddy. However, others may recruit 13-year-olds. 
This is especially true considering that junior caddies may begin as early as 14 years old, carrying one bag and mastering the trade.
In general, a teenage golf caddy might make between $100 and $120 every loop, which is 18 holes of golf carried by two bags. Considering a "loop" takes approximately 4 hours, the average income ranges from $20 to $30 per hour.
There is quite a confusion between a golf caddie and a golf coach. People often mistake coaches as caddies and are shocked how a teen as young as 14 and 15 can be a coach.
The difference is as follows: A golf caddy is someone who transports the golf clubs, while a golf coach is someone who provides instruction to the golfer on the golf course.
How Much Does A 15 Year Old Golf Caddy Make?
It is dependent on a variety of factors. What is the location of the course? Is it a public course or a private executive course, or is it a competition or a fundraiser? How much would it cost to play a round of golf at this location? 
For an inexpensive local course, expect to pay between $20 and $40, depending on the minimum wage in the region. For a high-end golf resort or country club, the price might range from $100 to $300, in addition to the gratuity.
There isn't much significant difference between what a 14-year-old teen makes as a caddy and a 15-year-old.
However, if the caddy had been working since they were 13 or 14, then they are in luck as experience counts a lot for being a caddy as experienced caddy does get paid higher. But in most cases, the amount is the same.
How Old Do You Have To Be To Be A Golf Caddy Girl?
Golf caddying is a fantastic career if you like to be on the golf course and also be engaged with the game of golf in any way.
The experience may be made much more memorable when you are caddying for a phenomenal player.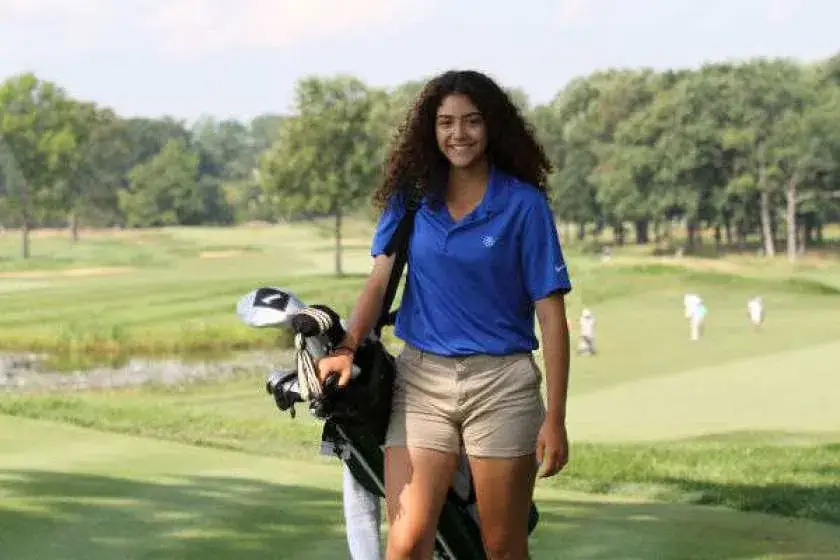 Or maybe you're considering whether you want to be a caddy girl in the future or not. To be honest, it's a reasonable question to ponder how much money girl caddies earn at all levels.
Girl Caddies range in age from teenagers to adults. According to course regulations, a girl caddy must be at least 16 years old to work on most courses.
Contrary to what you may have seen on television, there is no upper age limit for caddying. As long as you can manage the physical demands of the course, you are qualified to do so!
How Much Does A Pro Golf Caddy Make?
Caddying professionally requires years of expertise on the golf course, as well as a strong list of references that can attest to your ability to function on the course in a professional capacity.
To begin with, you must be employed by either an expert or a professional golfer, depending on your skill level. A caddy is required in many top golfing competitions, and many of these tournaments have strict rules.
This is the stage at which you must establish your brand and make your services available.
The salary profile for a professional caddy differs from that of a caddy employed by a golf course. When you are caddying for a professional, they are in charge!
Because your income is tied to their success, you are there to assist them to the greatest extent feasible.
According to tournaments, you may expect to earn somewhere between 5 and 10% of their total wins in most cases (plus possible tips). Caddies mostly on PGA Tour receive a basic wage ranging from $1100 to $2300 per week on average.
If the player finishes first, the caddy receives a 10 percent commission. They earn 7 percent of the prize money if their player finishes in the top 10 and five percent of their player simply makes the cut.
In comparison, the amount paid for a pro caddy on a golf course is much more.
How to Get a Job as a Caddie?
People are becoming more used to "easier" methods of travel, such as GPS gadgets that tell them the distance between their golf ball and the hole, and golf carts, rather than being more physically active and walking.
Many golfing facilities do not have a caddy service and rely only on golf carts for transportation. Private country clubs with a long history have well-established courses.
However, there aren't many of them remaining these days, and they don't promote job opportunities very often either.
Most of the information comes from friends or other members of the club who are spreading the word. Because it may result in less employment for them, the caddies there are often reluctant to share information about prospects.
You might want to look into the private clubs in your region to see if they have caddies if that's something you're interested in.
To inquire and give it a chance isn't going to damage anything! We are sure that you will find what you were looking for and make it as a caddie.
How Much Does A Caddy Make For Winning The Masters?
The Master's Tournament is among the most storied golf events in the world, and the top players from all over the globe descend on Augusta, Georgia, in April every year to play for the coveted green jacket, which is handed to the championship's winning player.
A major championship on the PGA Tour is the Masters, which is one of four such events. A major is alluded to as a major championship on the PGA Tour.
As may be assumed, the victors of these competitions often get the greatest payouts available. Approximately $11,500,000 in prize money will be awarded at the Masters in 2021. Japanese Golfer took home a total of $2,000,000 in prize money after winning the tournament.
Based on the calculation, the caddy would have made $207,000 from only the Masters alone had he signed a 10-percent-of-the-winnings deal with a Japanese Golfer.
Taking part in the Master's might not only alter a golfer's professional trajectory, but it could also alter the trajectory of a caddy's career as well.
Do Caddies Have to Cover Their Own Expenses?
Yes, golf caddies have to pay for their traveling and accommodation costs incurred when joining their golfing clients on tour. A caddie's income often includes expenses like travel and housing, which account for around 20-25 percent of their total earnings.
A selected few may be eligible to have their travel and hotel charges compensated if the golfer chooses to fly in on a private plane and lodge the caddie in a rented residence. However, it's not the situation with the majority of caddies.
In addition to travel fees, a caddy will be responsible for his own insurance and healthcare costs, which will deduct a significant amount from his earnings.
How Do You Gain Experience As A Caddie?
You must put in the necessary time and effort to progress through the different caddying ranks on the golf course.
When you're out on the field with players or the general public, you should think of them as prospective customers who can be sold to. After all, you are being compensated! So, what exactly do we mean by that?
You aim to persuade the golfers that they need your assistance in improving their game.
Ensure that you are providing each of your players with "the finest" service possible while caddying for them. This entails telling them about the course's previous history.
This involves cleaning down every club after it has been used. This implies that whenever they make anyone their putts, give them a thumbs up!
Once you have mastered these skills, we are sure that you can make your spot as a professional caddy for tournaments.
Conclusion
By now, you've undoubtedly realized the many advantages and possible success that caddying may provide. The potential for financial gain is substantial; but, there are also possibilities to collaborate with accomplished individuals who can help you advance your career.
Our recommendation to anybody considering caddying is to go ahead and do it! Put up the effort and make genuine connections with the staff and guests.
Even if you don't want to pursue a job as a caddy, just connecting with people and putting yourself out there can enhance the opportunities in your own life, regardless of what you want to accomplish.
Caddying is a great summer job if you like golf and share your knowledge and enthusiasm for the game with other golfers.