The Callaway ERC soft and Chrome Soft are two of the most popular golf balls from Callaway. Callaway has always targeted a wide range of golfers, providing different sets of features.
The Chrome soft has been on the market for a decent period of time, whereas the ERC soft is a newer edition of the golf ball from Callaway. So, Callaway ERC Soft vs Chrome Soft: which one is the better choice?
Well, there is no definite answer to that as both these balls have their respective strong zones despite having the same price tag. Because of these key features, the target consumers of these two balls are also different.
So if you are a beginner or want to specialize in a particular set of skills, you need to pick the right ball.
We'll try to break down the key features of these balls and compare them to help you choose the one that fits your style of play. If you can't be patient enough to read this whole article, our pick is the Callaway Chrome Soft because of its premium design and excellent performance.
Callaway ERC Soft vs Chrome Soft: Comparison Chart
[table "78" not found /]
The Callaway ERC Soft
No matter if you are a novice golf player or a mid-handicapper, your collection of golf balls should include a high-quality golf ball that lets you enhance your game.
High-quality golf balls don't always have to be on the pricey side. With the now trending Callaway ERC Soft golf balls, you can have the soft feeling and enhanced performance range with improved visual alignment for a cheaper price.
Let's look at the highlight features of these ERC Soft golf balls.
Strong Core
The Callaway ERC Soft is a three-piece ball. But, what distinguishes this golf ball is that these balls have a higher energy core and have been seen to achieve relatively high rates of ball velocity.
The newly added High Speed mantle would accelerate the golf ball as it is swung off the clubface and also as it rolls.
Feel
Even though most players require longer distances and quicker ball speeds, many of them also desire the softest feel obtainable on their golf balls.
The model of the Callaway golf ball was created to provide players with the softest feel attainable while maintaining enhanced distance performance. These ERC golf balls feature a soft feel that provides excellent greenside control.
Durability
ERC Soft Golf Balls are long-lasting and robust. They have a graphene core. And as graphene is among the most durable and adaptable materials that can be used as golf balls, it adds to the durability of these balls.
Furthermore, the cover of these balls is comprised of polybutadiene. This polybutadiene is a mixture of ionomer and urethane, which is more durable and provides better play on the greens.
Visibility
Callaway has pioneered this model of golf ball by incorporating "Triple Track Technology" for enhanced alignment. What this does is add a visual pattern.
This new addition helps players get an improved view of the golf ball. Align the two narrower blue lines and the middle red line with the target and then swing and you have your perfect shot.
It has been reported by the manufacturers that these additional three lines aid a player's mind in lining up with the golf ball better than the one line that most golf balls show. Furthermore, those blue and red lines keep track of the balls and eliminate the risk of losing them.
Furthermore, because the model is based upon "Vernier Visual Acuity", it has been demonstrated to be a successful pattern for better visual alignment. This particular system is so powerful that it is used to direct pilots across the runways.
Control
The most premium golf balls are typically manufactured from urethane as it provides greater control. However, it is an expensive raw material. As a result, these urethane-made golf balls tend to be pricey.
As an alternative solution, balls with ionomer covers perform extremely similarly to the urethane-made balls but at a lower cost. Consider that the Callaway ERC Soft golf balls are a fantastic pick since they contain all the essential qualities and provide exceptional control at a very decent cost.
Less Spin
Low spin-aids golfers who struggle to keep their ball straight off the tee. This golf ball is designed with low-spin technology. This is the best option to opt for if you like to hit strokes a little smoother and straighter with the hybrids and fairway woods.
The Callaway Chrome Soft
Picking a golf ball happens to be a challenging task because there are numerous factors to consider, including the quality of the ball, durability, pricing, and so on. Furthermore, with all these options on the market, selecting one that meets your requirements has become more challenging.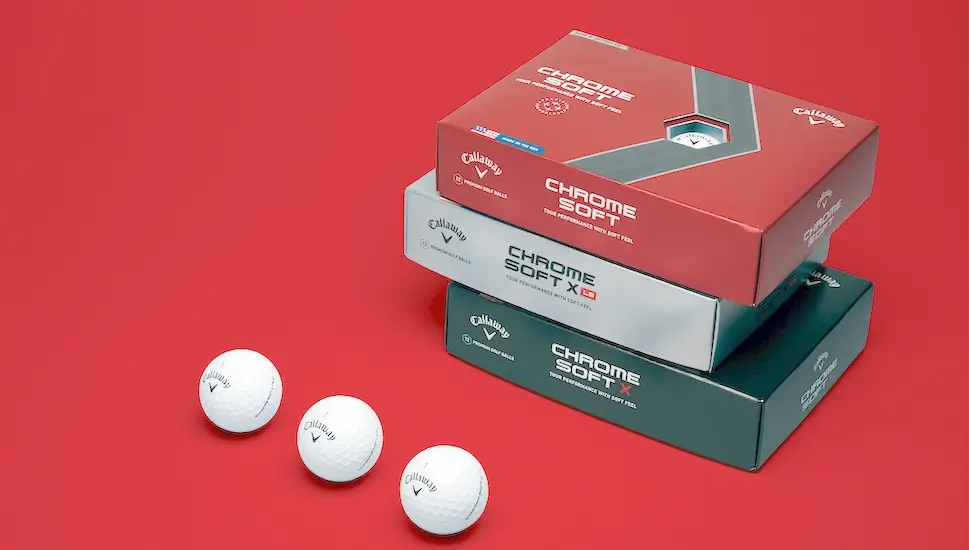 As a result, it's vital to invest in a high-quality, reliable golf ball that can be used by a variety of golfers. Having said all this, the Callaway Chrome Soft is an amazing deal.
They are among the most premium options available. So if you want something unique that can offer great results not only from the tee but also from the green, the Callaway Chrome Soft is the one.
The price is a bit higher than the other models from this company, but the performance that comes along with the price is worth it.
Let's talk about the features the Callaway Chrome Soft golf ball offers:
Durability
The Callaway Chrome Soft golf balls are just as strong and long-lasting as the finest quality balls available. They can resist the damage of regular use and still look great. In fact, they are more
Build
Callaway Chrome Soft has excellent build quality. Both the core and the cover are exclusively designed. The ball features a double SoftFast center, which comprises two cores: a really soft inner core and a harder outer core.
The deep core lets the ball attain higher speeds and go further. The outer, harder core provides excellent control.
The ball is four-layered. The innermost layer protects the core, and the urethane-made outer layer gives the ball a softer feel.
Distance Coverage
The Callaway Chrome Soft can achieve the same distance as other premium golf balls. The blend of the soft and hardcore makes its aerodynamics spot on. They have also lowered drag, allowing the ball to fly higher and straighter.
Spin
The Callaway Chrome Soft has a medium spin. On the other hand, the polyurethane outer cover gives the ball better stability and produces low spin on tougher shots and relatively high spin from around the green.
For this reason, high and mid-handicappers can both go for these balls, as they can hit long-range shots with remarkable precision.
Tour Performance
The Chrome Soft is an example of a perfect tour-level ball. If you're someone seeking a tour-level performance, this ball is for you. It can provide a soft feel around the green but doesn't compromise on the distance covered. This makes it undoubtedly suitable for even pro golfers.
Minimize Drag
Callaway has designed most of their balls with a hex dimple layout. But the layout is unique to each golf ball model. Because of its spinning ability, it will be an amazing choice for someone looking for spin and control around the green.
It is ideal for those who want more distance from the tee but require assistance in spinning the ball around greens.
Callaway ERC Soft vs Chrome Soft
Callaway ERC Soft and Chrome Soft golf balls are both some of the best performing golf balls on the market. They offer a lot of benefits for golfers of all levels, but which one is right for you?
Appearance
The ERC Soft and Chrome Soft come in both yellow and white. In the ERC soft, the design of alignment is Triple Track alignment. But the chrome soft has options for Truvis alignment design and Triple Track alignment.
Feel
Both the Callaway ERC Soft and Chrome Soft have similar softness in them, and this softness is highest in their spectrum of golf balls.
And even in the chipping and pitching tests, the results didn't show a significant difference. The ERC Soft, on the other hand, was found to be softer than the Chrome Soft.
While tasted with a putter, the Callaway ERC Soft showed a noticeable softness due to the somewhat firmer sounds coming from the Callaway Chrome Soft ball, which is not a bad thing as the sound was caused by its premium tour manufacturing.
Peak Flight
In a test on both of these golf balls, the 7-iron and Trackman at SGGT Studios were used. In that test, the ERC Soft golf ball was seen launching fractionally higher and with noticeably less spin.
When tested with a driver, both of these balls showed a slightly higher range than the average. Here again, the ERC Soft soared higher compared to the Chrome Soft. So it was clear that there was an obvious difference in their peak heights.
Distance
If you do a higher launch, you'll get a couple of yards more in the ERC soft than in the Chrome soft. But this thing solely depends on the speed of the swing.
If you have a mid to low swing speed setting, the softer ball will result in better distance coverage.
Control
If you're chipping, you'll get almost the same result in control with a bit of spin around the green.
But the Chrome soft is somewhat better than the ERC soft because it's the flagship tour ball of Callaway. That means it has better control with medium spin.
Callaway ERC Soft vs Chrome Soft: Which One To Choose?
Although both ERC Soft and Chrome Soft have similar performance, however, according to your needs and preference, you can opt for either one. If you want a highly durable golf ball in mind with a preference for Truvis alignment, you should definitely go for Chrome Soft.
But if you want a great deal at a cheaper price, you can get the ERC soft, which will ensure you get a better feel and flight range than the Chrome soft. However, in the case of the durability of ERC soft, you will have to compromise a bit.
What Compression Is Callaway ERC Soft?
Callaway ERC Soft is a compression golf ball that is designed to provide an exceptionally soft feel. According to the company, the ball has a compression of about 60. This means that it is slightly softer than most other golf balls on the market.
What Does Callaway ERC Stand For?
Ely Callaway Jr. was the founder of the Callaway Golf Company. The ERC stands for Ely Reeves Callaway.
Conclusion
The problem with having so many options is that you can not pick the right one for you. Callaway makes quality golf balls that require no second thought. But the purpose for which these balls serve is different.
So when we are searching for the answers to Callaway ERC soft vs Chrome soft, we are not comparing these products.
Instead, we are trying to show which ball is suitable for you. So before focusing on what ball offers the best features, learn about your playing style to see whether this ball fits your style of playing or not.
Both these balls are amazing for amateur and pro golfers, but the Chrome Soft offers a much better performance in spin, both off the tee and around the green.
Last update on 2023-07-26 / Affiliate links / Images from Amazon Product Advertising API