The average golfer now has an overwhelming number of choices, thanks to the efforts of golf ball manufacturers.
Because of this, the average golfer will, at some time or another, wonder if they should use "soft" golf balls or "very soft" golf balls.
There are just far too many varieties of golf balls available on the market, and just when you believe they couldn't be much softer, a fresh kind that is even more forgiving appears on the shelves.
We put two of the most popular soft golf balls on the market from Callaway so you can make an educated judgment.
If you don't have the time to go through and read the entire article. Callaway ERC Soft vs Supersoft golf balls are both great choices, but Callaway ERC Soft is better for players who want extra distance, while Supersoft is better for players who want a softer feel.
Callaway ERC Soft vs Supersoft in 2023: Diff & Comparison
Comparison of the Callaway ERC Soft and Supersoft golf balls, including their benefits and drawbacks.
Callaway ERC Soft and Supersoft golf balls are two of the most popular models on the market. They are both designed to offer exceptional performance, but there are some key differences between them.
So, what's the difference between Callaway ERC Soft vs Supersoft? Let's take a closer look.
[table "80" not found /]

Breaking it Down
Both Callaway ERC Soft and Supersoft are two of the best-rated golf balls on Amazon, based on their technical specs and consumer reviews. Both of these Callaway balls have received a 4.8 rating from Amazon customers.
As a golfer, you'll be able to choose between Callaway ERC Soft and Supersoft to determine the winner once you have finished reading our comparison analysis.
We have broken down all aspects mentioned above and gone into great depth about each vice ball, so you can compare the attributes and verdicts before making your final pick.
For you, what is more important? Construction and pattern, compression rating, or price? Follow the instructions in the article to get off your muddle! We will get across the features of Callaway ERC Soft and Supersoft, respectively.
Construction and Covering
First and foremost, any golf ball construction and the covering are essential. The Callaway ERC Soft is constructed of three layers.
By design, this implies it's a ball designed for better players who want to curve the golf ball left and right and players who want more hold and pull on the greens.
Coming to the Callaway Supersoft, it is a 2 piece of golf ball composed of an inner core and an outside cover made of surlyn or Trionomer, as Callaway calls it. Surlyn coverings are significantly stiffer and less 'spinny' than urethane covers and are expected to last longer.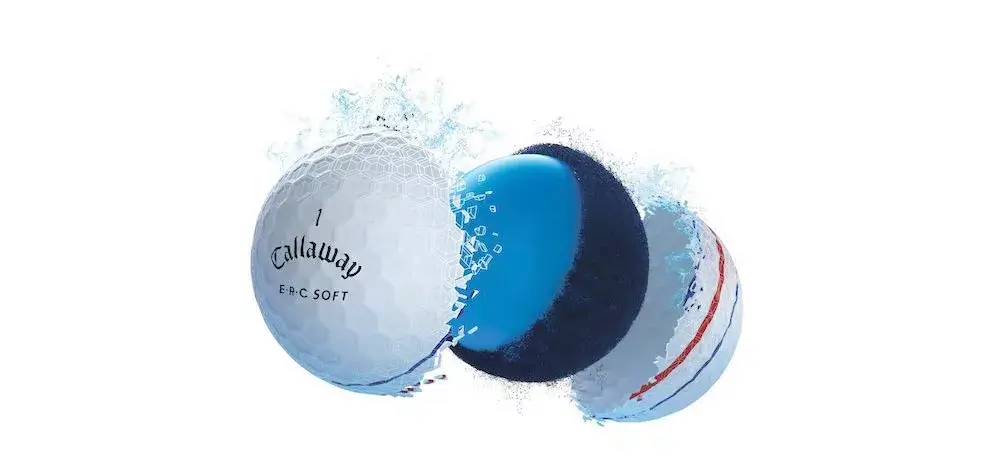 On the other hand, the Supersoft cover is not as lasting as the ERC Soft, which is surprising. Supersoft's 2-piece design has a core with a low compression of 38, which, when combined with the low spin covering, decreases the spin of your strokes for longer.
To stop the ball on the greens, you'll have a greater ball flight, which balances the decreased spin rate. You'll appreciate this ball if you merely want extra distance, particularly if you hit your driver under 90 mph.
Feel and Performance
Callaway's ERC Soft feels like a Tour ball because it is. It is softer around the fairways than Supersoft. The ERC Soft feels bouncy and responsive off the putter's face. Thus it competes with the best in the market.
Inside 140 yards, you'll notice a considerable variation in spin between the balls. Less than the Supersoft, the ERC Soft goes up and spins. You'll stop a Supersoft inside a few feet of its pitching mark but rip it out with the ERC Soft.
In comparison to the ERC Soft, the Supersoft runs out much faster. Strangely, it's excellent for the crash and runs chipping on the greens, proving that SOFTNESS does not equate to SPIN.
It's like marshmallows off the putter. You may see a little distance gain off the tee even with your irons if you're an ordinary to slower swinger.
Spin
In addition to the many layers, the Callaway ERC Soft ball is wrapped in a urethane cover, which causes the ball to spin far more on every stroke than a low compression 2-piece surlyn-coated ball.
These golf balls sometimes spin backward while using them, particularly if you are playing with a wedge. Soft urethane fades more easily, but the ERC Soft is one of the most durable covers on the market right now.
Similarly, the Callaway Supersoft ball's low compression number allows it to manage spin on longer irons like the driver, making it ideal for golfers with slower swing speeds.
The cover material has a lot to do with short game spin. Because chips and pitches are hit slower, the ball's core is not crushed as much.
These coverings are often tougher than urethane and offer less spin on slower swinging strokes like pitching and chipping. The negative of urethane cover balls is their higher cost.
According to reviews, Callaway believes their cover is superior to ionomer and found Callaway's ball to be superior to urethane and other surlyn cover balls. This cover has a better fairway spin than other surlyn covers but is not as excellent as urethane.
Design
The Callaway ERC is equipped with Triple Track, a three-lined design that is more than just a fancy paint job. This design was developed specifically for the ERC.
When used in conjunction with a Triple Track putter, Triple Track has the potential to be an excellent putting help.
The way it works is by aligning the lines on the ball in such a way that they point along the intended line of your putt. This makes it much simpler to line up the putter on the same line if you are already using the Triple Track putter.
In contrast, the Supersoft does not come equipped with a triple tracker, which puts it at a disadvantage at this point in time.
Compression
Compression is the measurement of the force needed to compress a golf ball. The Callaway ERC Soft has 60 compressions while the Supersoft has 38 compressions. What does this mean for you?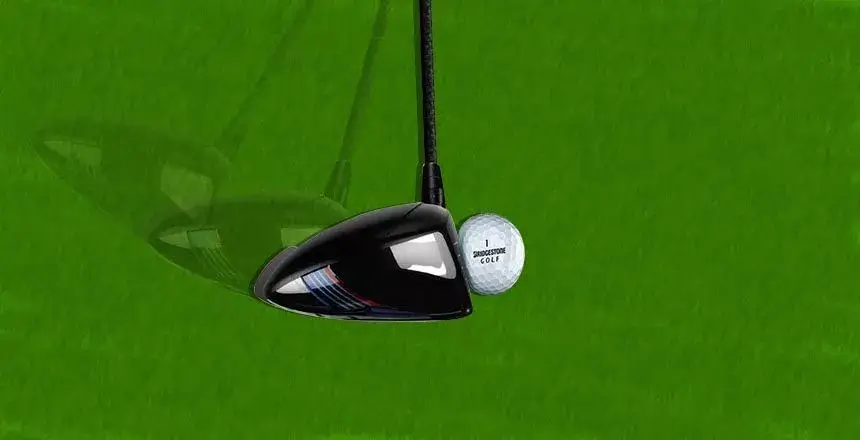 Callaway ERC Soft will give you more distance on your shots as it is easier to compress than the Supersoft. However, the Supersoft will give you more spin on your shots.
So, it really depends on what you are looking for in a golf ball. If you want more distance, go with the Callaway ERC Soft, but if you want more spin, go with the Supersoft.
Which one is right for you? It honestly depends on your own personal preferences and game. Try out both golf balls and see which one you like better!
Price
The rich are the ones who play golf. If you take your game of golf seriously, purchasing golf balls is an expenditure that should be high on your priority list.
It is possible to get the greatest enjoyment out of your game of golf if you use balls of high quality. Keep reading to find out how much money each one will cost you.
The ERC may be replaced with the more budget-friendly Supersoft option. The price range for Supersoft is between 24 and 26 dollars. It is now one of the finest golf balls that offers the best value for the money.
Even if it costs a little bit more, the Callaway ERC is an option that is still beneficial. There is just a $10 difference in the prices. You should consider purchasing the Callaway ERC if you feel that it would complement your playing style well.
Which Golf Ball Is Better?
Self-awareness is critical for golfers. You must know your course habits, swing speed, and play style. For example, the Callaway ERC golf balls roll well with long iron shots.
This might be a benefit for some players who are prone to underestimating shots. So the answer to the question "which is the superior ball?" is dependent on your playing style.
We suggest Callaway Supersoft golf balls for beginners. They fly far with little effort and are incredibly straightforward. But if you want to improve your game and experience premium quality, we suggest the Callaway ERC balls.
We like the Callaway ERC balls since they have a soft distance ball feel without the disagreeable feel. Be careful of your play style, and try these balls!
Alternatives to the Callaway ERC Soft and Supersoft
The Callaway ERC Soft and Supersoft are two of the most popular golf balls on the market. They are known for their soft feel and long distance. However, they are not the only options available. There are a few other golf balls that offer similar benefits.
Vice Pro Soft Alternative to the ERC Soft
Like the Callaway ERC, the 3-piece casting urethane Vice Pro Soft has several apparent and unseen modifications and was developed specifically for players whose swing speeds range from medium to low.
The cast urethane ball type is one that many amateur golfers have upgraded to since they say that it gives them a better feel and improves the performance of their game.
When addressing the Vice Pro Soft, the KIL (Keep In Line) -putting line is featured similar to the Triple Tracker on the Callaway ERC soft for a clearer visual indication and accuracy of where the putter is positioned concerning the ball.
To satisfy the most stringent requirements for putting and alignment, an extra-long and high visibility KIL putting line with sharp corners has been devised via a collaborative effort including both amateurs and experts.
Bridgestone Golf e12 Alternative to Supersoft
Because of the compression value of 50 that the Bridgestone e12 Soft golf balls feature, they are best suited for players with a handicap that falls between medium and high.
A 50 is a nice number since it strikes a balance between distance and performance. On the other hand, they almost always go in that direction.
When you need to roll the ball around the fairway a bit more, the 3-piece construction of these balls gives them a little more stability and control to help you do so.
On the other hand, you shouldn't count on doing many forward or reverse spins off the tee. Bridgestone e12 soft balls are exceptional in their ability to absorb the force of the club head while still keeping their trajectory straight.
They are not nearly as soft as the Callaway Supersoft, but they are more beneficial for controlling the ball off the tee and on the approach to the green than those balls are.
Which Callaway Ball Is the Longest?
Callaway ERC Soft is the longest ball that they offer. This ball is designed for golfers with slower swing speeds, as it offers greater distance and a higher trajectory.
The advanced core construction of this ball helps to create longer shots, while the softcover provides increased greenside control.
Which Callaway Ball Is Like Pro V1x?
Srixon Z-Star XV is the best golf ball for people who want a ball that feels and performs like a Pro V1x. It has a similar feel and construction to the Pro V1x, but it's slightly softer and offers more distance.
Are Callaway Supersoft Max Balls Legal?
Yes, it is legal. According to the USGA, "A ball is conforming if it conforms to all specifications in Appendix II of the Rules of Golf." The Supersoft Max meets all of those specifications.
Conclusion
After product review, you may read product reviews, but no one can truly put Callaway ERC Soft vs. Supersoft head to head for you.
While gathering data, we found out golfers truly like these Callaway Balls. At the same time, others find it overly soft or not as excellent as other comparable products.
You've probably heard of the Callaway brand if you're a golfer. It's well-known in the industry, and they're constantly looking for new methods to enhance golfers' performance.
They believe that by using the Callaway ERC Soft and Supersoft golf ball, they are trying to fulfill their mission of customer satisfaction.
We hope you find this article of use, and if you have not tried these golf balls in your game, then my friend, you are truly missing out on the best the golf ball industry has to offer!
Last update on 2023-07-26 / Affiliate links / Images from Amazon Product Advertising API